Bringing the best of the UK's gastropub & bar scene to Bogota
---
On April 20 2006, in a space which should have been a clothes shop, a very different kind of business was born: a British style bar called The Monkey Pub. The idea for the business came from one of the original partners, an Englishman who had spent quite a bit of time in drinking establishments, supposedly in pursuit of "refining his knowledge of what makes the perfect pub"(and nothing to do with the beer!)
In fact, beer is the central tenet of this gastropub, with a range of craft, draught and bottled beers you won't find anywhere else in Bogota. There are 126 different beers in the fridges from around the world including  lagers & ales and that old favourite Guinness – and they are one of the few places in the city to serve cider.
The owners say, "We have always been known for the best beer selection in Colombia, both draft and bottled." In a bold move, they offer a beer instead of a wine menu, and suggest beer styles to compliment, cleanse or contrast with each dish. They also do beer tastings run by staff or brewers from craft breweries, in case you want to impress that date you're on with your beer knowledge.
Brainchild of Mel Kenny, the Monkey House aims to bring the best of British pubs to Colombia, creating a fun atmosphere where people can relax with friends and family.
Today, the English-style bar offers a large selection of food from their Chapinero premises. As Mel explains: "In 2012 the Monkey had outgrown its original home and we decided to move him to his new Monkey House on Calle 70A with 9A which is a magnificent old English house with 3 rooms and a terrace down-stairs as well as 4 themed rooms upstairs (including the whiskey room and Captain Bob´s Map Room) for private events or indeed just to chill-out in."
The team are also opening a draft-beer-focused gastropub in an Usaquen venue during November which will build on the key principles of the Monkey: Education, Entertainment and Eats.
As well as an impressive choice of beers, the restaurant also boasts a wide range of freshly prepared dishes. The Monkey House's Chef Kilby is a man with a passion for food.
"Since childhood I have loved flavours and experimenting with different spices and the possibilities that come from mixing things up," he tells us excitedly.
He talks about the way that food allows you to travel the world, without ever leaving your own city. An idea that may come as a surprise to many expats who would say that good foreign food is one of the things they miss most about home.
The menu has a wide range of British food including fish and chips (often nominated as the best fish and chips in Bogota), steak & ale pies, homemade sausages and even sticky toffee pudding.
The chef says the most popular dish on offer is the Beef Wellington, and it's easy to see why: "When you eat it you get the sensation of eating fresh bread but with the flavour of prime roast beef. It's very juicy and tender."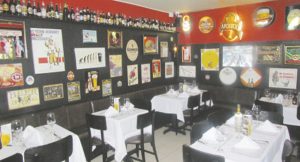 The restaurant gets all of its fruit and vegetables from local markets and imports ingredients such as pilau rice and spices from abroad. Kilby proudly adds, "We prepare all our dishes completely fresh on the premises – including our own spice mixes and curry pastes."
For expats that means that the Monkey House is one of the few places in Bogota where you can find that elusive eye-wateringly spicy curry.
The restaurant is already a popular destination for people who fancy something a bit different from the traditional Colombian fare. And their varied clientele from the four corners of Colombia & the world prove that you don't have to be British to enjoy the food and unique atmosphere.
Sections of the venue are available for hire if you want to organise a private party – they have spaces for 30-40 people, and even hire out the whole pub which will house up to 250.
In addition to their focus on high quality beer and food, entertainment is the final ingredient in the Monkey House mix.
Mel explains: "We have focused on bringing good food, great service and exciting entertainment to our customers since we opened the doors and will continue to do that."
He adds, "It's a pretty decent place to watch any big game be it the Colombian national squad, Champions League football or rugby. We are internet-enabled now so we may even get some test cricket!"
The music also makes this an interesting change from other restaurants, with twice-weekly live bands. Over a hundred different bands have played in the venue since they opened.
Finally, if it all gets a bit too crowded in the restaurant, the garden is a lovely space and -in definite contrast to most British pubs nowadays- smokers are well catered for with both front and back patios.
---
---
Monkey In Usaquen
According to its owners, when The Monkey House opened there were "few, if any" decent pubs in Bogota. Now, they are pleased to note, the selection is improving, inspiring them to open a new place in Usaquén.
The new location will feature live music on Wednesdays and Saturdays, giant TV screens and a projector, a beer garden and sports bar. There will also be traditional pub games including pool, darts & table football.
They believe the colonial architecture and village-feel offer the perfect environment for a British pub, and want to create a space where people can spend quality time with friends and family – not to mention the potential for pub crawls taking advantage of Usaquen's wide selection of watering holes.
The Monkey House is already famous for its selection of draft beers, and the new bar will boast an even bigger choice: 12-15 taps representing 5-6 Colombian craft & major breweries. There will also be a choice of 125 bottled beers from around the world, as well as Bogota's newest arrival, Aspall´s English Cider.
---
Visit the Monkey House website or  Tel: 805 8648 for more information
Chapinero – Calle 70A # 8-55/Usaquén – Calle 119B # 6-21