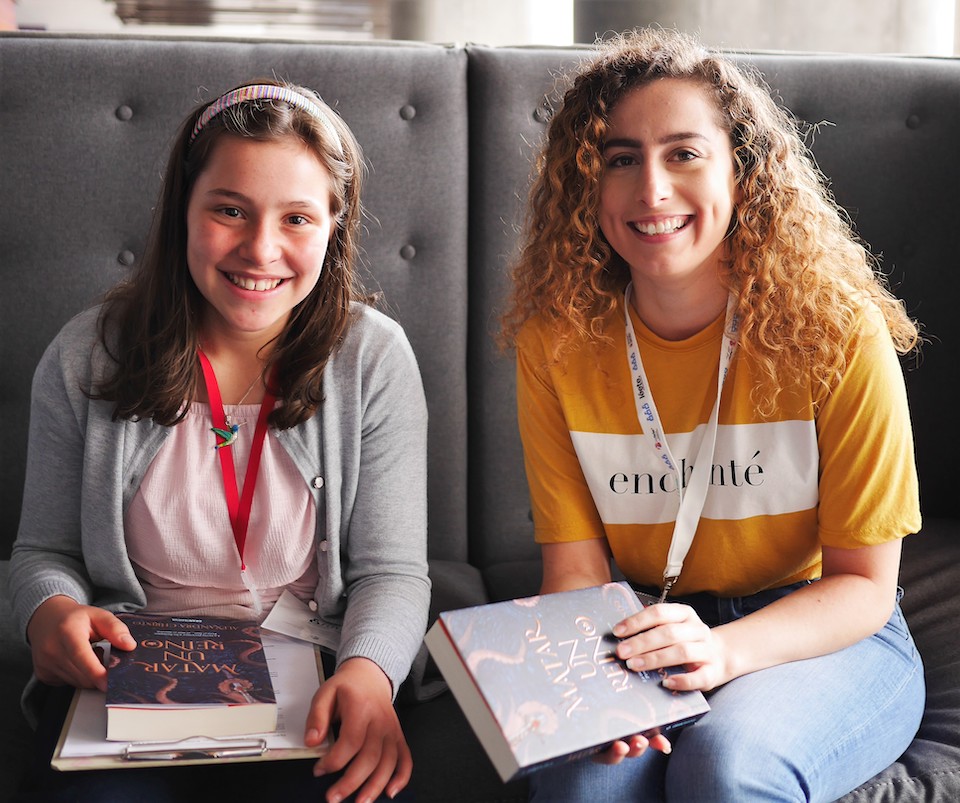 'Sometimes I would get so tired and absent-minded I'd cut myself cooking. So literally there was blood!'

---
It's only her first book, but already Alexandra Christo's To Kill a Kingdom is flying off shelves worldwide, and a Spanish-language version is making waves in Bogotá. Our cub reporter Sara Hide – 12 years old and a huge fan of the fantasy novel – caught up with the author at FILBo this week.
Sara: To Kill a Kingdom has deadly sirens, swashbuckling seafarers, and mythical lands. At first glance, with a siren (Lira) as the lead character, it's like the Little Mermaid. But it's also a dark and brutal world. What inspired such a twisted tale?
Alexandra: I wanted to re-imagine the old fairy tales, where female characters were victims of the plot and even if it was their story, a man was pushing it forward. I wanted a tale with a woman having her own ambition, her own drive. The original Little Mermaid by Hans Christian Andersen was dark anyway – the mermaid dies in the end – and I took a few bits from Disney too. Then it was fun to create something new.
Sara: Colombia is the land of magical realism, and here we have many stories of mythical beasts, some that transform from marine to human form. There were also many pirates on the Caribbean coast here. Could we be living in a kingdom from your book?
Alexandra: I love magical realism and combing the strange and the ordinary and twisting it all up. But my book was inspired more from Greece: my grandfather is Greek Cypriot so I drew a lot from Greek mythology, but also from German folklore. I also used Greek words for many of the kingdom's names.
Sara: It's a long book, over 400 pages. How long did it take to write the story?
Alexandra: Initially, I had written a completely different book to submit to (literary) agents. To Kill a Kingdom was just a fun little side project with a few chapters. Then one agent asked to see more and signed me to finish To Kill a Kingdom. Then I had a deadline of six months for the first draft. Then it took months more of re-writing, developing characters and filling plot holes.
Sara: Was it difficult to write?
Alexandra: Very. It's blood, sweat and tears with so many sleepless nights and working until four in the morning, then back to work again a nine in the morning. Sometimes I would get so tired and absent-minded I'd would cut myself cooking. So literally there was blood!
Related: FILBo 2019: It's my party
Sara: Do you identify yourself with any characters in your book?
Alexandra: I hope not, they're all murderers! People always ask my mother if she was the basis for The Sea Queen [a viscous character in the book], so I feel so sorry for my mum, she's so lovely. As for myself, I see some aspects of my personality to be strong, have ambition, are very loyal – which I hope is what I am. But I also believe that writers should branch out, create new characters beyond what they know.
Sara: Female characters are strong in the book, a marked difference from many classical fantasy or fairy tales. Are you trying to get a message across to us girls?
Alexandra: It's interesting that female characters are described as 'strong', but men are not: in books they are 'strong' by default. For so long in the literary world people have acted like its revolutionary to have a woman whose 'ambitious' and 'strong', but it's not new because women already are. It was important to me to have this female character, Lira, who could go after what she wants. So often in literature women must choose, for example between 'love' and 'career'. Women shouldn't be limited, they can have everything. An important message from the book is women's voices matter. Go after what you want.
Sara: The Spanish translation Matar Un Reino has been well received in the Spanish speaking world. When you wrote the book, did you ever it imagine it being read in different languages?
Alexandra: I always dreamed of it, but I never thought it would happen. It's really strange to me now when another foreign language offer comes along, like 'now the books being sold in Indonesia'. I would love to read Spanish so I could see how the translation was different. I've been so happy with how the book looks in the Spanish version, and how supportive the Spanish-speaking community has been. It's been such a joy to see the readers of the Spanish version on social media, posting photos and positive comments. It's a dream come true.
Sara: Can you see the book as a movie?
Alexandra: I would love to see in on the screen, and to see someone else's interpretation of the story.
Sara: Your next novel Into a Crooked Place – due out later this year – takes a new direction. Does this mean the characters we know from To Kill a Kingdom will not be back in print?
Alexandra: To Kill a Kingdom was written as a stand-alone book. I never planned a sequel. But never say never….
Alexandra Christo was talking with us during her visit to FILBo, sponsored by The British Council. Her book To Kill a Kingdom, published by Feiwel & Friends, or in Colombia Matar un Reino, Editorial Oceano/GranTravesia.