Almost half of the digital archives of Colombian Nobel Prize Winner Gabriel Garcia Márquez have been  placed online by the University of Texas and these treasures are now free and accessible to the entire planet.
It came as a surprise to lovers of magical realism in 2014 when the university's Harry Ransom Center was able to acquire the author's archive. Their internationally renowned library has a tradition in sharing its extraordinary collections in order to inspire and encourage research for a broader public. It has also purchased the archives of writers like Jorge Luis Borges, Ian McEwan, James Joyce as well as other Nobel Prize Winners like William Faulkner,  J.M. Coetzee and Kazuo Ishiguro.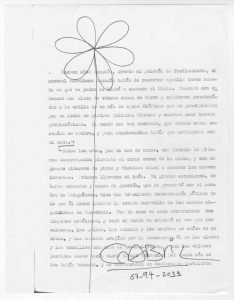 In the same year that Garcia Márquez passed away, the center paid around 2 million USD for the novelist's works. The university claimed it had started the negotiations in 2013, in Mexico, when the author was still alive.
Nevertheless, the United States obtaining the literary heritage of a national icon was much against the will of Colombia.
In 2014, Minister of Culture Mariana Garcés called it  "regrettable" that the documentation ended up in US hands. The author's son, Gonzalo García Barcha, however, stated that the Colombian government had never shown real interest nor provided a reasonable offer, something contradicted by the minister.
In any event, the digitalization of around half of the archive came as a second surprise. After all,  the literary work of the multi-praised novelist is still copyright protected. However, the family Garcia Márquez has granted permission for the world to look into Gabriel's dazzling world of magic realism and enjoy extracts of "Love in the Time of Cholera" or "Chronicle of a Death Foretold"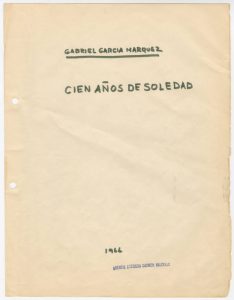 The whole archive consists of around 27,000 pages. The Harry Ransom Center says in a later phase the other half will be released.  
The files include original manuscript material for 10 books, more than 2,000 pieces of correspondence, audio recordings of Gabo's 1982 Nobel Prize acceptance speech, more than 40 photograph albums documenting all aspects of his life over nearly nine decades. Furthermore, they include his scrapbooks and his famous Smith Corona typewriters and computers on which he wrote some of the twentieth century's most beloved works.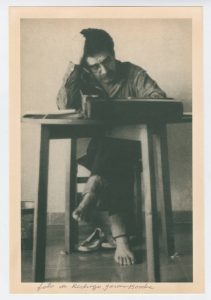 Gabriel García Márquez began his career as a journalist in the 1940's, reporting from Bogotá and Cartagena. In the fifties,  suspected of having links with the communist regime, he was denied access to the US for 30 years.  After serving as a foreign correspondent in Europe and Cuba, he moved in 1961 to Mexico City.
In addition to his journalism, García Márquez published many works of fiction, including novels, novellas, and multiple short story collections and screenplays. After his novel "One Hundred Years of Solitude" in 1967, he became best known for his fiction and achieved worldwide recognition as a gifted storyteller.