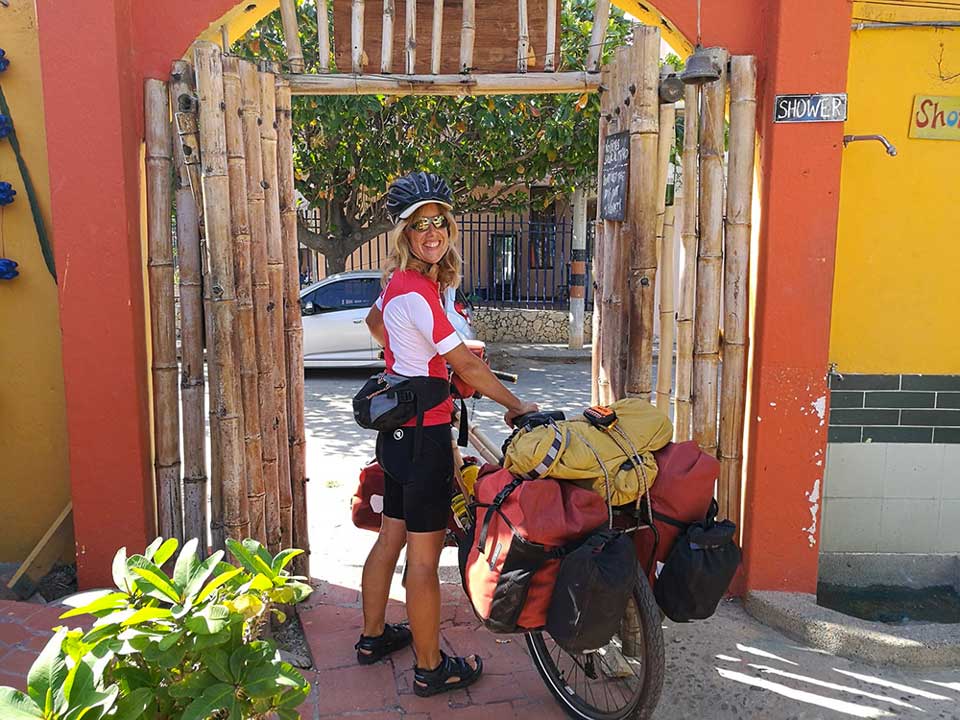 Travelling across the continent on a bamboo bicycle to raise awareness about biodiversity, adventurer Kate Rawles chats to Emma Newbery about the cycle of life.
---
Meet Kate Rawles, an adventurous woman who's cycling from Cartagena to Cape Horn on a bamboo bicycle, armed with basic Spanish, Google translate and an infectious laugh.
The idea is to use her adventure to raise awareness and inspire action on biodiversity loss. Kate is speaking to me from Pasto, on the border with Ecuador, where she's pausing after three months in Colombia. The next stop on her year-long trip will be Quito.
Meet Woody, the aptly-named bamboo bicycle who is accompanying Kate on her travels.
She says that he may well be the UK's first home-grown bicycle, as the bamboo came from the Eden Project in Cornwall and his joints are made from Yorkshire hemp. "The bamboo bicycle is amazing," Kate enthuses. "It's like a communications wizard or a magnet or something. As soon as I stop people all over the place want to talk about the bike and where it came from and what it's made of."
Biodiversity is a relatively under-reported topic at the moment. "I think back in Europe, we've sort of got climate change, more or less," the cheery Brit explains. "But people just don't know about biodiversity loss, why it's important and what's happening."
Kate is using all aspects of her over 5,000 mile journey to highlight biodiversity issues, from the range of habitats she will cycle through to the people and projects she finds along the way. She explains that she visits "lots of positive projects in Colombia and other countries as I travel so I can showcase the really good stories about what's being done."
So, what's she seen in Colombia? "I've seen coastlines, I've been through the hot flat plains south of Cartagena and then up into the mountains and the rain forests and the cloud forests," she says. "The area I've just been cycling though now on the way to Pasto had the most incredible high mountain landscape dotted with cactus all over the place. And when I was in Popayán I was lucky enough to get to visit one of their páramo ecosystems which was completely novel to me."
Project-wise, she's visited a conservation project for turtles and marine mammals in Santa Marta; Proyecto Tití which works towards the preservation of the cotton-top tamarin in Baranquilla; and Environomica, a group aiming to plant 10,000 trees per year in the Sierra Nevada; and Serraniagua, a conservation/biodiversity project in El Cairo, Valle del Cauca, amongst others.
Travelling by bike means that Kate intimately experiences the landscape she is riding through. And while there's no doubt she's smitten with Colombia, putting herself a month behind schedule to be able to spend more time here, she's also well aware that the country faces some serious challenges.
"On the one hand, Colombia is famous for its biodiversity – you have more bird species here for example than the whole of North America and Europe put together and you have some fabulous diversity of habitats and forests and so on," she says. "But on the other, Colombia is losing a lot of its forests and has lost a lot of its forest."
This is not her first rodeo. She's sailed from Gyre to Gaia (The Canary Islands) and also cycled from Texas to Alaska to raise awareness on climate change. Her book The Carbon Cycle: Crossing the Great Divide was published in 2012 and as the title suggests, focuses on climate change. She will write a second book on biodiversity when she returns home after this trip.
And Woody? Well, he hasn't let her down yet. "Touch wood," she says – I suspect without a hint of irony. "I think he likes being here. He's meeting a lot of bamboo cousins along the way."
---