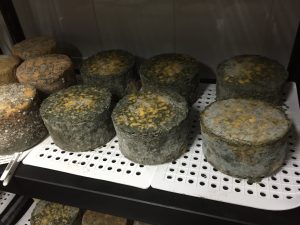 When one thinks of the great cheeses of the world and their namesake regions – camembert in France, cheddar in England, parmesan in Italy – the ubiquitous queso campesino in Colombia doesn't usually cut the mustard. In fact, you would probably be hard-pressed to find a non-latino who could come up with the name of any South American cheese. From the white and bland queso campesino to the yellow block that is known in Colombia as Mozzarella, the art of cheesemaking has not yet seemed to reach these shores.
But I was mistaken – a wonderfully delicious and gooey mistake.
It turns out that Antioquia has some of the best conditions in the world for making cheese. From a year-round humidity that rarely drops below 85% (the optimal humidity for ripening and aging cheese is between 85-95%) to a bountiful supply of fresh, high-quality milk – the green and mountainous Andean region around Medellín ticks all the boxes for cheesemaking aficionados. The region's subtropical highland climate and its abundant regular rainfall ensures plentiful pasture for the well-established local dairy industry and an annual temperature that hovers around 16-25 degrees Celsius: perfect for cheesemaking.
Two people that have recognised this slice of cheese heaven are the small husband and wife operation of Stephen and Ana Cope, proprietors of Estana Cheeses (a portmanteau of the couple's first names in Spanish, Estefan and Ana). The small, independently run cheesery is found off one of the winding, pine-forested roads of El Retiro, a 45 minute climb up and out of Medellín's Valle de Aburrá at the gateway to Antioquia's Oriente "Eastern Region".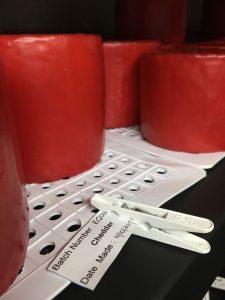 Steve, a straight-talking Australian man from the Victorian countryside outside of Melbourne has been here for two years now with his welcoming and friendly Colombian wife Ana, a native to the region. The two are like chalk and cheese with Steve's plain-spoken direct style counteracted by Ana's sweetness, but both are extremely welcoming and kind-hearted. Tucked away in a parcelacion in the forest of El Retiro, the Estana Cheese factory is a small space – a rectangular galley-kitchen shaped room that sits underneath the couple's modern renovated Colombian farmhouse.
Lined with long stainless steel benches, sinks, a stovetop and a large, shiny three-chambered milk pasteurizer, the Estana cheesemaking room looks clean and clinical, not unlike a chemist laboratory. In fact, prior to entry, Steve whispers to me that we are very lucky to be going in and that we would never be allowed to enter the cheesery on cheesemaking days because of sterilization purposes. At the far end of the rectangular shaped galley kitchen lies an industrial sized steel fridge door with a thick, classic latch-style handle the same you may find on the cool room of a big restaurant. Behind the large door is what my fellow cheese adventurers and I were here for – the most sacred place in any and every cheesery – the cheese cave. After enthusiastically explaining to us the details of the cheesemaking process, Stephen asks us if we would like to enter the cheese cave to have a look. Is the Pope Catholic?
The inside of a cheese cave does not match what one's initial imagination may conger up – a dark, dank rocky cavern with French monks in brown robes quietly tending to huge wheels of Roquefort by candlelight – but rather more like the inside of a large, industrial fridge. As we stand in the centre of the fridge/cave, Stephen explains the evolution of cheesemaking from its traditional maturation in actual caves to the precise temperature and humidity-controlled process involving machinery and biochemistry found today. We are shown shelves of his bright red wax covered cheddars, blocks of salty creamy feta in large buckets of brine and circular wheels of emmental with varying degrees of bulge. Cheesemakers are known to admire the size of the bulge found on a wheel of emmental cheese, not unlike a fisherman would admire the size of another's prize salmon. On a molecular level, the more bulge indicates more carbon dioxide expanding in the cheese, resulting in the deliciously asymmetrical holes that emmental is known for. We continued our tour around the cheese cave to a wall of blueish green, mould-covered wheels of foot-smelling goodness, and finally, the piéce de résistance – Steve's secret stash in the top right-hand corner – one sample from every batch of cheese he has made since Estana Cheeses started operation 2 years ago.
With the cheese cave tour complete and our core body temperature heading towards single digits, Steve invites us upstairs to join Ana for the best part of all cheese-related activities – the tasting. Over triangles of flavourful mature cheddar, squares of gooey camembert and bites of bulgey emmental, Steven and Ana tell us that although the appreciation of cheese is in its infancy, more and more Colombians are enjoying Estana's products and learning that there may be a better whey to eating cheese. They go on to say that the Colombian cheese industry is dominated by the big players like Alpina and Colanta and that small, independently-run cheesemakers are very few and far between – they are one of only three currently operating in Antioquia.
About 50 minutes away to the north, Casa Alimentos Suiza is another local cheesery known for their traditional-style, creamy, whole milk Mozzarella and a selection of smoked meats. The Guarne-based operation is run by Marcus Kracklauer, a Swiss native that moved to Antioquia three years ago from the Colombian coast in search of better conditions for making cheese. His milk supply comes from a herd of 27 Jersey cows, grass fed throughout the year on his farm 45 minutes north-east of Medellin. The year-round availability of grass produces milk high in fat and protein, excellent for making cheese. He says that his main clientele are middle to upper-class Colombians that have spent time out of the country and have been exposed to different types of cheeses rather than the general Colombian population who deem the prices too expensive.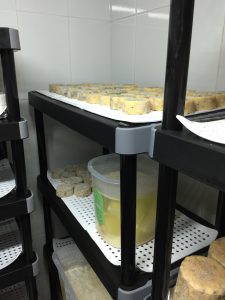 Estana Cheeses and Casa Alimentos Suiza are part of a small but growing network of artisanal food makers in the region. From smoked meats to fruit preserves to chocolate, there is a burgeoning local food scene focused on good quality produce. With abundant sunshine, plentiful and tierra negra (incredibly fertile soil), Medellín's surroundings make a great place for growing crops and raising livestock. A wide variety of fresh fruits and vegetables, quality dairy and meat mean huge potential for artisanal food in the future.
When Charles De Gaulle, the famous French president and resistance fighter said "How can one govern a country in which there are 246 kinds of cheese" he was well aware of his responsibility and the importance that cheese has to society. As seen by these small, independent cheesemakers on their mission to produce high-quality, artisanal cheeses for the Colombian public, Antioquia's cheesemaking scene is slowly maturing.
Estana Cheesery is located in El Retiro, Antioquia and their products can be found in stores like Sembra Viva in Medellin, Tenpenao in El Retiro, Simona in La Ceja and Quesos Artesanales in Don Diego. They can also be ordered online from Estana's Facebook Page or directly via telephone (3183396691).
Casa Alimentos Suiza has a selection of cheese, yoghurts and smoked meats that can be ordered via their Facebook Page or Whatsapp on 3044548280.