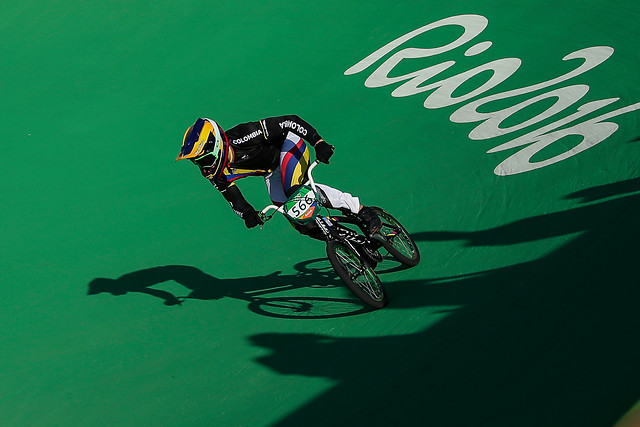 Having won gold at London 2012 – and then virtually every competition since – overwhelming favourite Mariana Pajón left her fellow finalists trailing in her wake as she stormed to BMX gold in Rio de Janeiro. Carlos Ramírez secured a bronze medal for Colombia in the men's event courtesy of an agonisingly close photo finish.
---
Medellín's own Mariana Pajón was already her sport's most decorated athlete when she joined the starting line up of the Rio 2016 BMX final. Indeed, back in 2012 when she carried her country's flag into London's Olympic Stadium at just 20 years of age, Pajón was also the overwhelming favourite to win gold on her Olympic debut – and she did just that. It was therefore no surprise that she was again the favourite heading to Rio de Janeiro this time around – and, once more, she did not disappoint.
The roar that greeted her introduction before her first semi final race was the loudest of the day, with another sizeable Colombian contingent making up large swathes of the crowd at the Deodoro BMX Centre. That she then went on to win that race seemingly without breaking sweat – so far ahead of her rivals throughout that it seemed almost to be an unfair contest – was testament to her superiority, and justified the reception she had received.
Related – Caterine Ibargüen takes triple jump gold in style
"I can see all the Colombian fans in the grandstands and my family is here as well," she said after recording the fastest time in the initial seeding lap on Wednesday. "The Brazilian fans are also very warm. They are like we are all on the same team. We are from Latin America and we are all united." She could not have failed to notice the raucous support she received throughout the final day of racing.
Pajón was pushed closer in the second race, but still came out on top to qualify for the final with a race in hand. In the third run – in which she could have relaxed had she wished to – Pajón held a narrow lead heading into the course's second turn, but an explosive burst of speed down the subsequent straight saw her charge clear of her nearest competitors and into the final unbeaten.
Pajón won her first junior world title in Taiyuan, China, in 2008 at the age of 16; defending her crown a year later in Adelaide. Since entering senior competition, Pajón has dominated the sport – winning the latest of her six world championship titles at home in Medellín in May.
Related – Colombia celebrates first gold medal at Rio 2016
She ran the perfect race in the final, leading from the off and sending the crowd wild as she charged down to home straight to claim a second Olympic gold medal and cement her status as a true Colombian sporting hero.
After taking the Olympic gold in London 2012, Pajón was bestowed with the Orden de Boyacá, Colombia's highest peacetime decoration awarded for outstanding service, by President Juan Manuel Santos. She was then made an 'Honoured Andean Citizen' by the Comunidad Andina, who see her as "an example for the youth of the region; showing discipline, effort and persistence in pursuit of a goal."
Pajón's compatriot Carlos Oquendo failed to make the final having fallen in the third race of his semi final, while the other Colombian in the field, Carlos Ramírez, qualified in third place in his heat despite having crashed in the same race as Oquendo. The 22-year-old finished joint-third in a photo finish, securing an unexpected bronze medal for Colombia.
As one of very few Colombian athletes capable of forcing football off the back pages, Pajón's stock can only rise on the back of another stunning performance at these Games. She is a true national hero.
---
By John Bartlett