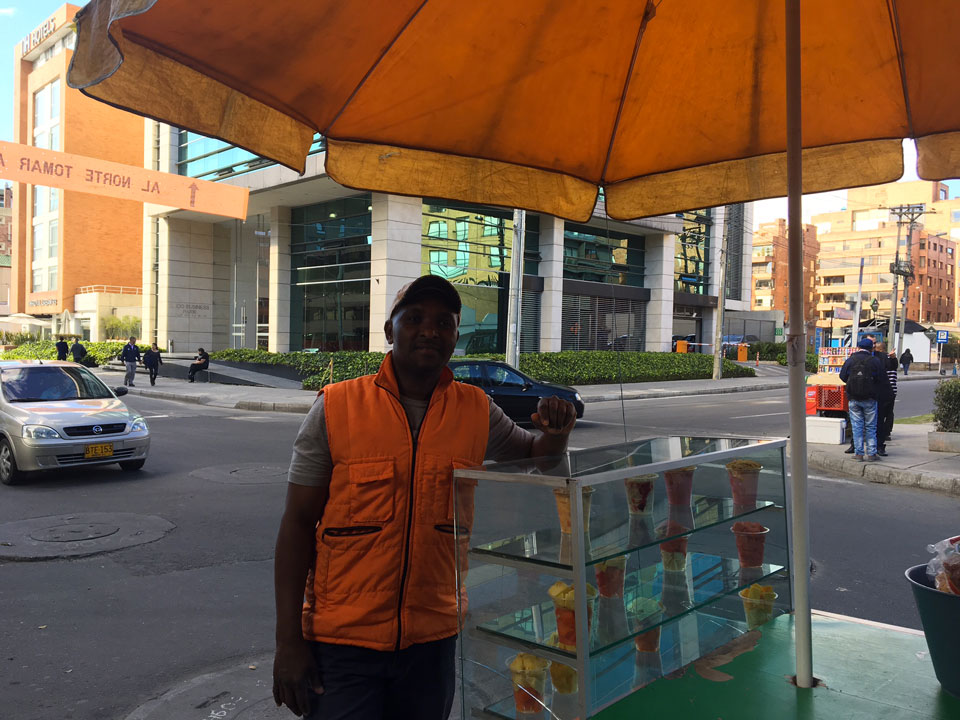 Every day, whether you think of it or not, you'll come into contact with a whole range of workers – from the TransMilenio driver to the stall-owner who serves your morning tinto. This new column is dedicated to finding out more about their lives, their backgrounds and the things they want you to know about them.
In this edition, Álvaro, who has been working as a fruit seller in Bogotá since he moved to the city 21 years ago after having been displaced by the violence in his hometown of Tumaco, speaks to Laura Sharkey.
---
Fruit seller Álvaro's typical day starts at around 3.30am when he wakes up and gets a ride to the market to select and buy the fruit he wants to sell that day. He has to arrive early or all the best fruit will be taken by other eager sellers, cooks or household staff.
He typically spends an hour in the market, carefully selecting the fruit and making sure that it's ripe. His customers are very important to him, as I've seen first-hand. Álvaro often makes personalised combinations according to the special requests of each customer. This, he says, is one of his favourite parts of the job and the reason he sells so much. "Not too much to make me rich, but enough so that we're comfortable," as he puts it.
An average day ends for the 48-year-old in the early evening when he packs up and goes home. It's a long day and despite the fact that he's likely pretty tired, he never lets it show. It doesn't matter whether it is five in the afternoon or eight in the evening, the smile that makes him so popular never leaves his face. That's not to say that it's all work and no play though; when he has days off, Álvaro enjoys spending time with his children who help out with the stall now that they're grown up. They go to the park, have a barbeque and enjoy ice cream. Sometimes he has a beer or two, but his "kids" (although they may now be adults) are not allowed; he was extremely clear about that.
Perhaps the reason why Álvaro is so focused on his children and family is because his own childhood was so difficult. He lived in the Pacific port city of Tumaco, Nariño but had to leave because of the violence in the area. The city has been affected by the armed conflict and continues to be one of the most violent areas of Colombia to this day. Álvaro arrived in Bogotá with very little, knowing only that he couldn't live in Tumaco. After a seven month stint as a security guard, he became a fruit seller when a friend recommended it.
That was 21 years ago and Álvaro says that he still loves his job even though it's not always easy. For starters, he says that the new Police Code, which came into effect on January 30 has created difficulties for street vendors. Just last week, he was given a fine of almost COP$100,000 for being in his usual location. According to Article 140 of the code, street sellers are not allowed to take up public space and can be fined for doing so. Álvaro is not one to give up easily though. He says that he "will not be stopped by this kind of policy" and has joined forces with a group of vendors to try and fight the new rule. His aim, he says, is for the mayor to listen and support them and plans to attend protests until that happens.
I live off this. I don't know how to do anything else, so I have no other option. I'm not doing anybody any harm.
Another worry, says Álvaro, is his safety, especially at night. "When they see you on the TransMilenio, they know that you've been working and that you might have money. They watch out for you to rob you." His son also shares this fear. He used to cycle to the stall in the mornings until his bike was stolen one night as he rode home from a day being a fruit seller. Now he has to ride the Transmilenio which is a longer, more expensive and more stressful commute.
Then there are the less predictable things. Álvaro has hit by the agrarian strike last year which generated high prices, loss of income and irregular fruit supplies. He worries that, even if there are no new strikes in the coming months, he will still be affected by price fluctuations. "You can see it now with the new VAT increase, things are getting more and more expensive."
And what does the future have in store? Álvaro certainly won't let himself be dragged down by these challenges. He says he will "carry on the battle" until Peñalosa changes his mind about the new Police Code, or the government comes up with a solution. At the end of the day, he says, "I live off this. I don't know how to do anything else, so I have no other option. I'm not doing anybody any harm." Far from it; both he and his fruit brighten the day and feed many a passing office worker and visitor.
---