Just over two weeks ago, Bogota became the epicentre of South America's vibrant fashion scene and opened its doors to the fourth annual series of Bogotá Fashion Week (24-26th April). It might not have been as vast as the London or a chic as Paris, but the event nonetheless displayed some groundbreaking catwalks, edgy designs and propelled a series of Colombian designers even further onto the main stage.
Carolina Estefan was one of them who, along with her sister Silvana, worked to see the family-run fashion label become one of just 14 labels that were selected for BFW's runway this year.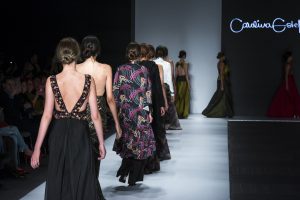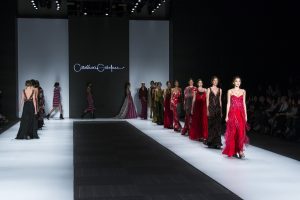 The girls behind the brand delved into the fashion sphere in August 2012. Having previously studied fashion design at Parsons Paris School of Design, the brand's Creative Director Carolina recognised that there existed a huge gap in the Colombian market for clothing that could fill the middle ground between high-end luxury and streetwear.
Having previously lived in the exotic corners of Brazil, Ecuador and also the U.S, Carolina used these creative flairs to inspire original prints and a quirky womenswear collection that effortlessly blends evening and event wear with everyday use. Silvana became the brand's Executive Director in 2015, bringing with her the strategic knowledge from her Business and Economics studies at Duke in the U.S. and together the sisters have begun to build a fashion empire that specialises in contemporary elegance and it's set to only get bigger.
Related: Bogotá Fashion Week: A time machine in the middle of the runway
'Nowadays there are tonnes of emerging designers', Silvana told The Bogotá Post. However, in an increasingly competitive fashion arena, the Estefan sisters have continued to push the boundaries and break out into the international clothing world. Now marking six years since the launch of Carolina Estefan, so far the brand has launched stores in over eight countries worldwide and continued to grow a global following. 'We have 18 direct staff, our own atelier and production site for samples' the Executive Director told us. On top of this, the brand is working closely with a factory and a strong team of seamstresses. The best thing is that it is all Bogotá-based.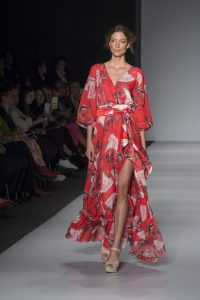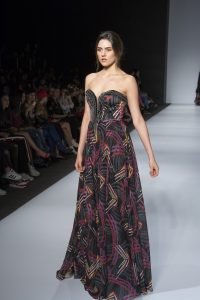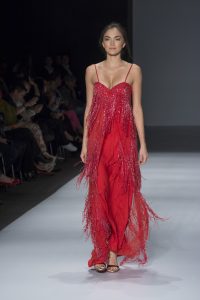 The new Carolina Estefan collection that made it onto BFW's runway offered a unique spin on graceful, classic pieces. Silvana explained how the brand situates itself 'on the chic side… people might buy our clothes for special occasions from weddings to baptisms'.
However, the pieces are also designed to be wearable and versatile, often adding hints of elegance and feminine combinations that can then be applied to the workplace and beyond. The exciting adaptability of the brand was something that shone through as the runway was filled with elegant low-backed evening gowns alongside bright patterns, twenties-esque fringe and the occasional smart trouser looks. Silvana also pointed out that 'Carolina designs all the prints and we are very strong on illustrations', which played a defining feature in the show through exquisite details and bright colours.
The process behind the creation of this year's Bogotá Fashion Week is also one that is not to be underestimated as Silvana described the brand's extensive preparation ahead of last month's catwalk.
Sponsored by the Colombian Chamber of Commerce, over three hundred fashion labels applied to display their brands before the selection was whittled down to 40 and eventually 14 further selected for the runway. 'It's a super long process, which we started in November', she explained, however, with this year marking the second time that Carolina Estefan was selected for BFW's runway, it meant that the sisters already held some experience in preparing this year's 21 looks.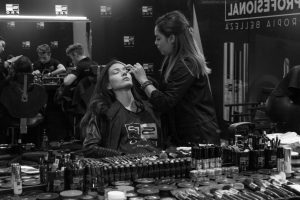 Bogotá Fashion Week 2018 also did a lot more than play host to the country's most exciting designers and fashion labels. A community feel between this year's designers meant that, as Silvana added, 'it's very artsy and you're not really competing'. The result is new friendships, business partnerships and exciting future collaborations. The Estefan brand also developed a number of connections through the event's market experiences which welcomed over 80 international buyers to attend Bogotá. It was also during the two days that Carolina Estefan opened talks with international shoe brand Superga. The combination of Superga's casual footwear combined with Estefan's prints certainly points to an exciting future collaboration.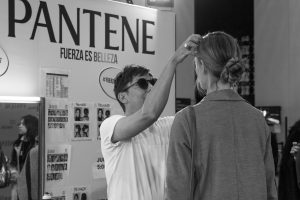 Behind-the-scenes at Bogotá Fashion Week, as one can assume with any fashion event in the world, was a combination of excitement, chaos and a few teething problems. The Ágora Bogotá Center de Convenciones held this year's event and offered BFW a vast space to work from to host events, runway shows and exhibition space. Though Carolina Estefan provided a stellar and well-executed show, Silvana also reflected on the small setbacks they felt throughout the event, as 'the logistics of it were tough for us… it was in a new convention centre so people were lost'.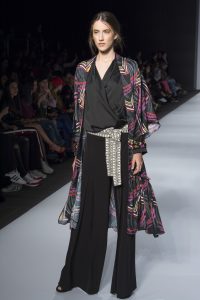 This year's selection also offered a plethora of diverse designs that catered from womenswear to jewellery and accessories, however, there was no The Devil Wears Prada-esque rivalry behind the scenes here. You 'get to know the other designers very well so we don't see each other as competition' Silvana added.  This year Carolina Estefan also shared the runway with Spanish designer Pamela Duque, whose designs, coined as 'romantic, bohemian and timeless' added an extra dimension to the formal wear sphere that these two labels are spearheading in South America. 
What Bogotá Fashion Week leaves Carolina Estefan with is a lot more than just exposure. 'We are a lot more organised with the runway experience now', the sisters have perfected their ability to choose the best models and pointed out that it gets 'easier every single year' even though 'its very hard to get shoes for everyone'.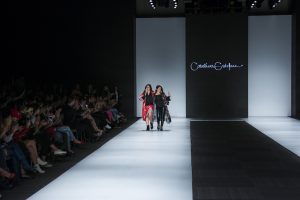 Taking their seasoned experience from Bogota, Carolina, Silvana and the entire team behind the Carolina Estefan label have also already set their sights on bigger events going forward. Instead of heading to Colombiamoda (held in Medellín in July) the pair has already secured their place at Miami Fashion Week where they are switching F/W for Resort with 45 new runway looks. 
Whether it's a prom dress, an evening gown, workwear or daywear, Carolina Estefan is certain to provide its wearers with unique and quality designs of contemporary elegance. As a brand, it is the combination of creative flair, beautiful yet elegant prints and effective business strategies that have set Carolina Estefan up as a promising brand for future fashion weeks around the world. As sisters, these two formidable Colombian-born creatives are certainly on the way to securing their legacy in the up-and-coming Colombian fashion industry.