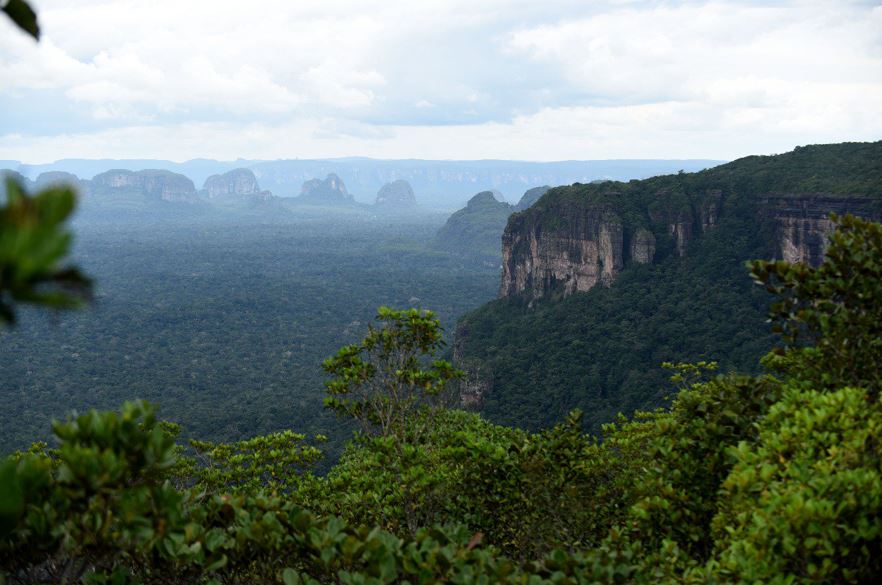 One of Colombia's last remaining national environmental treasures, and the country's largest national park, has been named a UNESCO World Heritage Site.
Chiribiquete National Park, which has recently seen its surface area expand to approximately 4.3 million hectares, spans across the Caqueta and Guaviare departments of the northwestern region of Colombia's Amazon rainforest, over a land mass approximately the size of Haiti.
The area, declared a national park in 1989, has become Colombia's ninth World Heritage Site, along with the historical centre of the town of Mompox and Cartagena's Walled City, amongst several others.
Described as the "centre of the world" by anthropologist and director of Fundación Herencia, Carlos Castaño Uribe, the national park is home to a significant proportion of the country's biodiversity, tepuis (Native American for table-top mountains) and sheer drops of sandstone plateaux that equate to the length of several Eiffel Towers.
Descubriendo el centro del mundo | Carlos Castaño Uribe | TEDxBogota
"The Foundation is very excited to have been part of the nomination process," commented Cristal Ange, executive director of Fundación Herencia in conversation with The Bogotá Post, referring to Chiribiquete's newly-acclaimed status. "This is the third time Colombia has presented the nomination to UNESCO and so we had a great responsibility to carry out an impeccable and highly-technical job…in order to show the world not only the suitability of this park as a World Heritage site, but also the political will of the Colombian government to protect it in the appropriate way," she explained.
"We are proud to have been able to organise a first-class technical team that today allows us to get to know even more about the natural and cultural values of Chiribiquete,"  continued Ange.
Research into the biodiversity of the newly-appointed UNESCO World Heritage Site was stunted years ago as it was a FARC stronghold, preventing scientists from entering the area to carry out research. The territory was also previously used for coca production.
However, today the park is home to at least 30% of the ecosystems of the Colombian Amazon, along with 70% of its plant life. It is currently believed to be home to around 300 species of birds, 313 butterfly species and biologists such as Colombia's Universidad Nacional Institute of Natural Sciences professor Gonzalo Andrade assure that "with every expedition a new species is found."
Parque Nacional Natural Serranía de Chiribiquete "La maloca cósmica de los Jaguares"
Aside from its wealth of biodiversity, the park also houses around 75,000 Native Amazonian indigenous paintings drawn into the sandstone, most of which are still intact after more than 20,000 years.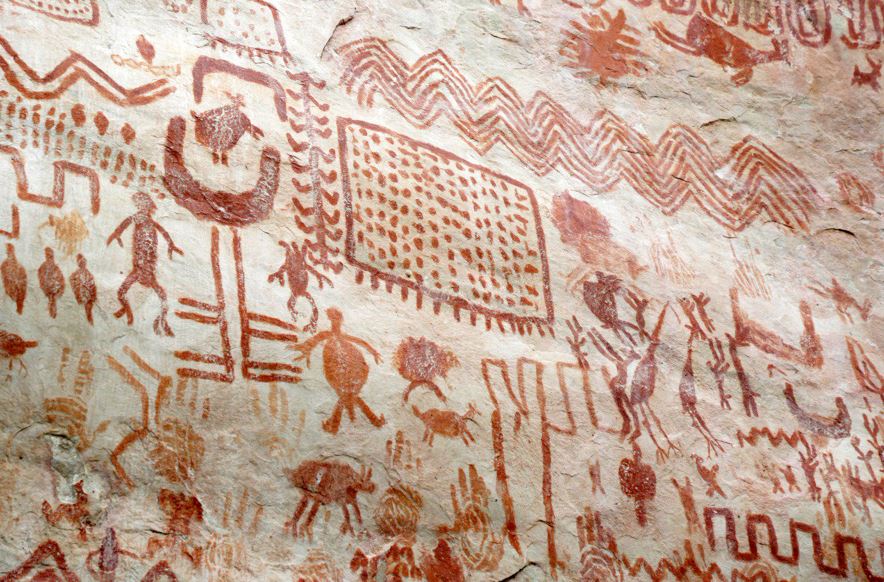 The antiquity of these paintings was discovered upon the examination of 75 Carbon 14 samples, studied by a team of environmentalists a few years ago, making it "the oldest [anthropological] evidence on the continent," according to Castaño Uribe.
"These dates are so old that they contradict those established by traditional historians in relation to the arrival of man to America," said biologist Gonzalo Andrade to newspaper El Espectador.
Chiribiquete is considered by indigenous groups to be the 'cosmic ancestral home of the Jaguar.' In fact the animal features heavily in the ancient paintings that can be found within the park, believed to be a symbol of power and fertility and often worshipped by the indigenous communities within who consider it to be sacred.
However, having been featured in the 2015 hit motion picture Magia Salvaje–which is now the highest grossing Colombian film to date–public interest in the mountainous park has begun to develop.
Up until now, the park remains closed for visits by the general public and permission is restricted to those who come to visit on behalf of an entity or organisation. Despite these rules, planes and helicopters continue to fly above the park without permission as pressure for it to become a tourist destination begins to creep in.
Castaño Uribe, who headed up last year's Herencia Ambiental Foundation expedition to Chiribiquete, emphasised the importance that the park remains closed off to the general public in a video published by El Espectador, claiming that a situation involving contact with tourists could damage the environment completely.
Expedición Chiribiquete Parques Nacionales y Fundación Herencia
"This site must not be visited," he said, insisting on the need for its protection. "It is a place where there are still indigenous communities that have no contact with Westerners, that, judging by the evidence we have, are making spiritual, ritual and ceremonial use of the archeological sites, and any interference here will have disastrous consequences," explained Castaño Uribe.
Speaking at the 42nd session of the UNESCO World Heritage Committee, director of Colombia's Natural Parks Julia Miranda Londoño pointed out the uniqueness of the site, and "the challenges this implies" for its conservation and administration, reported the print version of Medellín newspaper El Mundo.
Threatened by deforestation and illegal mining, government organisations as well as scientific and environmental groups decided to campaign for its heritage status under UNESCO.
Fundación Herencia executive director Ange explained the importance of the UNESCO nomination for the park's "protection and exposure." She also pointed out that newfound levels of international recognition represent an opportunity to "raise awareness of the immense value of the area so that we can all contribute to its conservation and…allow the site to be able to sustain itself in natural harmony. That way, we can protect the fundamental rights of indigenous communities."
Both President Juan Manuel Santos and President-elect Iván Duque have declared their happiness and support of the recent announcement, with Duque outlining his commitment to "protect biodiversity" and Santos promising to pay the national park a celebratory visit.
President Santos left his twitter followers with the following message, direct from Chiribiquete national park itself: "We must protect our environment, it is the most important wealth that Colombians have, our biodiversity, our plains, our rivers, and what we did today is a very important step in that direction."
#ChiribiquetePatrimonioMundial es de esos lugares fascinantes de Colombia. Declaramos 1,5 millones de hectáreas de la Serranía la Lindosa como área protegida, asegurando la conservación de 4,3 millones de hectáreas de este Parque Nacional. pic.twitter.com/hnGxipmvMc

— Juan Manuel Santos (@JuanManSantos) July 2, 2018