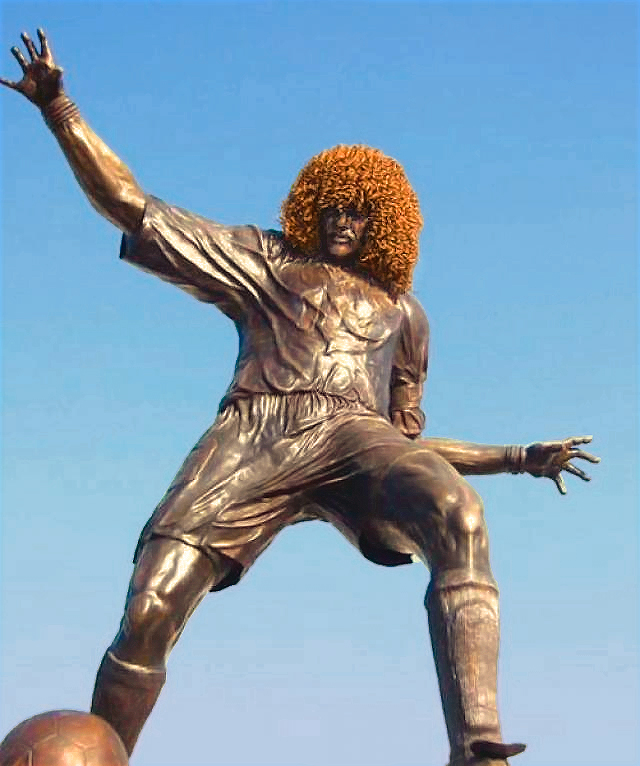 It's been pretty widely reported that this is the first World Cup in more than a decade for Colombia, 16 years in total…but the country is no stranger to the tournament, having already made an impact in World cup history. How much do you know about the Colombia's World Cup football history?
---
1962: Lev Yashin and the Olimpico
Colombia's first foray into the World Cup finals came in Chile ´62. They started well, leading much of their first match against Uruguay before two late goals consigned them to defeat.  The next match was against a strong CCCP team that contained the legendary Lev Yashin in sticks.  Colombia managed to score four times against arguably the greatest keeper in history, but had to settle for a 4-4 draw.  In the chaos, Marcos Coll set a still existing benchmark, scoring the only ever World Cup goal direct from a corner, known as an olimpico. In their final game an impressive Yugoslavian team dismantled them 5-0 sending them home with an illusion more.
1986: The Mundial that wasn't
In 24 years following 1962 football was on the margins in South America. 1986 was all set to become a glorious return when Colombia was chosen as host of the World Cup: however, in a mirroring of the current Brazilian situation, the country baulked at the high costs and demands.  In 1974, they had been unanimously given the 1986 Cup for 16 teams.  By 1983 FIFA had increasedthis to 24 teams, with all the additional costs required.  FIFA were now demanding intercity rail links and a stadium in San Andres.  The Colombian government of the time took one look at the expense and wisely decided to step down. Various rumors about drug influence, political instability and Mexican meddling still persist, but given the situation in 1982, when the decision was made, it seems unlikely that these factors had an influence. In all likelihood, the politicians simply didn't give in to the corrupt FIFA boss Joao Havelange's demands for money and financial guarantees.  The job was simply too big for Colombia at the time. In the end, Colombia didn't even qualify for the cup they should have hosted, watched by just 6,000 in Cali as they went out on aggregate to a superior Paraguay side.  You can still find odd Colombia 86 memories around the country – for example a tienda on the way to Choachí, rather appropriately on a precipice.
1990: Italia '90 and new territory
After 28 years without representation on the world stage, Colombia's footballers not only returned for Italia '90, but were something of a surprise package, with heroes such as the charismatic, extravagantly bouffanted Carlos 'El Pibe' Valderrama and eccentric Latin Goalkeeper Rene Higuita taking the team to new heights.  That first win they were searching for was provided early doors, with a fine 2-0 dispatching of the UAE, before they lost to Yugoslavia again, albeit only by a single goal.  The final match against West Germany was do or die, and when the Germans scored with a minute to go, a nation held its head in its hands…only for Freddy Rincón to pop up with a dramatic equaliser three minutes deep into injury time.  Colombia was through!  In the second round Cameroon with their 38 year old talisman Roger Milla laid in wait.  After 90 minutes, neither team could break the deadlock, until Milla finally found a way through.  Colombia started playing more riskily, and eventually Higuita was caught by Milla some 30 yards out of his goal, allowing the African an easy and decisive second goal.
1994: Tragedy for the Golden Generation
Colombia's heroes rebounded immediately to USA '94, but this time they were no surprise.  They'd qualified in style, culminating in a still-celebrated thrashing of Argentina 5-0 in Buenos Aires which left them top of the group and having a laugh.  Indeed, the legendary King of Football, Pelé, had tipped them to win.  However, as usual, the dozy cock-pill salesman was wide of the mark and things took a darker turn.  In the first match, the largely home-based squad were made to look like naive amateurs by a George Hagi inspired Romania, losing 1-3.
Related: Colombia's history at the Copa America 
Death threats came in and rumors of mafia involvement grew.  In the next match against the USA, centre-back Andrés Escobar scored a lousy own goal to give the Americans the lead. The US went on to win the match 2-1 and put  the Colombians out of the tournament.  Escobar later paid for that with his life.
1998: End of an era
In France, Colombia were in their third consecutive cup and ready for success.  Although the glory days were fading for the Golden Generation, players like Rincón and Valderrama still had enough in their locker to give it a go.  With Tino Asprilla also emerging, there were hopes that they could get to the next round.  The first match was close, with the team narrowly losing 1-0 to Romania; again from a chip of the keeper, this time Mondragón, who is (at 43 years old) still present in the 2014 squad.  The volatile Asprilla threw his toys out of the pram after being substituted and was dismissed from the squad.  The next round of games saw a late goal to beat Tunisia and thus set up a winner takes all battle for second place with England.  However, in the end, first-half goals from Anderton and a little-known player called Beckham ensured Colombia were on the plane home. Little did they realise it would be 16 years in the wilderness.
And what of 2014? With side factors such as mafia involvement and disciplinary issues further away than ever before, the Colombian squad has a unique chance to make this World Cup their best performance ever by reaching the quarterfinals.. or further!
---