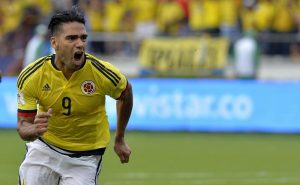 Colombia are just a final step away from qualification for the next World Cup Russia 2018.
---
AS THE full-time whistle blew in Barranquilla on September 5, Jose Pekerman's Colombia could justifiably feel proud about earning a 1-1 draw against Brazil in their latest qualification match for the next World Cup Russia 2018, to be held in Russia next year. Home draws are not usually worth celebrating, but Brazil had won all nine of their previous matches, so getting a point from any match with the runaway group leaders must be seen as a positive. In a qualification as tight as this one, every point counts.
On the other hand, the excellent performance of the Selección, capped by a diving header from talismanic striker Falcao, further highlighted the disappointment of the 0-0 draw with no-hopers Venezuela, just five days before. Why raise your game for the toughest opponents but not the weakest, and emerge from both games without victory? A win over Venezuela and a loss to Brazil would have yielded three points. Instead, Colombia emerged with two. It's frustrating, but that's football and qualification is still well within reach for Colombia.
With only two matches to go – on October 5 and 10 – Colombia sit third: two points ahead of Peru and Argentina, and three ahead of Chile in the dreaded sixth place. Fifth place would probably be enough, but it would require a play-off against New Zealand to be sure. New Zealand are not a strong side, but nothing is guaranteed in football. So what do Colombia need to do to qualify?
The next fixture is at home to Paraguay, which should be a victory, and that would surely be sufficient. A final fixture, away to Peru, would give another opportunity, both for points and to frustrate a rival. The big story of this qualification is the failure of both hArgentina and 2015 Copa America champions Chile. Both face a real risk of missing the World Cup, while Colombia are almost there.
---
By Ally Brown