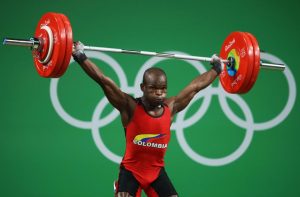 Colombian weightlifter Edwin Mosquera Roja was tragically shot and killed at the age of 32 following a bar argument in the southwest city of Palmira in Colombia.
The horrific event took place in a "commercial establishment" in the Villa de las Palmas area on Saturday. According to local reports Mosquera had a heated argument with the killer at a bar in Palmira shortly before he was murdered. It is believed that the argument escalated and concluded with the unknown killer shooting Mosquera in the head and knee.
The Palmira government is offering a reward of $3,400 USD ($10.1 million COP) for any information relating to the killing and the killer's whereabouts.
Mosquera participated in the 2016 Olympics in Rio de Janeiro where he finished seventh in the 69 kg weight division. He was highly rated by Colombia's Olympic committee who described him as "one of the most prominent Colombian weightlifters in recent times".
The Colombian Federation for Weightlifting released the following statement on Twitter in response to Mosquera's sudden death: "The sport of weightlifting mourns the loss of Edwin Mosquera, an outstanding athlete who represented Colombia in the past Olympic Games Rio 2016, passed away yesterday, and our deepest condolences to his family and friends."
Prior to becoming a professional weightlifter, Mosquera had a spell as a professional soldier and served 14 years in the Battalion of Engineers Agustin Codazzi of Palmira.