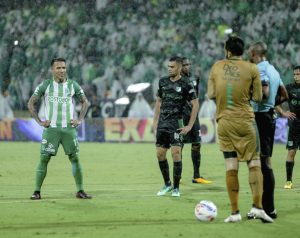 Atlético Nacional have dismissed striker Dayro Moreno, following an on field scrap with teammate Jeison Lucumí in Sunday night's Liga Águila match against Deportivo Cali.
In an official statement released on Tuesday afternoon, Nacional confirmed that it would be terminating Moreno's contract, effective immediately, following a series disciplinary offences which have "compromised the club's values".
Since joining the Antioquian side on loan in 2017, the Tolima-born striker's disobedience has overshadowed his impressive goal-scoring record. The latest incident came on Sunday night, when Moreno snatched the ball from teammate Jeison Lucumí's as the two were preparing to take a free kick. In the ensuing scrap Lucumí headbutted Moreno, earning him a red card and an eight-day club suspension. At the final whistle, Moreno again confronted  Lucumí, but was held back by teammates.
Disciplinary offences have been a persistent feature in Moreno's two-year stint at Nacional. Last month, during a Copa Águila match against Barranquilla, he clashed with teammate Gonzalo Castellani after the Argentine midfielder confronted him about his work rate and his habit of blaming team members. At the final whistle, the players had to be separated by teammates. In March, the striker headbutted Alianza Petrolera defender Luciano Ospino, for which he was retroactively suspended. And in May 2017, Moreno was caught on camera verbally abusing an opponent during a Copa de Libertadores match against Barcelona de Ecuador.
Atlético Nacional storms through to Copa Colombia final after comprehensive win against Leones
Sunday's incident proved one to many for the Atlético Nacional board, who eventually made the decision to dismiss the striker in spite of his impressive goal-scoring form. Moreno is Nacional's top scorer this season, with 10 goals for 12 games. Since joining the club he has netted 57 goals in 90 games, constituting one of the best goals per game ratios in the Antioquian side's history.
Despite his goal-scoring prowess, a lack of discipline has characterised Moreno's professional career, which started in 2003 with Once Caldas. The striker has been the Liga Águila top scorer six times, but his penchant for fighting, disobedience and drinking have prevented him from securing a regular place with the national team. Now, at 33 years of age, he finds himself without a club.
The question of where Moreno will go next is open for debate. Although a proven goalscorer, it will be interesting to see if any club is willing to tolerate his temperamental behaviour.