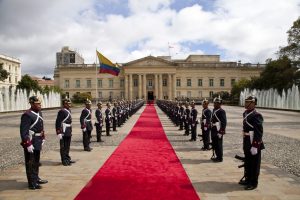 On Wednesday, Rodrigo Londoño, also known as "Timochenko," announced he will be running for the presidency of Colombia for the 2018-2022 term.
Londoño, commander-in-chief of the FARC until the peace agreement with the Colombian government, joins a number of former FARC commanders who have announced bids for Senate elections, also set to be held next year.  According to the peace deal, the party will automatically be awarded 10 seats in Congress through 2026.
Londoño has added his name to a crowded list of candidates intent on bidding for the presidency, but obstacles for his campaign are many-fold: the would-be presidential candidate suffered a stroke last year and, during a press conference yesterday, he and other FARC leaders didn't address how they would complete their terms in office, were they to face eventual charges from transitional justice tribunals.
Related: Colombian presidential candidates race preview
His announcement was not without condemnation from those who have criticised the political ambitions of the FARC, especially from those on the hard-line right who are outright opposed to the peace deal. Yet, after a ruling this month by the Constitutional Court shielding the agreement for 12 years from any amendment, the focus will likely be shifted towards issues like the economy and corruption.
Related: FARC peace deal cannot be amended for 12 years
Although the Colombian Congress has yet to finalise all aspects of the transitional justice system, a war crimes tribunal for trying persons from all sides of the conflict was an important component of last year´s peace agreement.  As outlined in the deal, these tribunals will be able to hand out sentences of up to eight years, though those convicted will not serve time in traditional jails.
Following last year's peace agreement and their demobilisation, the former guerrilla group has re-launched itself as a civilian political party, changing its name in August from Revolutionary Armed Forces of Colombia to the Alternative Revolutionary Force of the People. In Spanish, the new term shares the FARC acronym.