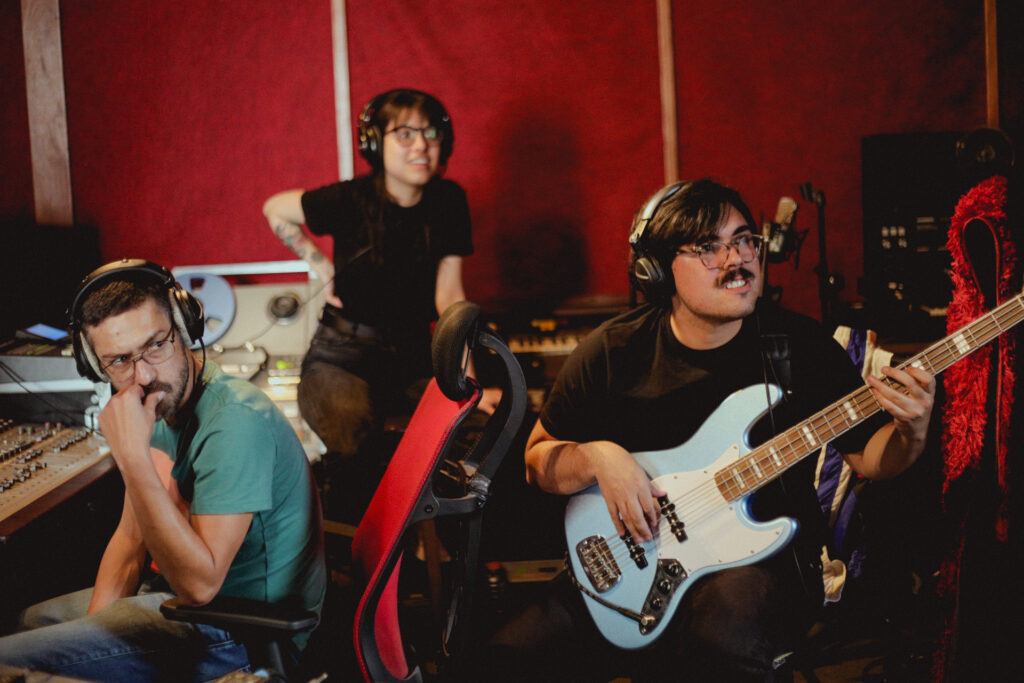 Felipe Orjuela wants the world to put on dancin' shoes and hit the dancefloor to cumbia. It's a Colombian genre that rarely seems to get a lot of attention overseas these days and he's out to change all that.
"Estéreo Picnic is from Colombia and we need Colombian music," says Felipe Orjuela at the start of our interview. He's emphatic about the need to reflect traditional Colombian culture at the country's biggest musical festival. "It's a space for giving Bogotá's public a new kind of music, not only rock and indie, mainstream music, but also understanding where the festival is taking place."
He plays cumbia, which is a uniquely Latin genre. It started in Colombia and rapidly spread around Latin America, with significant regional variations in Chile and Argentina among others. Colombian cumbia, though is the sound of parties, as Felipe explains: "Cumbia is music for dancing. That's why cumbia records were released at Christmas, for people to dance to. And that's what we want people to do."
He's adamant about the need for dancing, and the connection between his music and physical expression. He has no fear about getting a good reception even mid-afternoon as he says "There is no difficult time to get a party going, that's cumbia." He speaks from experience at the festival, saying "I've been in Estéreo Picnic as a visitor since I was 18 years old. Cotopla Boyz last year, they were the party at 3pm."
At Festival Estéreo Picnic 2023, he's looking forward to fellow cumbia artists Santiago Navas and Frente Cumbiero as well as The Chemical Brothers, Wu Tang Clan, Fumaratto and TraTraTrax Soundsystem. It's quite a mix of music, and he certainly doesn't feel constrained by genre. In fact, on of his favourite live songs is an unlikely cover, he claims: "We love ABBA and we love dance music, we have an ABBA cover called Dame un pelao esta noche."
Like sancocho, cumbia is one of those things that transcends regionalism in Colombia. While it might have its roots in the Caribbean north, Felipe points out that: "Every family in Colombia gets cumbia. In every part of the country. That's the thing about cumbia, we're not trying to create a new audience, it's music that has always blasted out in Colombian parties, for 50-60 years."
While it has been around for decades, it remains a staple of Colombian life, and Felipe celebrates its ability to stay relevant without losing touch with its roots, even as newer artists mix cumbia rhythms with more modern beats. Prime among these is Navas, who Felipe describes as "an electronic producer who is making cumbia with techno and Pacific folklore."
Felipe says of the newer developments: "My opinion on new cumbia and old cumbia is that there is no such thing as new and old. There's only one cumbia which is not changing, but is understanding its context. We're using the same musical structures, but now we have synths and electric guitars and we're adapting the lyrics to our lives. But the feeling is the same, the rhythm is the same."
He's right that cumbia is long overdue an international reappraisal. After all, it used to be better appreciated, as Felipe reminds us: "You know, Joe Strummer had a program on the BBC where he was playing cumbiero music in the 80s. We need a Colombian invasion around the world playing cumbia and Colombian folkloric music, because everyone can dance to it."

Get down to the Flamin' Hot stage at 3pm on Saturday 25th March to show off your cumbia moves with Felipe Orjuela y la Nueva Estudiantina Electrónica.