Festival Estéreo Picnic 2023 brought more than 100 artists, bands, and DJs to a rain-soaked field just outside Bogotá for four days of music (and mud). We were right there amongst the 135,000 revellers swept up in the 'mundo distinto' – here's how it unfolded.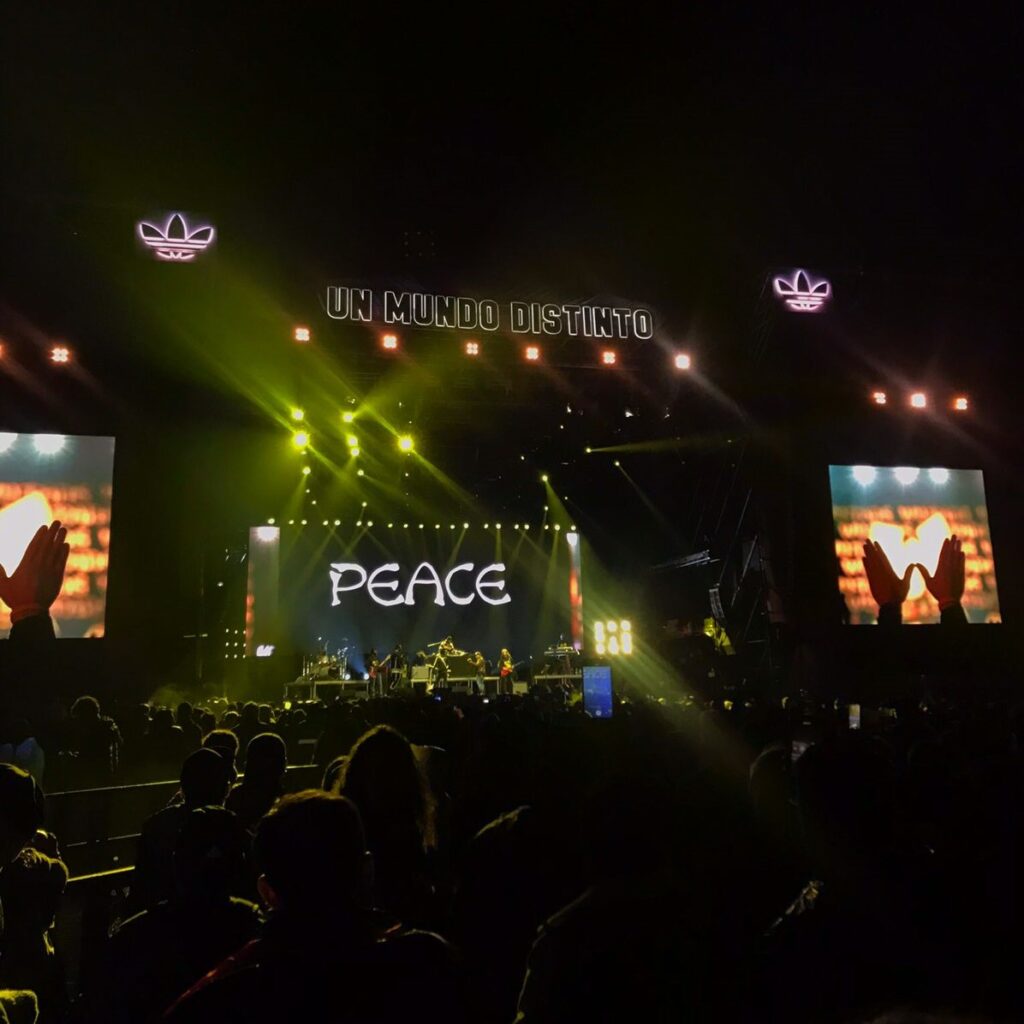 Festival Estéreo Picnic 2023 was the most ambitious event yet. Organisers amped up the diary to include a fourth day for the first time in the festival's 13-year history and hosted performers from as far away as Sweden and South Korea.
The best crowd in South America
Many of the international artists headlininging were making their debuts in Colombia, perhaps the most notable of which were hip-hop pioneers Wu-Tang Clan.
Wu-Tang's set was everything die-hard fans could hope for and there were certainly plenty of them at the Adidas Stage on Saturday afternoon. Despite marking the thirtieth anniversary of their first album 'Enter the Wu-Tang' this year, the New York legends proved they were still capable of an energetic and quite frankly masterful performance.
Refusing to let the rain spoil their enjoyment of the show, spectators jumped along to 'Bring Da Ruckus' and sang along to a rendition of 'Shimmy Shimmy Ya' in honour of band member Ol' Dirty Bastard who died in 2004.
"It's our first time in Colombia, but you are the best crowd that we have had in South America", RZA shouted.
Canadian rapper Drake was also performing in Colombia for the first time, but his Friday-night headline set was nothing short of puzzling. He delivered what can only be described as a performance for the tik-tok generation, launching into hit after hit but curtailing each after just a few minutes. The whole spectacle seemed inexplicably rushed. In fact, after a short delve into his earlier albums, he complained that he was being told he was running short on time, a claim that seemed odd given he was only around half-way through his billed time-slot. The show ended with a somewhat forced acapella rendition of 'I will always love you' as the star left the stage wrapped in a Colombian flag around half an hour before he was scheduled to finish.
Billie Eilish lives up to expectations
Another greatly anticipated artist who made a rather more favourable impression was Billie Eilish. The Californian singer-songwriter delivered exactly what the crowd expected and wanted, a mature yet emotionally honest performance that elegantly showed off her voice control and ability to connect with an audience.
Other big-hitters included Argentinian electro artist Bizarrap who reportedly drew some 30,000 spectators. The high point of the spectacle was a rendition of his latest track with Shakira, although much to our disappointment the Colombian megastar failed to make a guest appearance.
Catalan cantante Rosalia also proved a crowd-pleaser offering a polished and highly choreographed performance. She swung from classics like 'MALAMENTE' from her earlier albums, to newer tracks, even performing 'BESO', a track released the day prior, at the crowd's behest. Showered in gifts of teddies, flowers and even a custom jacket, her rapport with the audience was enviable. A standout moment came when she stripped back the theatrics of her show to sit at a grand piano and play 'HENTAI'.
Delays and disappointments
Another festival highlight was Blondie. Despite falling foul of Bogotá's notorious traffic and arriving 25 minutes late, Debbie Harry won over her audience with her usual wit and charm and a shout of "¡Que chimba!" for good measure. Nostalgia-seekers were treated to 'Call Me', 'One Way or Another' and 'Heart of Glass', but also provided some surprises. She donned a jacket emblazoned with the striking message "dejen de joder al planeta" and brought on Santa Marta-based electro collective Systema Solar for an energetic rendition of 'Sugar on the Side'.
As ever, the festival was beset by last-minute line-up changes. Just weeks before the festival Willow pulled out and an injury sustained by drummer Travis Barker meant Blink-182's performance was also off the cards, but Twenty-One Pilots proved a more than adequate stand-in.
Colombian-American Kali Uchis caused yet more consternation by cancelling her appearance on social media with just a day's notice before making an abrupt u-turn just over an hour later. When she eventually made it to the Adidas stage on Sunday afternoon she delivered a smooth performance, her mellifluous voice winning over the crowd despite a couple of awkward moments.
The national treasures
Whilst international stars enjoyed the best of the evening slots, the Colombian artists didn't let their relegation to early afternoon and late night spots and the festival's smaller stages dampen their performances.
Santiago Navas played a spectacular live set on Saturday afternoon, inviting Felipe Orjuela on stage with him to join him in an exciting blend of techno and Cumbia. Meanwhile newcomers Ana Sanz and Amantina showcased their latest releases. Despite playing to more modest crowds than they deserved, they more than proved their right to a spot on the festival's stellar line-up.
Ryan Castro and Tokischa kept crowds dancing later into the night with brash but brilliant sets that showcased the very best of Bogota's discotecas and had spectators overflowing out of the Flaming Hot tent.
But perhaps the most memorable of the Colombian artists, was 84-year old bolero legend Alci Acosta who succeeded in packing out the Adidas stage with swaying and singing fans. The national treasure was the perfect act for a hungover Saturday afternoon crowd.
A festival to remember
The festival was not without its logistical hitches: interminable traffic jams and the predictable transformation of the Campo Briceño into a shoe-destroying quagmire.
The festival has also obtained an unignorable commercial character – a towering Cheetos tower, McDonald's zipline and a Jumbo big wheel gave this year's event the unfortunate air of a capitalist playground.
But neither mud nor marketing could detract from the impressive scale and musical diversity of Festival Estéreo Picnic 2023.