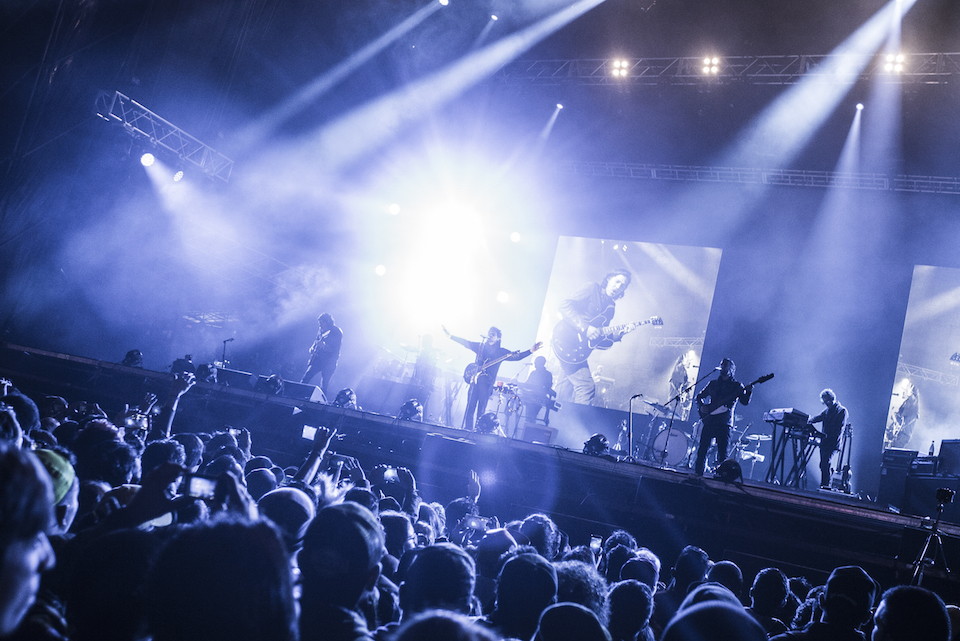 The Estéreo Picnic party draws to a close after three days packed with fun and games.
---
After the chaos of Gorillaz on Saturday, there's plenty of talent left to go at Festival Estéreo Picnic, including one of the finest shows of the weekend. The party is really winding down now, but there's enough for the comedown to be gentle and soft rather than violently empty.
The festival needs something to get going on Sunday afternoon. Who better than Royal Blood to blow off the cobwebs? Making a massive fucking racket with just a drummer and bassist, these Brighton boys are all about the bottom end. By far the heaviest band of the festival, this is like making an Archimedes' cradle out of wrecking balls. Blue whales have quieter farts than these guys. More than that, they own the stage. Two kids, and we're transfixed. They feed off it – drummer Ben Thatcher has his own Colombia shirt and comes steaming into the audience, off his tits on something or other. Maybe just pure energy. Maybe. Come the end, they're not letting up, just hurling the instruments to the floor and pounding away to make senselessly brilliant noise.
Royal Blood are destroying the mainstage, which means less of a crowd have gathered for Telebit on the third stage. It's a shame, as they're putting in a great performance too. It's more measured than the English kids but just as euphoric. Switching seamlessly between styles, they can handle balls-out rock as well as quick-step cumbia-rock. Lyrically, the message is one of hope and possibility. This all makes Sunday's comedown much more bearable.
Oh Wonder bring final day tiredness. The UK have sent some excellent bands –Royal Blood and Gorillaz have blown the festival into tiny pieces while everyone follows in the slipstream. But these guys are more reminiscent of Coldplay than The Fall. Drippy, faint, weak pop-rock abominations, if they died tomorrow even their parents would simply shrug. It's a performance more insipid than a can of Redd's. As we leave they're exhorting the crowd to go wild. The next song sounds like a mouse's fart. That's them all over.
Hailing from Mexico, the final tilde in Zoé makes them sound like a bunch of scallies. They sound more Manchester than Mexican too. It's like they're Britpop emigres, with a sound perfect for a dark chilly night in t'mountains. Not too maudlin, yet not happy like stupefied villagers, they walk the fine line between uplifting and miserable-pop.
Related: Estéreo Picnic: Gorillaz in the hills
We've had the bandas nacionales, and now it's time for The National. They are suffering the same problem that everyone's had with sound on the second stage. Despite that, their jangly alt-rock has everyone ready to rock out. A fantastic band, even if the sound could be crisper. Thankfully, Matt Berninger's distinctive vocals are just as raspy and ragged as they should be. A voice honed on whisky and cigarettes is exactly what we need right now and somehow complements the distortion in the music.
La Vida Bohème are local talent writ large. Uplifting indie-folk stylings make them a fun festival act, perfect as a bridge between an introspective National performance and a danceable set from LCD Soundsystem. Bouncier than toddlers on a diet of skittles and coke, they're high NRG and charge up our batteries to a 100%.
LCD Soundsystem finally take the stage to close the party. The stage is bizarrely cramped up, so all seven of them are together in a tiny space. It's all upbeat and high energy, the drummers pounding away like their lives depend on it, but in the end we're reminded that this isn't really a headline band. They should be second on the bill somewhere, or headlining a second stage. We've seen them a dozen times before,  they're always good always professional, tighter than a nuns jacksy. But that's not enough. A headliner needs gravitas and charisma. Lana Del Rey had it, Gorillaz had it in spades. Fuck it, maybe even the Killers did. But not LCD Soudsystem, amazing band that they are.
After that, it's away from 'el mundo distinto' of Estéreo Picnic and back to the grind of daily life. Especially the joy of Suicide Monday. It's been a patchy few days, but when it gets it right, it's really fucking right.
---