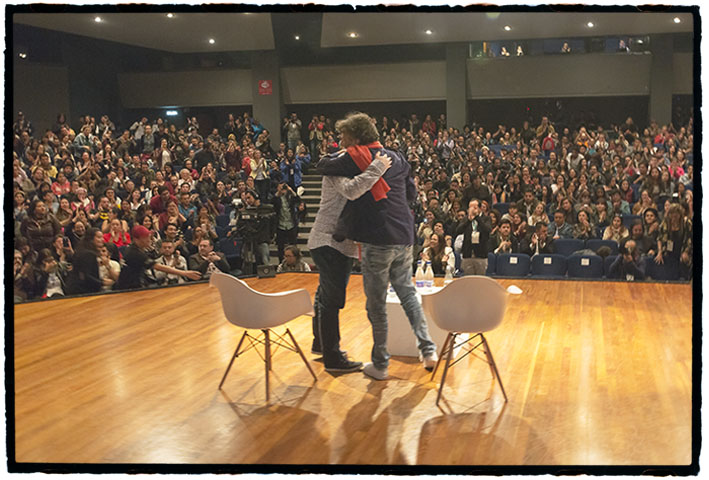 For two weeks, the city was awash with letters and words – spoken, written and even painted on walls – of all shapes and sizes and in all kinds of languages. With talks, book signings, music and a host of cultural celebrations, our team scurried from pavilion to post to bring you the best of FILBo 2017.
---
¡Somos libros! Well, not literally, but that was the tagline for FILBo 2017, the Bogotá International Book Fair – this year. The gargantuan event arrived once more with a plethora of activities to partake in and events see. Yet again, Bogotá delivered a world-class event, accessible to all. In total, an impressive 550,000 people filed through Corferias' iconic arch over the 14 days of the event along with guest authors from 18 countries.
FILBo has been running for thirty mighty years. 'Thirty and flirty', as they say – FILBo was in the mood to flaunt its successes over the years. A photo display celebrated the important moments in the development of the feria as well as various moments in the history of literacy in Latin American, from Ecuador to Argentina. President of the Cámara Colombiana del Libro, Enrique González Villa, spoke of the fears they had in 1987 when people asked if it was possible to have an event like FILBo in a country which at the time lacked a reading culture. Thankfully, FILBo's thirtieth edition was a resounding success and enduring proof of the clarity of their vision.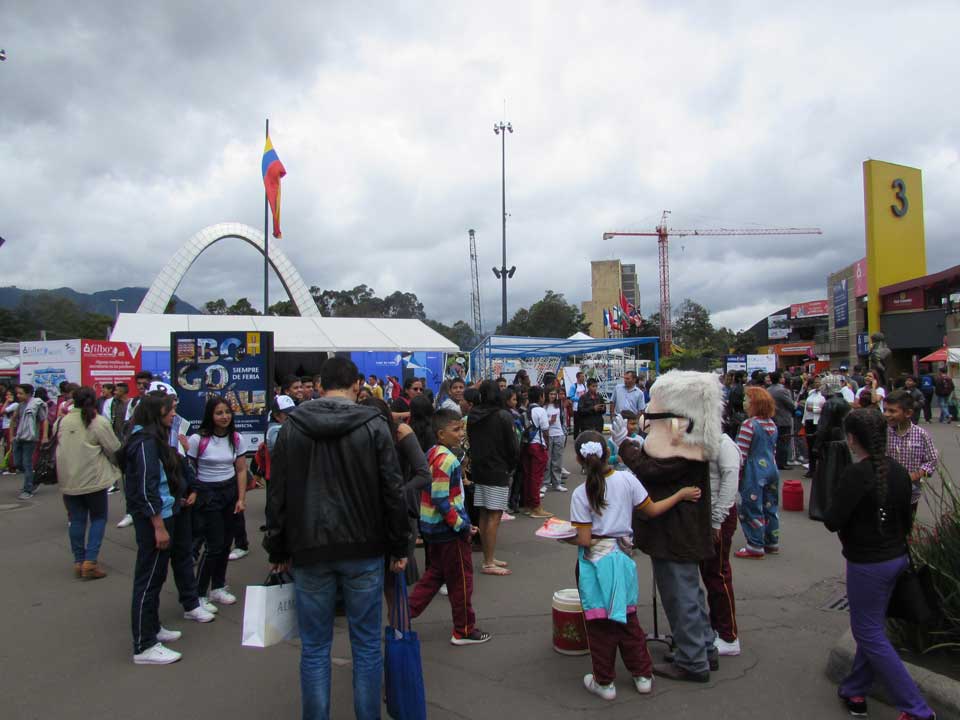 With such a veritable myriad of delights on offer at FILBo 2017  – around 1,500 individual events – it was hard to know how to make the most of them all. The best advice for next year is to take your time and try to go on weekdays (even the evenings) to avoid the crowds. After all, it's open until nine or ten every day – often with music and dance towards closing time. That way you can duck in and out to avoid overload. It's worth noting that there were a few hiccups in the organisation and updating the agenda, but that's understandable in an event of this magnitude.
Bookshops provided the bulk of the stands at the fair, from local heavyweights such as Panamericana to international big-hitters like Penguin/Random House. Smaller favourites including BookWorm, El Tope and Too Geek were also on hand to showcase their wares. Book sales were up by 7%.
At FILBo 2017, as part of the broader Año Colombia-Francia celebrations, the French were the guest country at the event. Every bit as elegant as one would expect from the country of Paris and Provence, their pavilion nonetheless lacked a little of the Netherlands' high culture for some of our reviewers.
Asterix's countrymen decided to focus on their proud history of graphic art. Tintin – apparently lost – featured heavily in the French House, as did that wee prince. It may have lacked the cultural element of last year's guests but certainly left a visual imprint on those who filtered their way between the scarlet gossamer at the entrance.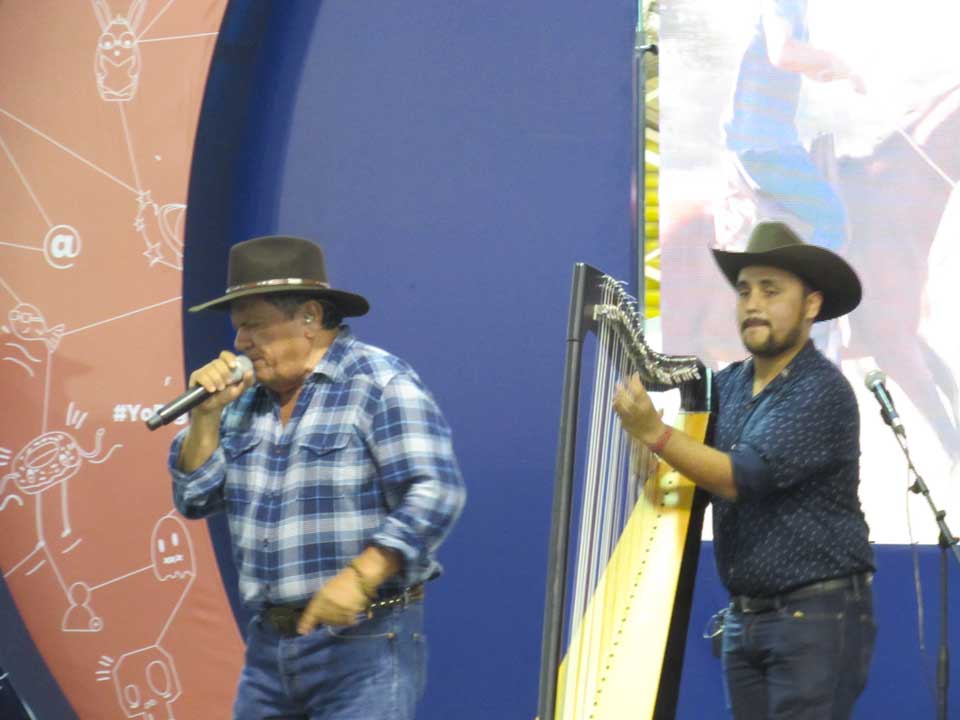 Graphic novels were one of the biggest themes this time around, with whole floors promoting this form. Not only were there stacks of the usual fare like Watchmen and Persepolis, but also some cooler stuff like Swamp Thing originals and Transmetropolitan. Not content with that, several stores were promoting local Colombian talent in the graphic novel field.
One of FILBo's explicit aims is to raise the number of books read by children per year and promote reading among young people in general. Thus did we observe hordes of children swarming across the grounds of Corferias. These eager little readers were amply served by a multitude of events, shows and, of course, books. EcoPetrol and their cuddly, non-earth-wrecking mascots put in a greenwashing shift to promote reading circles among the young. The big booksellers provided dedicated stands showcasing the best in infantile literature and there were toys galore. Sadly only educational toys, and not the fun ones. But still, A+ for effort! This was backed up by a push from the Ministry of Education to get more kids into libraries and reading more books.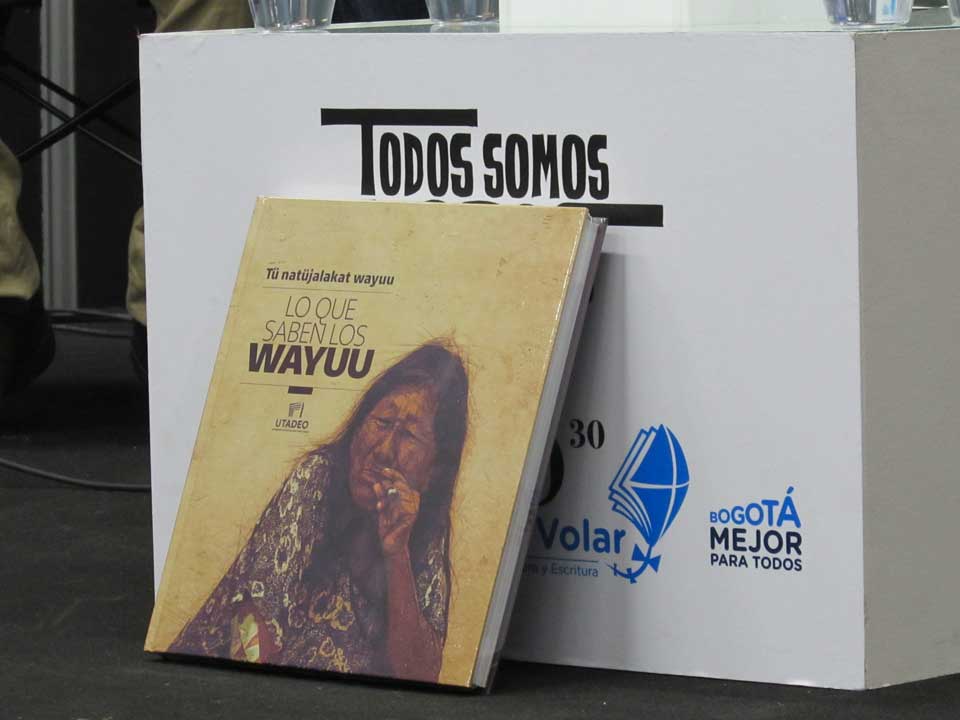 But what has FILBo ever done for us, apart from the books and the stuff for kids and the places to eat and drink? Well, there were all the various talks, booksignings and spin-off events. Diana Uribe's event had queues a mile long for entry, as did JM Coetzee's, even to the point of having people crouching on the steps. Sadly,
V S Naipaul had to pull out, but one Nobel winner is enough for the time being.
It wasn't just Corferias, either. Although the main location saw the majority of the festival, there were side events across the city. The Universidad Externado hosted part of the journalism encounter, while bookshops such as Wilborada 1047 in Quinta Camacho and Casa Tomada in Palermo hosted a clutch of readings and every library in the city had workshops. Better yet, linking back to the kid-focus, various schools and colleges were visited by authors such as the inspiring Venezuelan graphic designer and writer Menena Cottin.
So, a resounding success for FILBo 2017 as they enter their fourth decade. Pop down next year, che, for Argentina House as well as the usual nose-bleedingly huge array of Colombia's leading literary lights.
30 reasons to celebrate FILBo after 30 years of the event

1) Young people reading and engaging with literature wherever you looked, from toddlers to students.

2) JM Coetzee: the Nobel Prize winner was on inspiring form, with his speaking style mesmerising audiences. We curtsey to Coetzee.

3) Fito Páez: the multi-talented Argentine musician performed at a concert and also spoke about his new book.

4) Graphic artists, designers and novelists stepped off the page to talk about and present their diverse works.

5) French participants: the fair's Gallic guests, including authors and artists, did not disappoint. Formidable!

6) Constructing Peace: panel discussions, workshops and stands dealt with hopes for a successful post-conflict society.

7) The general atmosphere of excitement and curiosity; bumping into friends, sometimes slightly wobbly on their feet.

8) Indigenous languages: a series of workshops and events to give people a closer understanding of Colombia's rich native heritage.

9) 'El Cholo' Valderrama and his lively joropo concert made us want to chase capybaras on horseback across the Llanos! Ayyyy!

10) Refreshments including beer at very reasonable prices as well as free canapés and Pernod at the inauguration of the French Pavilion, leading to a lot of morning headaches.

11) Lo que saben los Wayuu: the launch of a wide-ranging book about the Wayuu people from La Guajira.

12) Menena Cottin: the Venezuelan's book about understanding colours when blind and her linguistic games for children.

13) Second hand books, especially art books at sub-Louvre prices!

14) The musical programme paid tribute to Andrés Caicedo's ¡Que viva la música!

15) Books and art related to the peace process were found in abundance, including the 'Cards for Peace' game launched by Uniminuto.

16) One Hundred Years of Solitude is halfway there as the fair celebrated 50 years of the iconic book.

17) Ülrika Kamburg at the Encuentro de Periodismo reinforcing the idea that sometimes there's just one truth.

18) Diana Uribe (no relation): this popular and colourful character entertained audiences with her talk on counterculture.

19) Braille: touch a touch a touch me, as visitors learnt about feeling your way through books.

20) Diversity including Gabriel Ebensperger and Amalia Andrade's chat about being LGBT in Chile and Colombia.

21) Benjamin Lacombe drew not just graphic novels, but also hordes of fans to his talks and book signings.

22) New voices of Colombian literature: first time novelists included teenage talent Manuela Espinal Solano.

23) Inty Maleywa's narrative artwork in which the former guerrilla depicts the history of the FARC and Colombia's armed conflict.

24) The ICANH and Instituto Sinchi with research publications on history, anthropology, ecology and development.

25) Foreign language books: a wide selection was on offer including some bargains, with a handful of countries represented by their own stands.

26) Daniel Aguilar at the Encuentro de Periodismo explaining how "alternative facts is just a euphemism for lies".

27) Children's and young people's literature was given prominence with events and specialist stands.

28) Olivier Bourdeaut: his talk at L'Antisalle had all the strength of his wine (sort of) namesake.

29) Gabriela Selser: the journalist spoke of her experiences as an alfabetizadora, teaching literacy during the Nicaraguan Sandinista Revolution.

30) Free books! Some stands offered free publications, some of which really were worth reading!
---
The Bogotá Post team at FILBo were: Jazid Contreras, Ángela Forero-Aponte, Emma Newbery, Christopher Outlaw and Oli Pritchard.