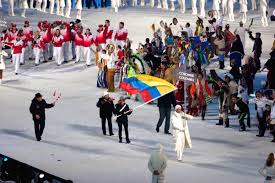 It had been a valiant effort for Michael Poettoz, the first Colombian to ever participate in alpine skiing at a Winter Olympics event. His goal entering the games was simply "to promote Alpine Skiing more [in Colombia], but there is still more work to be done, although I feel like there's some interest, especially in the media. This is the first big step on a road that I hope will be long and successful," the modest skier said.
Poettoz was born in Cali in 1998 and was adopted as a baby by French parents. He grew up in the French Alps, in the town of Metz-Tessy, where his father plopped him on skis at the age of 3. He first started winning competitions in his age group at 12 years old, and at age 16, he joined a high-performance ski-racing club.
It was then that he decided to compete for Colombia. The decision was prompted by his connections to the country, and a desire to bring light to the sport of alpine skiing to Colombia.
In 2015, he competed in the Youth Olympic Games in Lillehammer, Norway, where he was knocked out early due to an injury he had sustained prior to the event. The enthusiastic young skier looked at the experience in a positive light, "It was incredible! I met lots of people, trained with athletes from other countries, made new friends and loved seeing everyone gathered in the same place…What I learned is how to manage the experience, to not panic, to organise my time better and stay focused by ignoring everything else going on. It has increased my desire to compete in the 'real' Games!"
On Wednesday, he competed in the men's slalom, where he placed 44th, with a time of 57.46. He finished a little more than 9 minutes behind the winner, the Norwegian Henrik Kristofersen. It was a good showing from the French-Colombian, who was disqualified in his first competition, the giant slalom, for skiing off-course.
It is just the beginning for the young Colombian skier. It will be exciting to see how his performance develops over the coming years.