Oooh la la! Colombia's links to the country of romance and wine go back to independence.
---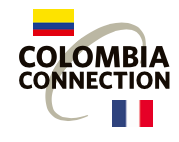 We get all chic in this month's Colombia Connection as we take advantage of Duque's recent trip to France to set up a rendez vous between the two countries. Crack open a bottle of Bordeaux and fire up the Citroën 2CV as we examine the amour that links Colombia and France.
Colombia's ties with all things Gallic started back in the days of the revolution; specifically when bogotano Antonio Nariño translated the Declaration of the Rights of Man and of the Citizen from French in 1794. The explosive sense of freedom contained in the text proved to be inspirational, and laid the framework for the French-educated Simón Bolívar to lead the way to independence 20 years later. A surprising echo of those days can still be found in a favourite Cundinamarca recreational spot, just three hours from Bogotá, and named after Bolívar's Franco-Colombian General, Atanasio Girardot.
French thought continued to be extremely important for the fledgling country, providing the framework for Colombia's constitution and legal system. It still continues to have an enduring influence to this day, with many of Colombia's top universities priding themselves on their academic links to the intellectual homeland. As French-Spanish Externado University lecturer Nicolás Murillo points out though, it could be time for the tide to turn: "There are some really interesting political mechanisms here that we don't have in France. We could learn a lot from Colombia's referendums, impeachment processes, and special courts… on paper, at least!"
Speaking about his experience of the two countries, Nicolás adds "we're complementary people: French people tend to be very anxious about the future, while Colombians are always living life now." There's no shortage of French people wanting to try out this more spontaneous way of life, with around 6,000 French people currently living in Colombia. Tourism continues to rise too, with 60,000 French tourists visiting the country in 2017: up from 40,000 in 2016.
Related: Colombian connection: Mexico
One man who has seen this rise first-hand is Eric Noirard, owner of highly-regarded La Candelaria French fusion eatery Sant Just (Calle 16A #2-73). He points to the similarities between the two countries' histories being heavily influenced by their seas, but again points out the differences between their respective lifestyles. One of Sant Just's triumphs is in smoothing over these differences: when asked whether he thinks of the restaurant as an ambassador for France, he's quick to correct this. "We're not an ambassador, we're a mixing point. Colombians come here to try new flavours, and French tourists wander in and feel that they're at home."
120,000 jobs
Also making their home in Colombia are a large number of French companies: supplying the country with over 120,000 jobs, France is Colombia's biggest foreign employer. While a number of more easily recognisable French businesses like Renault and L'Oréal play an important role in the economic landscape, the biggest French employer is of paisa origin: supermarket giant Éxito Group. Taken over by Groupe Casino in 2006, the ubiquitous Éxito and Carulla stores represent more than 40,000 jobs for Colombia: a resounding success for the French mass-retail group in more than name!
Related: Colombian connection: Japan
Success also marks Franco-Colombian connections in the world of academia. France continues to be a popular destination for Colombian students, with universities like the Sorbonne and Sciences Po providing an inviting setting for higher education: almost 4,000 Colombians made the trip to further their academic horizons between 2015 and 2016. If you want to be part of the great debate though, there's no need to leave the country: COLIFRI, the only Franco-Colombian scientific investigation association currently in existence, will hold a conference in Medellín's EAFIT University on December 11.

When one thinks about France though, it's often the cultural and artistic side that comes to mind: on that level, Colombia hasn't been left behind. An enormous asset to the country is the Club Concorde, which boasts a community of 600 active members, and offers regular opportunities to get to grips with the multi-faceted French culture. Started in 1998 by a collection of French residents and Colombian Francophiles, this organisation is unique to Colombia and has the support of many of the high-profile French businesses present in the country. It aims to provide a wide range of events in Bogotá, broadly including the sciences, gastronomy and high art, and has recently moved towards being more inclusive in terms of language: if you can parler a few words in French, then so much the better, but if not, then don't let that get in the way of enjoying the events themselves.
Related: Colombian connection: Australia
Two more of these are programmed for this year: firstly, there's La Fiesta del Vino, showcasing the very best of French wine-making and produce, as well as locally sourced food and the presence of the ambassador himself at the Residencia de Francia (Calle 87 #8-64) on November 23 from 6.30pm onwards: tickets are priced at $120,000 per person. For the more artistically inclined, there's the French-language literary conference on the writer and actress Colette, which will take place at the Librería Lerner (Carrera 11 #93A-43) on December 5 at 6.30pm. As the Club's executive director María Isabel Restrepo says, "It's important that we're open to everyone who wants to come along and be part of these expressions of French culture in Bogotá."
This December will also bear witness to a particularly meaningful award ceremony: the winners of the ninth annual Franco-German Antonio Nariño Prize, presented to Colombian human rights defenders. It will be announced on December 10 at the Residencia de Francia. The award highlights the work done in Colombia to protect human rights in an often hostile environment, as was the case with last year's winner, the Comisión Colombiana de Juristas, which was selected due to its vital work in land restitution. The legal group managed to help hundreds of Colombians whose land had been violently taken away from them, winning 90% of the cases brought to court. As Jean-Marie Druette, in charge of the French Embassy's involvement in the prize says, "We believe France and Germany, two countries which fought three devastating wars in less than a century, can serve as an example of reconciliation between former foes on the basis of respect of human rights."
And, as we move towards the end of 2018, it's hard to think of a nobler sentiment. Looking forward to the festive season, to future interactions between Colombia and France, and to life here in Colombia itself, vive le respect!
---