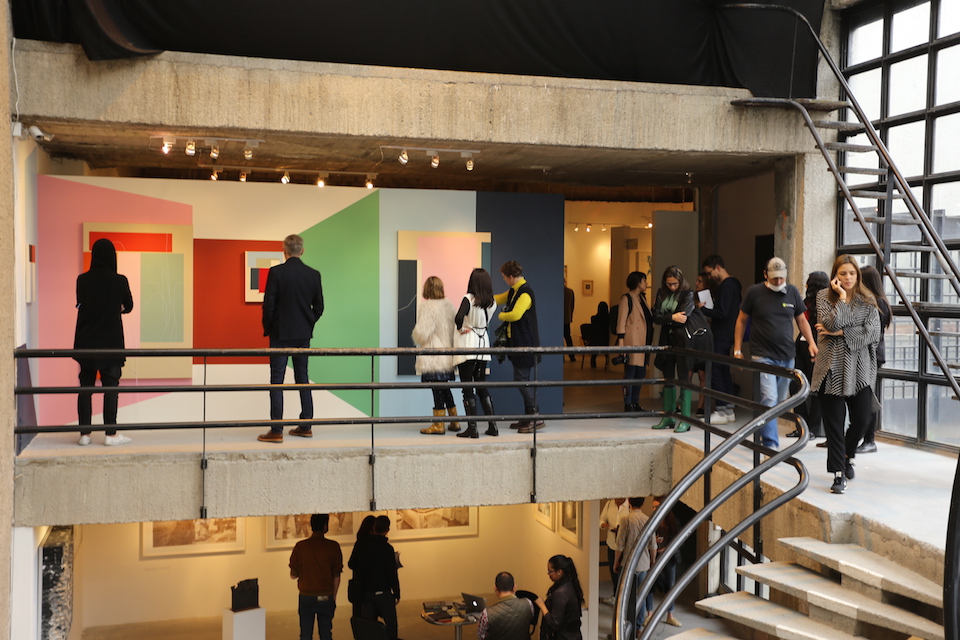 Art festivals big and small will be taking place throughout the month of October at various venues all over the city. There will be something for everyone in this month of art in the capital.
---
It's just about that time of year again. No, I don't mean Halloween, or Christmas or any of those over-rated, over-inflated holidays right around the corner. I'm talking about art fair week. The week in which the city of Bogotá throws open the doors of galleries and museums to their adoring, waiting and salivating public.
Read also: An interview with Sylvia Suárez, ArtBo's 2017 Referentes curator
The last week of October, from the 24th to the 30th, heralds in the period that most of the city's galleries, curators, collectors, visiting VIPs to the capital – and of course, all of us art fans – will marvel at Bogotá's thriving contemporary art scene.
Related: ArtBo 2016 highlights: Artists to watch, now and in the future
The flagship event, ArtBo, is precariously situated between two major international art fairs: Frieze in London and Paris's FIAC, with Italy's Artissima, following directly on its heels. Nevertheless, in ArtForum's online guide to international art fairs, ArtBo is listed as 'the quintessential meeting point for the art market in Latin America.' Other events will be taking place at the same time so keep on reading to find out what you can expect at this year's fairs in Bogotá.
---
ArtBo 2017
October 26 to 29
The mother of all art fairs in Bogotá and no small potato in Latin America, this boutique art fair gears up for its thirteenth season, daring all the others that take place during the same period to give it a run for its money. This year's ArtBo, which is facilitated by the Cámara de Comercio, will host some 76 galleries from eighteen countries.
Housed principally at Corferias, ArtBo will play host not only to the galleries themselves, but will include alternative pavilions which will showcase artist projects (Proyectos), promising national talents (ArteCámara), large-format exhibitions (Sitio), books (Libro de Artista), and even a forum space (Foro), among others.
Among those, the ArteCamera pavilion is probably the most overhyped section by ArtBo, although last year's section, curated by Fernando Escobar Neira, proved the exception.
Read also: ArtBo 2017 for families
The soul ArtBo sorely needs could be provided by this year's 'Foro' section, which will play host to numerous discussions in relation to contemporary art, the contemporary art scene and how it functions. Talks range from investigating the censorship crisis at this year's Whitney Biennal, involving the work of artist Dana Schutz, to a discussion entitled 'Questioning and Driving History', which deals with the national crisis in the US Congress over the work of African-American artist Dread Scott, and his use of the US flag. Check out ArtBo's website for more information at www.artbo.co.
---
Art Chicó
October 26 to 29
Unlike ArtBo, this is a family run venture. Last year, Art Chicó took place at the beginning of October before all the other fairs and was only open to artists. This has changed for 2017.
With the help of its organiser and curator, Gregorio Cámara, the former director of Madrid's JustMad art fair, Art Chicó, now in its third year, will play host to some twenty galleries in a 1,000 m2 space near El Retiro mall.
Jesús and Reina Olarte, the brother and sister team who run Art Chicó, see this year's fair as an international alternative to ArtBo. While ArtBo may concentrate their efforts on curated sections, the Olartes say there will be no such distractions with their fair. Just commercialism, pure and simple, with an international flair.
The participants in this year's Art Chicó are international galleries that have always wanted to witness and be a part of Colombia's thriving art scene first hand, but just never had the opportunity to do so. Until now.
---

ODEÓN
27 to 30 October
ODEÓN Art Fair is considered the darling of the art fairs in Bogotá. It has been my observation, in three years of going to the art fairs in the capital, that ODEÓN is loved not only for what they exhibit but where the fair itself takes place – a former theatre space off Avenida Jiménez.
The ODEÓN Art Fair, now in its seventh season, is set up in a deconstructed space which lends itself masterfully to what it shows, contemporary art from all over Latin America.
ODEÓN is more of a 'boutique art fair', in that it is not in any way similar in size to its behemoth sister head-quartered in the city's convention centre.
Tatiana Rais, the director of ODEÓN, explained that "this year we decided to open a new section called Planta Libre, which refers to the architectural term used to define open spaces that are not divided by traditional barriers such as walls." As there are many opened walls within ODEÓN's open space, the project allows a site-specific theme to emerge for the fair.
The 'Open Plan' is to be curated by Peruvian curator, writer and investigator Miguel López. He is also chief curator of TEOR/éTICA in San José, an independent art space lending itself to curatorial investigations.
---
BARCÚ
October 25 to 30
The capital's alternative contemporary art fair is actually a festival situated in La Candelaria. Started four years ago by Christopher Paschall, this year's BARCÚ (Bogotá Art and Culture), will play host to twenty galleries in the famed neighbourhood. Paschall has more than seventeen years experience under his belt as a gallerist.
As he lives and works in the neighbourhood, he had always wanted to do something there. So he helped create the art fair, which the folks at BARCÚ state unequivocally, is more an art festival than an art fair, celebrating not only fine art but music, dance and cinema as well.
The festival itself will take place in specific houses throughout parts of La Candelaria. Mariana Gómez, BARCÚ's publicist this year (and an emerging artist herself), explained that this year's 'Spotlight' section "is for artists with no representation that participate in an open call with a specific project in mind.
There's a house specifically for 'Spotlights', and it's a great opportunity to show their work." As it so happens, Gómez's work was selected for 'special mention', along with four other artists, by Philippa Adams, director of London's famed Saatchi Gallery.
For a complete list of those in this year's 'Spotlight' section and the others selected for a 'special mention' by Adams, check the website: www.barcu.com.
---
Feria del Millón
28 to 30 October
Like viewing pieces with an eye to buy but your wallet can't take the strain? Maybe the Fería del Millón is for you.
Nothing's priced past the million peso mark, and prices go as low as 10k. You'll need another 10k to get in, mind. But the fair goes from strength to strength as they celebrate five years of affordable art.
This year's selection committee is made up of Philippa Adams (again!); Ericka Flórez; Pedro Meyer; Miguel González; Alejandro Castaño.
Between them, they've selected more than 70 artists to exhibit. Whatever your tastes are, there'll be something in there for you. Not only are these artists affordable, but also new.
Buy a piece here and you're supporting local young talent. If you're really lucky you might be on to a nice little earner as well. It's a lot further south than most art events. Instead of the poncey north, this is in the grittier Centro Creativo Textura in Puente Aranda (Carrera 54 #5C-33).
---