There's more to the salsa capital that just music and dance; Cali, the country's third biggest city is also home to a number of museums, parks and churches.
---
Colombia's third largest city moves at a different pace to the bigger and busier Bogotá, or the more modern and refined Medellín. The climate in Cali is also much hotter, sizzling in the high 20s and stretching into the 30s on most days, giving it a more tropical feel, something that is easy to miss in the chill of Bogotá.
The Valle del Cauca capital  has a grittier feel. Best known for its vibrant dance scene, and often referred to as the salsa capital, Cali hosts a number of festivals, competitions and other events around the dance and musical style. People come from all over the world to participate in salsa-related events, attend dance classes, show off their talents in contests or simply enjoy the buzzing nightlife.
But the city has more to offer than just music and dance. The proximity to the Pacific coast, which is home to a vast portion of Colombia's Afro-Colombian population, means this influence can be seen in many different aspects of life in Cali, such as the food, the racial mix of people and of course the music too.
A good place to start exploring is the old part of town, San Antonio, which is home to several hostels, hotels, restaurants and craft shops dotted along the cobbled streets. At the top of the hill is San Antonio church, where groups of friends and families gather in the afternoons and evenings to enjoy the lively energy of the park around the church where vendors are selling snacks like corn on the cob, obleas and ice-cream. From the top of the hill you get spectacular views of the city.
While San Antonio is a nice place to walk around and soak up the holiday feeling, locals warn that you should be wary of flashing cameras and phones around as robberies do happen from time to time.
Across the way, the city centre is a mix of modern concrete blocks and colonial architecture. La Ermita Church is an impressive-looking gothic-style structure, while a few blocks away the oldest colonial building in the city dating back to 1586, San Francisco Church looks plain from the outside with its red brick facade, but inside reveals beautiful painted walls and ceilings.
Related: There are plenty of destinations in Colombia worth a visit!
Also worth a visit while exploring downtown are the main square, Plaza de Cayzedo lined with tall wax palms and the Museo Arqueológico Merced to learn about the history of the area and its people.
One of the top attractions in Cali is the cat park. Start at the big bronze statue, El Gato del Río, the work of Colombian artist Hernando Tejada, and walk along the river where you'll find a series of smaller cats, each painted in a different colour or style designed by guest artists.
On the other side of the river is the Tertulia Museum, which is home to a wide collection of art and often hosts cultural events such as cinema and music.
For those who like zoos, Cali's is billed the best in the country.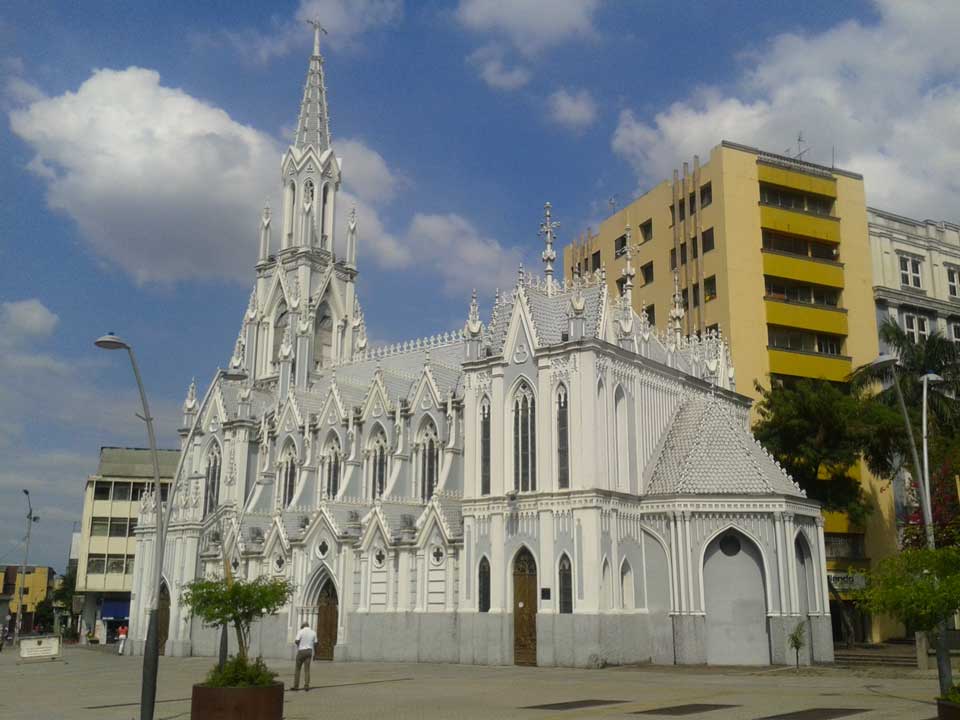 Food to try
Being so close to the Pacific coast, Cali is famous for fish and other types of seafood. Look out also for patacón (a huge fried plantain chip usually eaten with fish or any other topping) and papas rellenas (stuffed potatoes). Given the all-year-round heat, a popular snack to grab in the street is cholado, a refreshing dish of shaved ice topped with fresh fruits, syrup and condensed milk. You also find a number of tropical fruits in the region, such as lulo, an extremely sour tasting fruit, often served as juice called lulada, with lots of sugar added; chontaduro (peach palm), often served with honey; and borojó, said to have aphrodisiac qualities, usually served as a drink.
Other things to do
Hike up the Cerro de las Tres Cruces for more incredible views of the city; shop for souvenirs at Loma de la Cruz, another smaller hill lined with craft stalls, which often has live music and other types of shows in the evenings; hang out at Parque del Perro, a lively square surrounded by restaurants and bars.
Getting around
Cali is an easy city to navigate – if you're staying around the touristy areas you can probably walk to a number of places, just be sure to check it's safe and avoid dodgy streets or areas. They also have the MIO system, which is similar to Bogotá's TransMilenio, as well as buses and taxis.
Shall we dance?
Cali is known as the salsa capital, and people come from far and wide to learn how to dance or take part in competitions and other activities related to the style, as well as (of course) just to enjoy the nightlife.
There are several schools offering dance classes, and will take on students for short or long term in addition to the option of private lessons. Popular schools include Escuela de Baile el Manicero, SalsaPura and Son de Luz.
Many hotels and hostels also offer dance classes, as do some bars and clubs.
Related: AJAZZGO: Cali's Jazz festival
The dancefloors are buzzing after dark, and it's best to ask around which are the best places to go on which night as there tends to be a weekly scene where people flock to a different bar on each given night. Popular among tourists and locals are TinTinDeo, La Topa Tolondra, and a bit further out of town, Las Brisas.
---
By Laura Brown