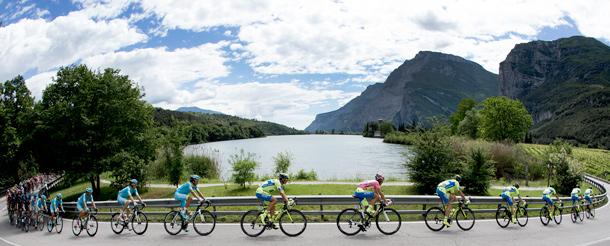 The Giro d'Italia is much loved for being so unpredictable and the Giro d'Italia 2015 has definitely lived up to that reputation
---
Not a single stage has been boring, and as grand tour veteran Michael Rogers from Tinkoff team admitted, it has probably been the hardest race he's ever entered.
The first stages were all about the blue kits of the Astana riders dominating, with three riders in that team in the top five at some points, including local favourite, Fabio Aru.
Towards the end of Stage four, Alberto Contador got restless in the small peloton on the final climb and decided to attack. Only pre-race favourites Aru and Porte responded. Colombian Rigoberto Uran, also one of the favourites, slowly lost time. They all attacked each other but looked on par. And that was really the calm before the storm.
Just after picking up the leader's jersey Contador went down in a crash caused by a carefree spectator and consequently dislocated his shoulder. Halfway through the next stage – the longest in this year's event – with still four hours to go, he admitted he didn't know where to put his hurt arm. While he was gritting his teeth, bad luck had already set her eyes on another victim.
Porte was happy with his first week, only 22 seconds behind the leader until 5 km from the finish when he had a mechanical problem and lost 25 seconds. To make matters worse, he was handed a 2 minute time penalty for unlawfully swapping his wheel with a fellow Aussie rider, Clarke, who was from a different team. What had initially looked like a great example of fair play was actually illegal. But the rollercoaster only continued for the favourites.
In the next two stages Contador attacked again and managed to extend his lead by 14 seconds. However, on stage thirteen, there was another crash, featuring Contador and Porte again. The quicker-to-recover Spaniard lost the lead, but it was much worse for Porte who had to ride an uncomfortable bike from his teammate and lost even more time. Not surprisingly, totally demotivated, he put in an abysmal time trial, while Contador attacked again on the Saturday to reclaim his leader's jersey.
The Giro d'Italia 2015 has been a rollercoaster of events with ever-changing leaders and ever changing chances for the win in the final stage on May 31. Unfortunately, the Colombians Uran, Betancur, Atapuma, and Chaves are far away from the pink jersey. But in the mountains, the escarabajos might just feel at home.
---
By Arek Peryt