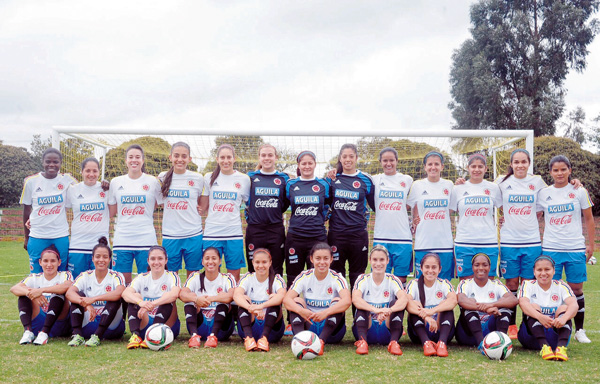 Only one day away from their opening match in the Women's World Cup 2015 in Canada, The Bogota Post speaks to Las Chicas Superpoderosas after their final training session on Colombian soil
---
The Colombia women's football squad, coached by manager Felipe Taborda, have their own views on the World Cup in Canada. In their final preparation cycle in the capital, the team didn't leave any doubt as to whether they were ready for the tournament.
FIFA Women's World Championship, June 6 – July 5

Colombia – Mexico
June 9, 15:00 Col time
Colombia – France
June 13, 12:00 Col time
Colombia – England
June 17, 15:00 Col time
Two friendlies with Ecuador and two more with Venezuela saw four Colombia women's football victories, but the real challenges will come in the confrontations with higher-ranked opponents in Canada, says the team's captain Natalia Gaitán. "Every team that is there at the World Cup is strong," she said. "We expect every game to be like a final that we will have to face with dedication and fight. There are very skilled teams, especially the Europeans, while the Mexicans have a very Latin style; very strong with lots of duels. But we will concentrate on playing our game, to do very well."
The cafeteras aim to go further in this World Cup than in 2011 in Germany, where they didn't make it past the first round. Characterised by technically skilful players with good ball control and a strong fighting spirit, the expectations have gone up.
Twenty-year-old midfielder Carolina Arbeláez adds: "The expectations are very high, because we want to write history. We have prepared in the best possible way, training hard, giving everything in each practice to make this happen. We don't want to it to end in the first round, we want more."
The Chicas Superpoderosas, as they are known, have been working together for several years. Twenty five-year-old left-wingback Oriánica Velásquez explained that the team spirit is good: "It's a team that has improved a lot and is a team with technique, experience and young talent in every position. We want to cause a surprise."
That the atmosphere and confidence in the team is high is clear. Carolina Arbeláez knows exactly who will be the most difficult rival: "Colombia" she answers, with a twinkle in her eyes. She continues on a more serious note: "We didn't lose a match in the Copa America, so when we enter the pitch in the World Cup, we have to go out to win."
The squad will end their preparations on American soil with three friendly matches before continuing to Canada to start the World Cup with their best feet forward, hoping to write Colombia's name in the annals of women's football history.
---
By Juan Camilo Giraldo