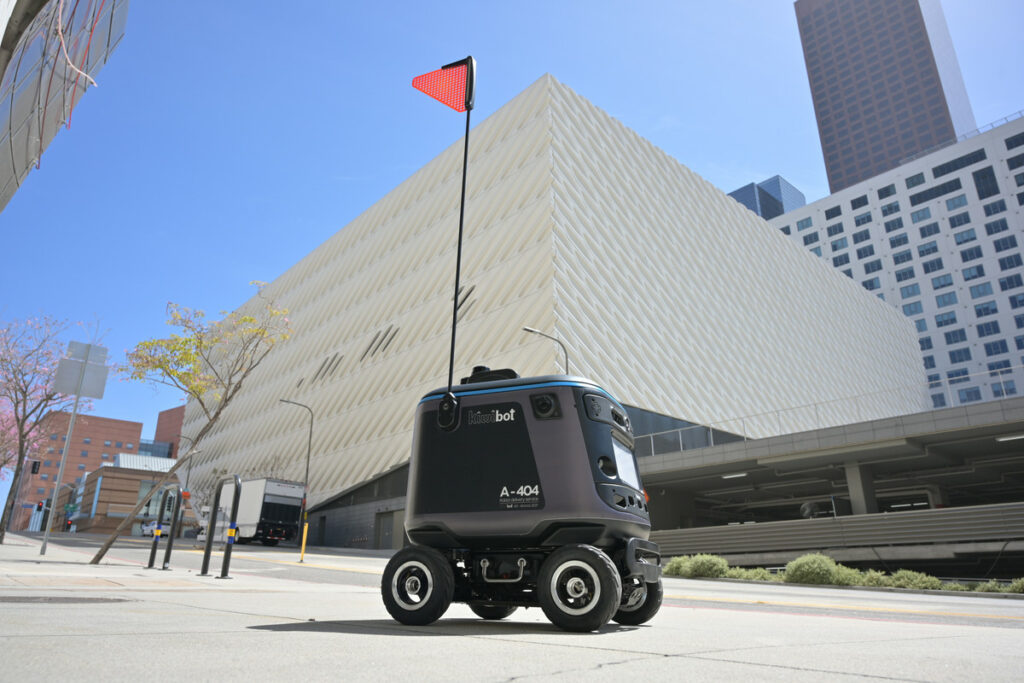 Walking down the streets of the El Poblado district in Medellín during the pandemic, you could have easily caught a glimpse of little strange robots, clumsily strolling around to deliver pizza. Since this initial pilot with Rappi, Kiwibot, the startup deploying these cute semi-autonomous robots, has come a long way, striking partnerships with industry giants and expanding across the globe.
Kiwibot has grown massively over the past two years and its offices today span Medellín, California, and even Taipei, Taiwan. Having completed hundreds of thousands of food delivery orders already, the tiny bots are now cruising the streets of cities including Santa Monica, Los Angeles, Miami, Pittsburg, Denver, Dallas, Detroit, and more.
Designed to move at around two miles per hour (with 4mph being the maximum speed), the robots were born at the University of California, Berkeley back in 2017. It's well known that universities serve as the breeding ground for experiments, but their concentrated economic activity is a big plus too. "Additionally, university campuses provide an advantage as they tend to be a more controlled environment than public streets in regards to things such as public infrastructure complexity and car traffic and congestion," Diego Varela Prada, the COO of Kiwibot told TechCrunch.
At Berkeley, Kiwibot was able to finish some 150,000 deliveries, building the springboard for further expansion to other universities, specifically the University of Denver and Stanford, before growing further. Today, the company boasts a fleet of over 400 cute "kiwibots" and a presence way beyond campuses all over the US.
So, how do the robots move around? They use smart sensors to identify nearby obstacles, people, vehicles, and even traffic lights when navigating sidewalks – and their digital face can even wink at you. They are also equipped with speakers and cameras to communicate when making a delivery. While the bots take decisions in path planning and obstacle avoidance, they are supported remotely by trained human supervisors. In case any irregularities happen, these operators can step in to take over.
The concept prototype of the latest model, Kiwibot 4.0 PLUS+ has even won the world-renowned iF Design Award 2021 for Professional Concept. Led by the company's Head Designer, Alejandro Otálora, it has become the first Colombian-run project ever to receive the award in this category.
Using a locking door that automatically opens and locks when the cargo is secured inside at the restaurant, the delivery is protected all throughout the journey. This means that the startup saves time and money for both restaurants and their customers when it comes to food delivery – not mentioning the environmental benefits that come by not having a "400- to 500-pound car, powered by gas, deliver a burrito." In relation to Covid-19, the robots can also help ease any safety concerns, with staff disinfecting them after each delivery.
"Our robotic infrastructure is steering the post-pandemic world; supporting small businesses and community initiatives, bringing green solutions for congestion, and solving delivery needs while promoting safe mobility for all, David Rodriguez, Kiwibot's Director of Strategy and Business Operations, told Yahoo! Finance.
Interestingly, the new geographical frontier for Kiwibot will be in a completely new space. The startup has recently signed a collaboration with Careem, a subsidiary application of Uber operating in the Middle East, to launch 1,200 delivery robots in Dubai, UAE. Felipe Chávez Cortés, Kiwibot's founder and CEO commented to Forbes: "It is the first place where we are going to deploy the robots outside of Colombia and the United States."
Kiwibot engineers are also constantly working to improve the bots' functionalities. According to the company, the current models are currently at Level 3 autonomy but are advancing to Level 4, where Level 3 corresponds to a setup where a human operator may be required to take over if there's an issue, while at Level 4, the system is expected to be fully autonomous. Apart from that, the startup is also working on indoor-to-outdoor and outdoor-to-indoor delivery, so that the bots can pick up the orders in a kitchen, go outside, and then deliver to one's doorstep.
Disclaimer: This article mentions a client of an Espacio portfolio company