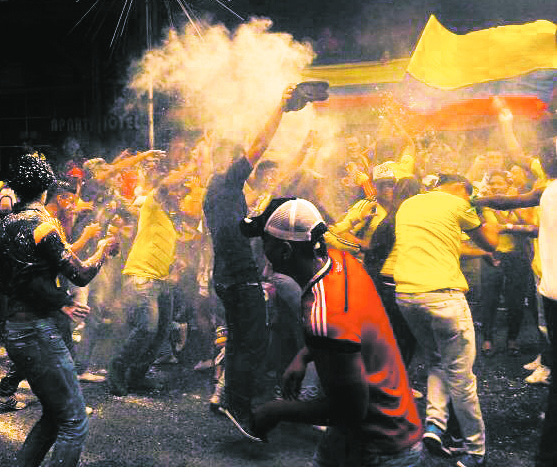 Travis Crockett questions whether the Ley Seca law is really the answer to combating post-World Cup violence…
---
On Friday June 27 at 2pm I was invited to a not-so-secret meeting called by the association that governs bars in Bogota, Asobares. As a shareholder in La Villa bar in Zona Rosa, I was invited to this emergency Ley Seca summit along with other bar owners, major liquor distributors, owners of parking lots, taxi companies, restaurants, liquor stores, ice distributors, bar and nightclub security companies and so on.
When I entered the half empty nightclub hosting the meeting, I was greeted by a group of familiar faces, but rather than the normal cheerful greetings and backslapping, there were a lot of worried looks and grumbled private conversations. We had all done the same thing: the 2014 FIFA World Cup was supposed to be one of the biggest parties on earth and in a football mad country like Colombia, with a talented and hopeful national soccer team, who could blame us for investing heavily in the world cup celebrations?
Myself and my fellow owners had spent loads of money on new TVs, projectors, massive screens, flags and decorations and spent months organizing our collective venues in the hope of attracting football fans for a few beers and a jolly good time watching one of the greatest sporting spectacles in the world. Now it seemed, much like Luis Suarez, that we had all bitten off more than we could chew.
"The 2014 FIFA World Cup was supposed to be one of the biggest parties on earth"
A couple of weeks earlier after the first World Cup appearance by Colombia against the Greeks, I joined the flood of revellers that poured out of La Villa to celebrate Colombia's 3-0 drubbing of Greece, and as the crowd swelled I bumped into neighbouring proprietor. With a giant grin on his face, he said words to the effect of "I am not even a football fan but this works for us!" At 6pm the same day, ley seca was enforced. We had plenty of warning – it was the second round of the Colombian presidential elections on the Sunday following the match and as much as we didn't like it, everything was going to be okay, because the World Cup was here and Colombia were looking good.
The next day it was announced that nine people had been killed and 15 badly injured in the ensuing "celebrations" and upwards of 3,000 petty crimes had been committed. What should have been a joyful and significant moment in Colombia's sporting history had been ruined by violence and unruly behaviour. Bogota Mayor Gustavo Petro immediately started tweeting his disgust at the violent behaviour and started throwing about statistics linking all of these problems to the consumption of alcohol. Within 48 hours it was announced that ley seca would be applied once again during and after the Colombia-Ivory Coast first round faceoff.
This not only meant that we couldn't sell our wares during the game but we couldn't open after the game either. And so it went on: Colombia versus Japan, Colombia versus Uruguay. The industry estimates that a staggering $2 million USD in revenue was lost due to the enforcement of ley seca and equally devastating $800,000 USD in lost tax revenue in Bogota alone.
But are bars really to blame? Asobares and the large liquor distributors have invested time and money into campaigns supporting the responsible consumption of alcohol, safe taxi zones, alcohol meters in bars and the individual owners invest in perimeter security in "high impact" zones as well as individual security for their establishments. In short, professionals in the industry have invested in the necessary infrastructure to prevent or reduce the negative impacts of the sale of alcohol.
I think that rather than automatically blaming alcohol, the question also needs to be asked: did the mayor and the police appropriately prepare for what most Colombians knew was coming? Anybody who has been in Colombia for any important football match knows that there is a minority that take advantage of the opportunity to misbehave and to commit acts of vandalism and violence.
Is it possible that the violence would have occurred anyway? Not one of the deaths that were registered and subsequently blamed on the industry happened anywhere near the "high impact zones" – the majority occurred in private homes or in "barrios populares." Colombian police statistics support the same conclusions: in 2013, 80 percent of the homicides committed in Bogota were between family members, co-workers, friends and people known to each other, and in only 7.8 percent of cases could it be established that alcohol was involved.
"The industry estimates that a staggering $2 million USD in revenue was lost due to the enforcement of ley seca and equally devastating $800,000 USD in lost tax revenue in Bogota alone"
Should people who have legal businesses, selling a legal product, be held accountable for the actions of a minority group of violent or irresponsible individuals? This economic punishment was not only applied to owners but to all the people who rely on the industry as their source of income: bartenders, wait staff, security staff, management and all of the people connected in some way to the sale of alcoholic beverages.
Prohibition is a poor and lazy solution to a much bigger problem. Firstly, there are a number of ways around ley seca – there are always going to be people who will take advantage of the demand for alcohol and sell it anyway. A huge flaw in the law is that people are not banned from consuming alcohol, they simply are not able to purchase it during ley seca.
This means they can stock up before the law is applied, order it to be home delivered or buy it from an "ambulante" or unlicensed street vendor, in which case there is a serious risk that the liquor may have been tampered with or adulterated. In this case the government is actually encouraging the illegal sale of alcoholic beverages from which no-one benefits, including the unruly consumer and certainly not the taxpayer.
The way I see it, if people want to drink, they will find a way. The solution is not to ban alcohol, it is to educate people and appeal to their humanity to change the way they celebrate. It is also for the city government and police to adequately prepare themselves for the actions of a few bad apples. I am proud to be associated with an industry that has taken the initiative in the process of educating the public to consume alcohol responsibly.
---
Travis Crockett is a partner in La Villa bar in Zona Rosa and the creator of Gringo Tuesdays, a weekly language and cultural exchange.