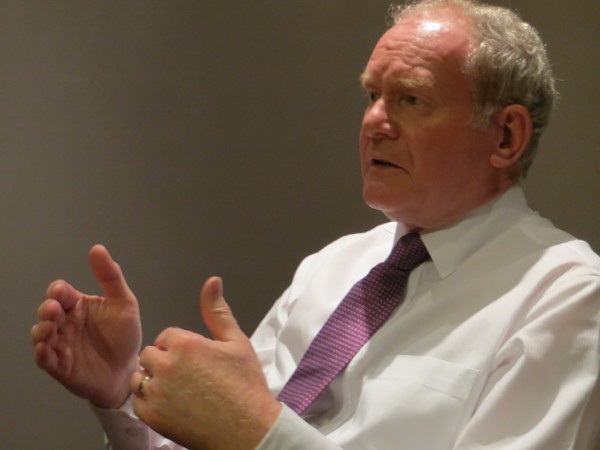 Irish politician Martin McGuinness takes time out during his first official visit to Bogotá to give his insights on the Colombian peace discussions.
---
Northern Ireland's Deputy First Minister Martin McGuinness spoke about his optimism for the Colombian peace process on a visit to the country this week.
The Minister was personally invited by President Santos, whom he met with on the afternoon of Tuesday the first of April during his three day political tour of Bogotá.
Mr McGuinness was impressed by the Government's knowledge of Northern Ireland's peace process and said it clearly suggests that a great effort is being made to achieve a sustainable peace.
"What was really noticeable about the people that we met here in Bogotá was the intimate level of knowledge that they have of every single aspect of Northern Ireland's peace process over the past twenty years. They have really studied it intensely," he told The Bogotá Post.
Mr McGuinness, a former Provisional Irish Republican Army leader who has been Deputy First Minister since 2007, said that he has been closely following the progress of the Colombian peace talks and has been very encouraged by reports around the issues of land and political participation.
He did however emphasize that there could be challenges ahead in relation to the decommissioning of weapons.
The leader has been involved in peace talks in other countries, including the Philippines and Burma, and has also been active in encouraging a ceasefire in the Basque region of Spain.
Comparing the situation of the IRA to the FARC, Mr McGuinness suggested key differences between the two groups.
"The FARC are obviously involved in paramilitary activities, but they are also involved in the issue of the peddling of drugs and narcotics which have a big effect not only on Colombia but all over the world and I absolutely deplore that," he stated.
"The conflict in the North of Ireland, as far as I was concerned, was a conflict between them [the IRA] and the British government and military forces, whereas the situation in Colombia is an internal Colombian conflict between people who have made very serious cases around how they're being discriminated against or how they have been impoverished."
The Minister was however encouraged by FARC's willingness to negotiate with the government.
He said, "What I have learned from my visit here is that I believe both sides are serious about trying to conclude a successful negotiation."
In terms of possible obstacles to peace in Colombia, Mr McGuinness expressed his view that one of the key barriers to a peace agreement is the politicians and political parties who are openly hostile to a peace process.
"In the meeting with Santos today, I made the case that those people who are hostile to the peace process are really writing a prescription for a conflict for decades to come," he said.
"I think that those politicians here that are not supportive to President Santos do themselves and their country a very great disservice."
---