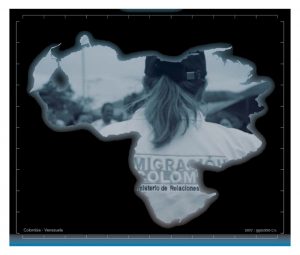 Santos announces stricter border controls while calling for additional support for migrants
---
Following a meeting with representatives of the national government, the United Nations, local authorities and security forces, the government announced a swathe of new measures to tackle the growing problem of dramatically increased Venezuelan migration.
According to Migración Colombia, as of December 31, 2017, there were over 550,000 Venezuelans living here, up 62% on the number recorded half way through 2017.
President Juan Manuel Santos told the nation that migration on this scale is a growing and complex problem caused by the "terrible crisis that Venezuela is living" and one that is new for Colombia.
The multi-pronged approach involves stricter border controls, heightened security and additional support for migrants. The government deployed 3000 extra security personnel to help control the border, particularly to crack down on illegal people-trafficking.
A newly-created, uniformed, migration task force, called the GEM, will enforce order in public spaces and safeguard migrant welfare by controlling prostitution, protecting minors, and tackling smuggling.
In an attempt to stem the tide, Border Mobility Cards will no longer be issued. The cards historically allowed people to come and go regularly, for example to live in Venezuela and work in Colombia. Venezuelans who are already in Colombia will have to register free for a document that entitles them to access various services.
Related: The struggle of Venezuelans in Bogotá
The president said that he recognised that these measures have to go hand in hand with increased support. To that end, a Migrant Assistance Centre will be built with the support of the UN, the World Food Programme and the International Organization for Migration.
Additional measures have been laid out to tackle employers who exploit Venezuelan workers and ensure the migrants can access health and education services.
Santos urged people to be tolerant and generous, noting that: "They opened their arms to the the millions of Colombians who wanted to leave for Venezuela to look for a better life. We also have to be generous with Venezuela in these difficult times."
---