In the third of our series of interviews with leaders in the UK creative industries, we speak to Nick Barley, director of the Edinburgh International Book Festival.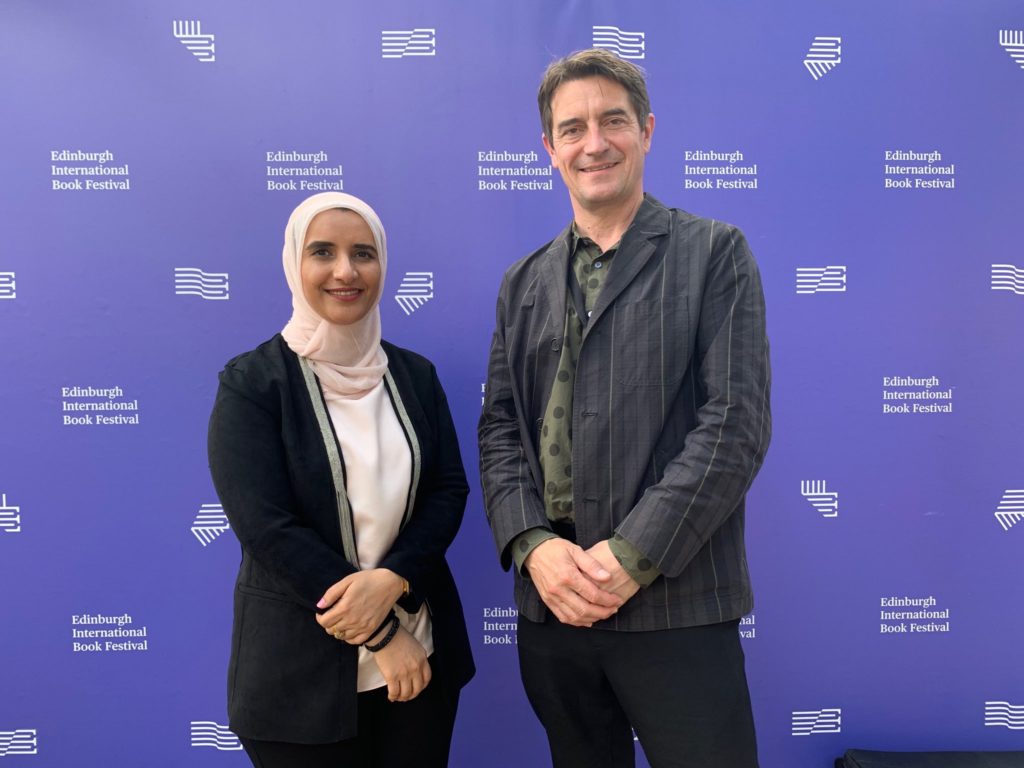 In the almost 10 years since he became director of the Edinburgh International Book Festival, Nick Barley has introduced a number of initiatives include a free evening mini literary festival called Unbound, and launched an academic partnership with Durham University that explores the role voice hearing has in the writing process called Conversations with Ourselves.
The man who describes the Edinburgh festival as both "a supremely international festival and also an intensely local festival" tells us that literary festivals should bring citizens together to discuss big ideas.
He's been chair of the Man Booker prize jury and was elected as a Royal Society of Literature fellow last year. Nick was one of a 12-person delegation of experts from the UK who came to participate in a four day event in Bogotá, organised by the British Council.
During their trip, which comes under the 'Creative Future' programme, the group participated in a discussion entitled 'The ABC of the Creative Economy,' see video above, and visited the Bronx Creative District, the new Cinemateca de Bogotá and the Teatro Mayor Julio Mario Santo Domingo.
The Bogotá Post: What has stood out the most for you during your visit to Colombia? Any particularly inspiring initiatives? Can you tell us more about what you've seen and done here? Colombia has a really vibrant literary scene.
Nick Barley: I was pleased to meet with some of the country's finest writers and literary organisations and to talk about possible collaborative partnerships. I am particularly keen to work with FILBo, which brings books, words and ideas to a wide audience in Bogotá. It was good to meet with the organisers of the Fair.
Related: Our series of interviews with people in creative industries
TBP: As Colombia invests more into the creative industry, the 'Orange Economy', what impact do you see this having in the near future for the country?
NB: Colombia's decision to invest more in the creative industries is a bold and imaginative move but I think it will pay dividends for Colombia's economy as well as for its international reputation. I am impressed by the clarity and simplicity of the vision, and from a literary perspective there is a great deal of potential for success – both nationally and internationally.
TBP: What do you think Colombia does especially well regarding arts?
NB: I can only speak for writing and literature. The experiences of Colombian citizens over the past 40 years have given a great deal of experience and insight into the extremes of the human condition, and Colombian literature is really thriving as a result.
TBP: What are you reading at the moment? Do you have any favourite Colombian authors/ artists?
NB: I am excited by the work of Carolina Sanín, Guiseppe Caputo and Juan Gabriel Vásquez as well as Evelio Rosero. I am also looking forward to reading translations of work by writers such as Ricardo Silva Romero and emerging authors such as Gloria Esquivel and Juan Cárdenas.
TBP: Any authors that you have heard about or met during this trip that are now on your reading list?
NB: All of the authors I mentioned above!
TBP: Have you been to FILBo (Bogota's annual book fair)? If so, how does it compare with the festival in Edinburgh? If not, has this trip inspired you to come next year?
NB: I visited FILBo in 2018 and I was inspired by several of the public events, including the one featuring Ingrid Betancourt. She had spoken at the festival in Edinburgh a few years ago and it was fascinating to see her speak in her own country. The festival in Edinburgh has a very different atmosphere: it's just as busy but it takes place in a park rather than an Expo centre, but the basic idea is the same – bringing people together to meet authors and talk about the world around us through the lens of literature.
TBP: Can you tell us more about why these types of literary festivals are important for cities and countries?
NB: Book Festivals are not just ways to promote books and publishing: they are vital drivers for civil society. They bring citizens together to discuss big ideas together and they allow us to explore our role in making the world (and our city) a better place. Festivals are important because they are place for public, grassroots democratic discussion. As a secondary factor, they also stimulate interest in books and reading, and that is good for the economy too.
TBP: How has the rise of technology changed literature and literary events? How have you adapted?
NB: Technology means that literary events now take place on Twitter at the same time as they take place in theatres. This means that ideas propagate quickly around the world. Ideas that have been talked about in Edinburgh seem rapidly to become the centre of discussions internationally. However the most important thing is that it's not just writers who have a voice, but the people in the audience too. That's why, ultimately, the live event is the most powerful part of what we do, and technology is of secondary importance.