Chimamanda Ngochie Adichie says, "Own what you like and own it without apologising"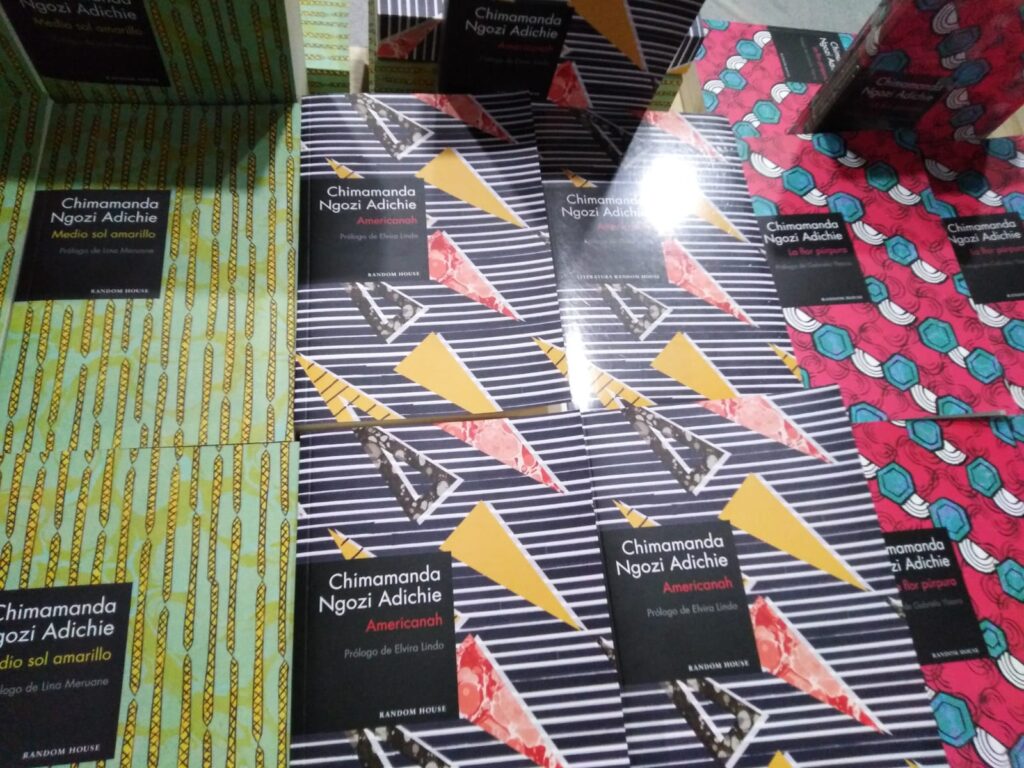 Books may have been replaced by travel brochures, comics, or even home decor in Corferias. But the wonderful thing about FILBo is that the words linger long after the festival has ended. And Chimamanda Ngochie Adichie's talk on roots, race, language, feminism, history, and grief is still with me. Not only is the talk still available online, but the joy of books is that they are always available.
How not to write about such an important visitor? Dubbed one of the most important talks of this year's FILBo, it was fascinating to see Claudia Morales, Director of the Book Fair of the Colombian Coffee Region sit down with Adichie. For those not familiar with the author, Adichie is a renowned Nigerian writer of both fiction and essays, who first achieved fame with her novel Purple Hibiscus (2003). Her work has been translated into more than 30 languages and has won important prizes such as the Commonwealth Writer's Prize, the Orange Prize, and the US Book Critics Circle Award. Her work revolves around race, feminism, and the danger of a single story (a most famous TED Talk as well). 
Morales started the conversation by asking Adichie about the dangers of having one single story, and how these affect a person, and society in general. The author, jokingly, responded, "It's all written in the book, I think." Chimamanda, if you'll allow me to call her by her first name, used humour to break the ice, and continued to lighten the mood throughout. 
She found it important to explain how this idea came about; she was invited to a TED talk in 2001. At the time, she did not have much of an idea about what these TED talks were about, but in researching for her talk she realised most Africans who had been invited ended up talking about how they would help build a school or wells in different communities. She had not really built anything so she didn't know what her talk would revolve around. She decided to talk about what she was interested in – and what she knew. This brought her to the thought that as a Nigerian, "We cannot talk about a person in a single account, as that limits our ability to imagine the other person, to empathise with others, as we end up seeing them in a very narrow way, and that's what makes it more difficult for us to understand the world."
Adichie continued to expand on her answer by recalling something Colombian Vice President, Francia Márquez, said at the opening of this year's FILBo. She said Vice President Márquez said she would soon travel on an official visit to Africa, and that the Colombian press had described said visit as a safari. Adichie said this is a perfect example of a single story, and also an example of how people are not granted the dignity they deserve. "One cannot narrow Africa down to a safari, this is 2023," said the author. On this point, she concluded we should change the narrative with curiosity and humility; we live in a world where people find it difficult to say they've been wrong and to admit they've failed.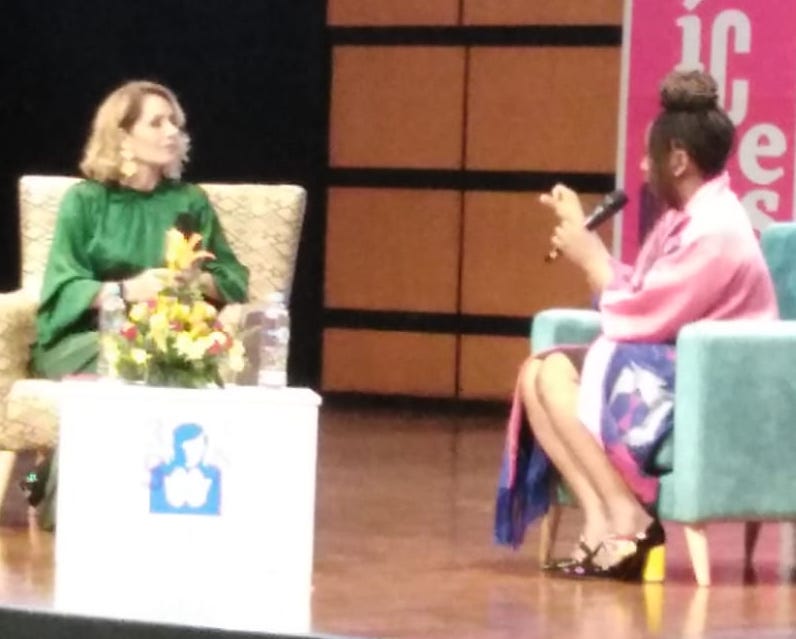 Adichie: I'm a happy Nigerian feminist
The talk continued on to feminism. She recounted how a journalist at one of her book presentations once told her, "Feminists are women who are unhappy because they can't find husbands." Said journalist also warned her she shouldn't label herself as a feminist. Adichie responded to him in this very gracious way: "I'm a happy Nigerian feminist, who does not hate men, who loves wearing lipstick and who wears heels, not for men's sake, but for my own." 
That, and other reflections, have led Adichie to consider what messages we send children around these topics. Western feminism has been documented for much longer. She thinks women in the West, particularly those not in the working class, had to stay at home. For her, they were asked to be pretty and denied the right to vote. So when the feminist movement started to grow, it was only logical that its defenders started rejecting any importance previously given to physical appearance, as this is precisely what had kept women in chains. 
She believes young movements tend and need to be extreme – there is no space for nuances. But she also thinks feminism is now at that stage when we can be more honest about our appearance. There have been women who've been told they cannot be considered feminists if they wear make-up. The premise being that everything that a woman does, she does it for a man's sake. She says it's also not feminist to limit a woman's demeanour. Women should wear make-up and heels if it is their wish. "Own what you like and own it without apologising" she concluded.
It doesn't help that many – if not all – women are judged nowadays for their appearance. She mentioned that her father once told her she looked like a clown when she was wearing a very stylish dress. Social networks need to take some of the blame here, many young girls are ashamed of their bodies and suffer from depression as a result. There are young girls who worry about having hip dips, a totally natural feature. In Chimamanda's words, these are idiotic words spread thanks to the internet that undermine girls from a very young age. She reflected on this, saying girls should be taught about what they can do with their bodies – practising sports, for example – rather than how their bodies look. 
There is also this idea that girls, women, need to apologise for taking up space in this world; it is time we teach them they should not apologise. Check out her TED talk "We should all be feminists," and her work Dear Ijeawele, or a Feminist Manifesto in Fifteen Suggestions for more.
In terms of feminism in Nigeria, she said women in Nigeria are very innovative, really strong. It is common to see women in powerful positions in her country. For example, four banks in Nigeria are led by women. Banking and the oil industries are some of the strongest fields. However, in the political arena, women are still sidelined. In Nigeria, political parties have a female wing, which, in Adichie's words, is worrying, because being on the female wing of the party does not grant access to women to the main room. This is the room where decision-making takes place. So there is participation, yes, but from an auxiliary wing so-to-speak, a sort of exclusion, which is not labelled as such.
Words sometimes understate the weight of grief
Chimamanda Adichie also talked about her grief after her parents' death – a few months apart – and the importance of the language we use. She said people use words that try to politely accompany those who are in mourning, but points out that these words can neglect the importance of that grief. She could not see the point of words/phrases like "his disappearance" or "he's resting in peace now," or "we should celebrate his life and the moments you two spent together." As well-intentioned as those words can be, she argues they offer little comfort when you've lost someone. Her latest work, Notes on Grief, examines that.
The conversation went on for the good part of two hours. Interestingly, when talking about race, she mentioned she became black when she went to live in the United States. It was the first time she realised such a difference existed. She said that Nigerians are known for somehow being arrogant. That made it all the more infuriating to be considered inferior in the United States. Regarding this issue, she says we must be willing to have conversations about uncomfortable topics. However, such uncomfortable conversations, of course, have to be based on some ground rules. She closed by saying she doesn't believe in performing niceness; life is too short so there should be no time for regrets. For full access to her talk at FILBo, you can click on the following Youtube link on the Feria del Libro Bogotá Channel.