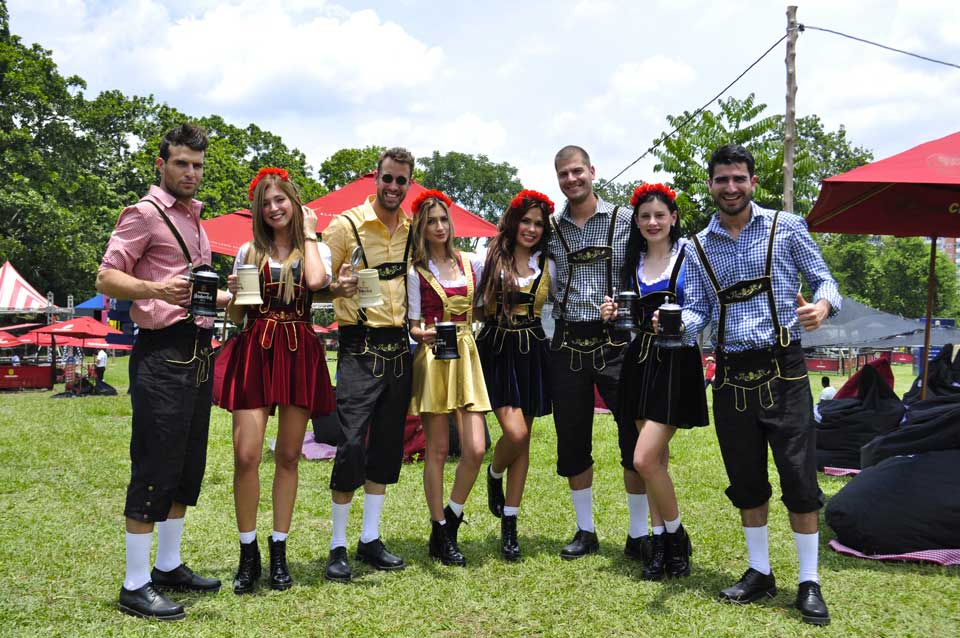 Oktoberfest means cerveza, cerveza y más cerveza for bogotanos in the upcoming months
---
It's that time of the year again: the world's most famous booze-up is coming to Bogotá. Get ready beerlovers, as Oktoberfest is back from across the Atlantic and Colombia is set to be cerveza-soaked throughout September and October, with events in every major city to celebrate.
The capital is really set to come alive and embrace all things German, with festivals plonked just about everywhere to champion the world's favourite drink. Oktoberfest was founded in 1810 in Bavaria, Germany, and is usually celebrated from late September to early October.
Of course, being nearly 6,000 miles away won't stop Colombians from getting stuck in and the city has plenty in store for its brew fanatics. Colombia's biggest brewery, also named Bavaria, is hosting a clutch of events across the country to celebrate. They will be hosting the capital's biggest shindig: a Club Colombia festival on Saturday, September 23.
It will be held in Nimajay Club Bavaria in the north of the city and company representative Isis Durán told The Bogotá Post to expect "lots of surprises" for the huge outdoor event. "We recommend you go with the best attitude, prepared to celebrate and enjoy the best beer," said Durán.
The event promises to be as authentic as it gets, giving attendees a taste of how to party like a Bavarian. "Within all the experiences and surprises that we will have inside the event, you will find a great amount of icons and German rituals", added Durán. Expect an art market, live music – with The Ting Tings set to perform for the first time in Colombia – plenty of German grub and limited edition beer on sale. However, with tickets starting at COP$75.000, the event might not be for everyone's budget.
Luckily, Bogotá will also have lots more on offer elsewhere throughout this month and next! Some of the most promising events include:
• From September 15 – October 15, DRAFT, a self-service bar, will be throwing a super-traditional event with live music into the early hours at its hub in Calle 127 #7D-11. Entry is $25,000 (includes a beer) and the weekend events run from 7pm to 3am.
• BreWeek is putting on a Medieval Festival on the weekend of September 16 and 17. It might say it's a Medieval Festival, but in reality it's a beer festival, with pretty much all of Colombia's craft beer scene making the pilgrimage to Séptima with Calle 235. Remember – medieval dress gets you in free. Drinking horns optional.
• The Colombian-German Chamber of Industry and Commerce will be holding a family-friendly event on October 7 and 8 at the Events Center on the Autopista Norte. It will be its tenth year and plenty of German lagers will be on offer as well as traditional music and fancy dress. Children under ten get in for free, while entry for adults will be priced at $12,000.
• Restaurante Edelweiss, in Cajicá, not too far from Bogotá, is expected to be celebrating the Oktoberfest with its usual mishmash of Colombian and German music, great food and craft beer. The restaurant is always lively in October and could well be one of the best places to head for gastronomic joys. The restaurant can be found at Km 1 on the Via Cajicá – Zipaquirá.
• Alemán Harald, one of the city's top German restaurants (Calle 116 #70c-68), will also be putting on its usual spectacle of traditional German dancing, wonderful food and a variety of brews. The restaurant is yet to release details of exact dates but usually puts on a blinder in early October.
• The Monkey House gastropub (two venues – Calle 70A, and Usaquén) has a superb selection of beers and is always keen to flaunt them during die Wiesn. Expect a rowdy – but fun – British / German experience from the end of September to early October.
• La Cervecería – located in Zona T and Usaquén – has also said it will be hosting events throughout the Oktoberfest season. They'll be serving Club Colombia's special edition Marzen, which is made with special malts and has a higher percentage of alcohol.
---
Founded in 1810 in the German state of Bavaria, the first Oktoberfest was held to celebrate the wedding between Crown Prince Ludwig of Bavaria and Princess Therese of Saxony-Hildburghausen. 

Oktoberfest is considered the world's largest folk festival and 2017 will be the 184th time the festival has taken place.

Every year, the event attracts around six million people from all over Germany – and the world – to guzzle millions of litres of beer. The festival spans over two weeks and is held just outside the centre of Munich.
---
Mathew Di Salvo