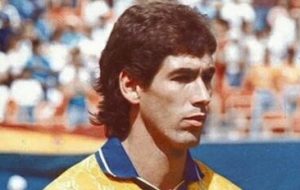 Vengeance, football, murder: the infamous end of Andrés Escobar is the very real story of what can occur when on-field mistakes result in real world consequences. The Colombian defender's brutal murder following an unfortunate own goal may have occurred more than two decades ago but his story continues to be inextricably tied to the Colombian national team – especially at this time of year.
For Colombia, the World Cup is a four-yearly reminder by international media of Escobar's story which to this day highlights the connection between football at that time and the cartels that wielded their awesome power over it. It's a story which continues to be met with curiosity, commentary and criticism, and one which attracts great interest. To this day one of the most widely-read articles on The Bogotá Post is about Andrés Escobar. Why is the public transfixed by the story of his death? And has Colombian football overcome the tragedy of Andrés Escobar?
When Colombian defender Carlos Sánchez was doled out a red card for handball in the team's first match against Japan in this year's World Cup, the international media were quick to raise the spectre of Andrés Escobar as Sanchez was subjected to threats on Twitter.
As more than 25,000 disappointed Colombian fans left the Mordovia Arena in Saransk, one Twitter user posted a picture of Sánchez next to a photograph of Escobar and the message: "I propose a dream." Amid the thousands of tweets repudiating the threat, others supported the idea. "If Andrés Escobar was killed for scoring an own goal, then Carlos Sánchez should be murdered and his dead body pissed on," said one of the replies.
Colombian radio station Blu Radio confirmed the judicial arm of the Colombian police has assigned a special cybercrime team to investigate, the Guardian reported. Colombian coach José Pékerman was clearly not impressed with the comparison, later dedicating Colombia's win over Poland to Sánchez. "The player was deeply affected, and I think we all understand football really is something else," he said. "These things shouldn't even be said lightly. Whether it's confirmed or not, this is something that is extremely painful."
The story of Escobar the footballer bears little resemblance to that of Carlos Sánchez. Andrés Escobar Saldarriaga played for hometown side Atlético Nacional in a Medellín that remains for many etched in people's memories as infested with cartel violence and lawlessness. Nacional at that time belonged to the Medellín cartel and its ringleader, Pablo Escobar, was influential in the making and breaking of Colombian football with many of the league's teams being used by cartels to launder money.
In the midst of chaos Escobar the footballer, who was nicknamed The Gentleman, was revered for his calm decision-making and clean play. His considerable skill saw him take to the pitch in Colombian colours more than 50 times from 1988 to 1994.
Colombia themselves were considered favourites. At the 1994 World Cup, Pele thought Colombia could compete amongst the best as well. When qualifying, the team even proved it with a 5-0 rumbling of Argentina suggesting that a new footballing world order was taking shape.
That shift never took place. In a match against the United States during the World Cup, captain Escobar made the mistake that would eventually have him killed. The defender, stretching to block a cross, inadvertently kicked the ball into his team's net. The United States won the game 2-1 and Colombia was subsequently eliminated from the competition. Needless to say, the shock loss to a lesser opponent caused heartbreak for fans of Los Cafeteros and emotions ran high.
Five days later, on July 2, 1994, Escobar was back in Medellín visiting the precinct of Poblado with friends. According to eyewitness reports, the footballer enjoyed a few drinks at a nightclub and was happily talking to fellow revelers when a few people began insulting him, sarcastically cheering his own-goal. Escobar left for his car, but the four-strong group continued  hurling abuse at him. The situation escalated. Two of the group drew handguns and Escobar was shot six times with a .38-calibre pistol. An ambulance was called to tend to Escobar, but he soon died from his injuries. He was 27 years of age.
It was a senseless act of violence, and one which shook Colombia to its core. More than 100,000 filed past Escobar's body as it lay in a wooden casket, draped with a green and white Nacional club flag. The killing is still widely believed to be a reprisal from gangsters who had sustained heavy losses betting on Colombia at the World Cup. Escobar had been targeted in the bar by the Gallón Henao brothers, two notorious drug and gambling barons. However it was their driver on the night of the shooting, Humberto Muñoz Castro, who was pointed out as the legal killer. He received a 43-year sentence and was released after 11 years. More recently, on an unrelated narcotrafficking charge, Santiago Gallon Henao was arrested near the Venezuelan border.
This Monday will be the 24th anniversary of the fatal day Escobar was killed near a Medellín nightclub near Las Palmas.  Shortly before his murder, Escobar wrote about Colombia's World Cup in a newspaper column: "It's been a most amazing and rare experience. We'll see each other again soon because life does not end here."
Escobar may be gone but he is certainly not forgotten. The defender continues to be held in a state of reverence in his home nation, with his family founding the Andrés Escobar Project to help disadvantaged children learn to play football. He is especially mourned and remembered by Atlético Nacional fans. His is a story that the media likes to tell and retell at this time of year with thought-pieces, essays and opinions.
Despite the success and heroes of the intervening years and the transformation that Colombia has made since, for the international media, Escobar's shadow continues to loom large over football in this country even if the country itself has moved on from the intermarriage between the cartel and football. Colombian football may have overcome the tragedy of Andrés Escobar. Whether the international media follows suit remains to be seen.
— By Arjun Harindranath and Jeffrey Kitt.