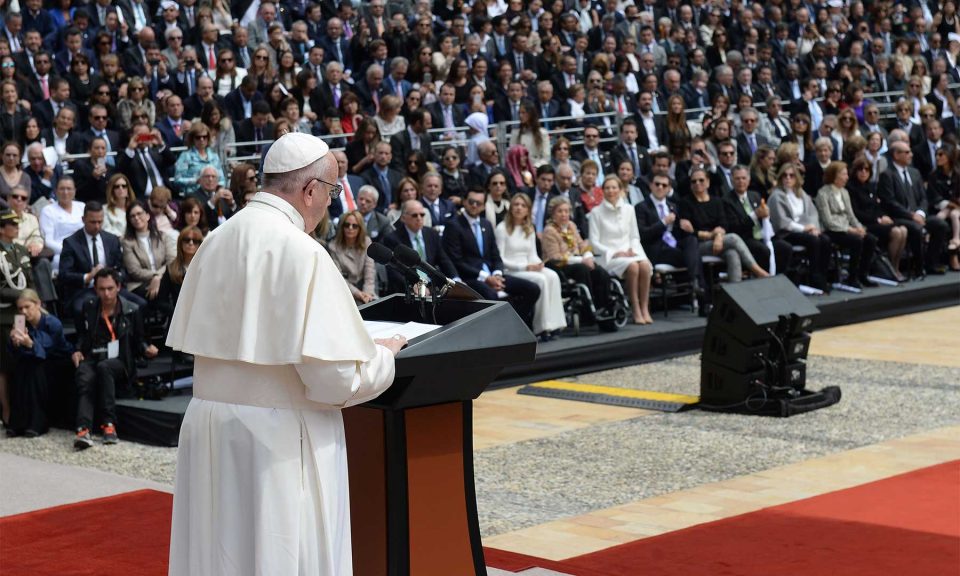 Pope Francis made a moving speech to the crowds gathered at the presidential palace today, Thursday September 7, in which he acknowledged that the country had come a long way in the peace process but that all Colombians had a role to play in bringing peace.
---
Pope Francis warned against the temptation to seek revenge, given that already "there has been too much hatred and vengeance". He also called for Colombians to embrace the poor, and include them in their country's future, stating "let us not forget that inequality is the root of social ills". He then led the attendees in prayer.
After his initial speech, he spoke directly to young people, telling them that their forgiveness was crucial to Colombia's development: "you help us in the desire to leave behind what has hurt us, to look to the future without the burden of hatred". He told them not to lose hope but to be a beacon of optimism for the future.
His third speech was directed at Colombia's religious figures, who he said had a unique role to play in post-conflict healing. He instructed them to show courage in order to help Colombians overcome their anger and fear.
The final duty for Pope Francis today will be a Mass given in Simon Bolívar Park, where tens of thousands of Colombians and foreigners have been gathering since the early hours.  It is expected that he will continue with the themes of hope, reconciliation and peace during the entirety of his five day visit, during which time he will also visit Villavicencio and Medellín.
---