Mastering por and para is part and parcel of speaking good Spanish. Katie Jacoby crams everything you need to know into her no-frills column
---
When To Use Por
RELATIONSHIP BETWEEN TWO THINGS OR EVENTS (One-for-one exchange: you give, offer, or ask for one thing for another; or cause and effect: some reason or impetus elicits a feeling or action from someone)
Switches, sales, offers and haggling (for)
 

Pagué 60 mil por estos zapatos.


  Te daré mi galleta por tu palito de queso
  Lo dejó por otro.
Giving thanks or asking for forgiveness (for)
 

Gracias por la ayuda.


  Te pido disculpas por haber llegado tarde.
On behalf of, in favor of, supporting (for)
 

Yo de ti, votaría por Claudia López.Trabajamos por los derechos humanos

.

Cause, reason or motivation for doing something (because of, due to)
 

Murió por falta de agua.


  Todo lo que hago, lo hago por ti.
Emotions (for, because of)
  Me alegra por ti.
  Estoy triste por lo que pasó.
To show the reason for an errand or action (with ir, venir, pasar, mandar, volver, and preguntar)
 

Paso por ti a las ocho.


  Su ex preguntó por ella.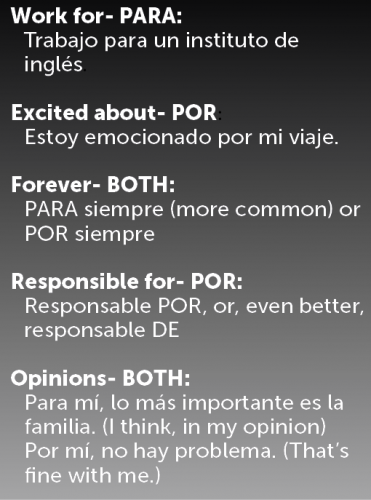 MOVING THROUGH TIME AND SPACE (how, when, where & for how long: we're interested in the time during the journey, not the final destination)
Through, along, by, down, around, in the vicinity of
 

Iba por Chapinero y me encontré una tienda vintage re chévere.


  Si caminas por la Séptima, verás muchos vendedores ambulantes.
Modes of communication (by, on)
 

No hables por teléfono en el bus.

Length of time (for)
 

Viví en Lima por 5 años antes de venir a Bogotá.

Time of day (during, at)
  Desde La Calera, Bogotá se ve divina por la noche.
OTHER USES
Velocity, frequency, and proportion (per)


El colibrí bate sus alas 55 veces por segundo.

Agent in passive constructions (by)
 

Esta ciudad fue transformada por la alcaldía de Mockus.

To be seen as, to take as (for)
 

Puede que sea extranjera, pero no me tomes por boba.

Substitution (for, instead of)
 

Lo firmé por ti, como tú no estabas.
---
When To Use Para
DESTINATIONS AND END POINTS (What/when/who is it for? What's our goal/destination?)
Deadline or specific time (by, on, till, before)


  Lo necesitamos para el lunes.


  Faltan veinte minutos para las seis.
Goals, purposes (in order to, so that)


Para bailar la bamba, se necesita una poca de gracia…




  Nado para divertirme.

Specific destination (to)
 

Vámonos pa'l monte…




  Para la 72 con 9, por favor.

Use or purpose/function of a thing (for, so that)
 

Una sombrilla se usa para que uno no se moje cuando llueve.

Recipient (person or activity) (for)


  Esta torta es para mi novio.




  ¡No hay cama pa' tanta gente!




  No tengo para el viaje.
OTHER USES
Contrast from what is expected (for, considering that)
 

Para una extranjera, ella habla muy bien el español.
---
Compare

¿Por qué lo hiciste?


Why did you do it? What made you do it? What was your reason for doing it?
with

¿Para qué lo hiciste?


What did you do it for? What did you hope to gain by doing it?

¿Por qué hacerlo?


Why should I do it? What good reason is there for doing it?
with

¿Para qué hacerlo?


What's in it for me? What do I stand to gain?
---
Katie Jacoby is a Spanish-English translator and has been in Colombia for 2.5 years. Feel free to leave her a comment or ideas for future columns on her language website, vocabat.com.