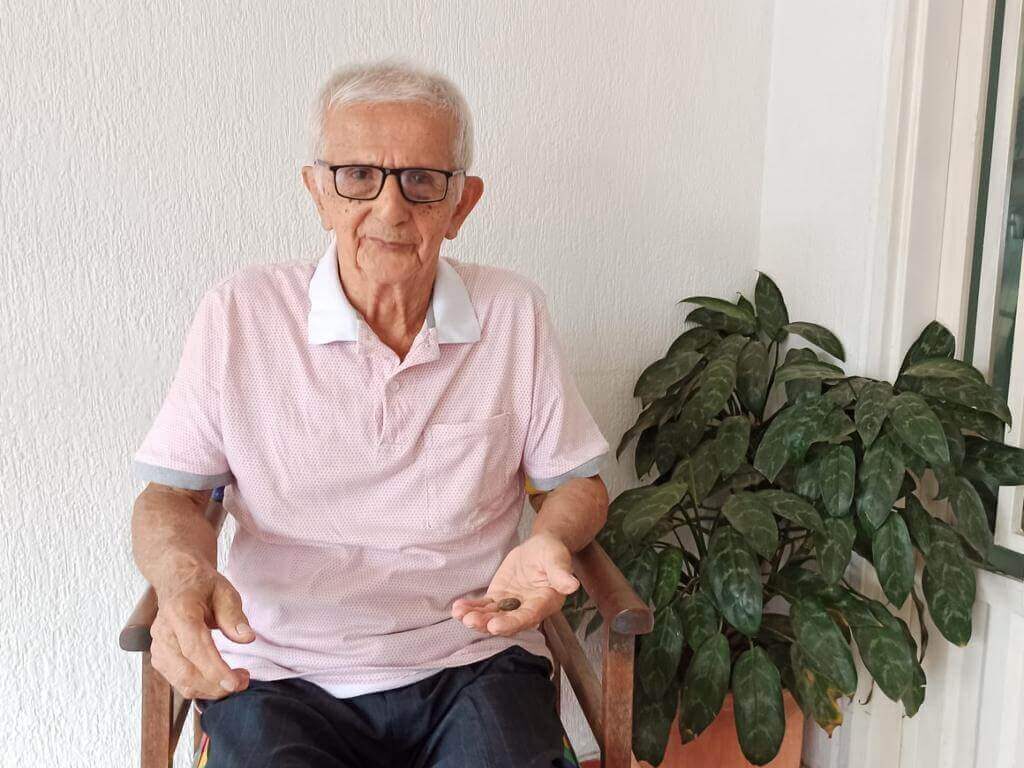 Jesus María Rodriguez (Chucho), an 87-year-old retired shoemaker living in Cúcuta, on Colombia's border with Venezuela, has been stealing potatoes, concocting special juices, and watering local trees in an effort to protect his health. And you may want to take note.
Chucho grew up in Chinácota, Norte de Santander, during one of the most dangerous times in Colombia's history: La Violencia, a 10-year civil war between the Conservative and Liberal political parties. From the age of 12, he could no longer go to school due to threats from the Conservatives coming into power—his family was Liberal.
During the rest of Chucho's childhood, he worked with local farmers and drank chicha, a fermented corn beverage, leading to his early alcoholism. He was cheeky, a flirt, and even spent a few nights in jail for causing trouble.
In his early teens, he also left home and lived on the streets of Duranía, Norte de Santander, for several months. There he began making and fixing shoes and set up his handmade leather shoe business in Cúcuta several years later. Shortly after, he met his wife, Leonor. They've been together for 66 years and had 12 children.
He proudly declares that during the course of his life he has had several near-death experiences—but God wanted him to stick around. And sitting on a white plastic chair and swinging his legs back and forth, he told me he even once stopped one of Chinácota's mayors from being assassinated by eavesdropping.
In his 80s, he is still active, watering plants in his neighborhood every morning, always attending mass in the church, and accompanying his wife to her daily exercises to ensure she doesn't get involved in the local gossip.
So, what is the secret to his long life after such an unconventional beginning? He swears by these three daily practices.
Stealing potatoes to keep prostate cancer away
With his dark-rimmed glasses, smart beige trousers, and a white tank top, Chucho slowly stood up and pulled out two fresh potatoes from his pockets as if it were a magic trick. These tiny potatoes are papa criolla, a variety native to South America and popular in Colombia for soups and stews.
Chucho has been stealing these potatoes for almost 40 years from local stores to prevent, he says, illnesses of the prostate. He changes the two potatoes—one in each pocket—every few months when they become rock-hard. Upon questioning, he gave no explanation as to why stolen potatoes worked better than purchased ones.
He showed me his collection of old potatoes from over the years that he keeps in a cabinet; now black, hard, and covered in little insects.
He says this daily ritual began when some traders and herbalists from Ecuador and Pasto, Colombia, brought medicinal plants and poisons to Cúcuta.
It is no secret that potatoes have many healing benefits due to their high content of Vitamin C and potassium. And there's even a debatable TikTok craze going around stating that putting potatoes in your socks overnight can draw out toxins or help get rid of a cold.
Drinking a special juice to build up the immune system
Chucho doesn't spend much time in the kitchen, but you will see him playing around with a few ingredients: limes, pineapple, garlic, olive oil, and oranges. He has followed this juice recipe for over 30 years since an old medicine man, who passed by his house every Saturday, gave him a leaflet.
This concoction is what keeps him healthy, he says.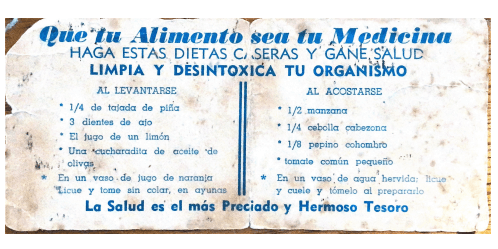 The leaflet he received read:
Let your food be your medicine. Make these homemade recipes and feel healthy. Clean and detoxify your body.
When you get up:
¼ of a (one-inch) slice of pineapple
3 garlic cloves
Juice from one lime (squeeze it fresh)
A little spoonful of olive oil
Blend it in a glass of orange juice and drink without straining on an empty stomach.
I decided to try out the juice several times to witness the impact first-hand. The idea is to drink the juice every morning for six days.
I definitely felt stronger, my immune system was more resilient, and bowel movements were efficient, to say the least.
Watering local trees at 5:00AM
Chucho's day is pretty much determined by the rain. If it is raining, he can have a day off; if it isn't, off he goes to water the trees around his neighborhood.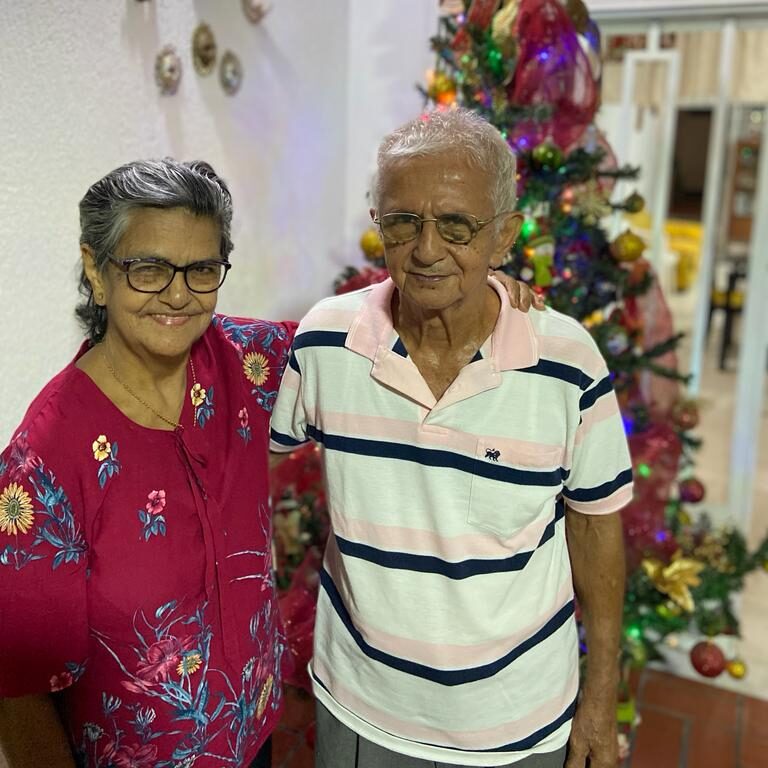 More than 10 years ago, the town hall had a program in place to plant trees, but they were dying because it was too hot and dry in Cúcuta. Chucho took the initiative to start watering them, and some neighbors began sowing their own seeds too. He also decided to take care of those.
It has become Chucho's daily routine and a way he can give back to the younger generation.
For him, the importance of plants and trees can't be understated, and on the sidewalks they protect the locals from the blaring sun.
Altruistic behaviors are proven to impact the happiness and well-being of the givers as well as the receivers, affecting long-term health. Chucho also takes this further by renting out some houses he owns in Cúcuta at a cheap rate to help people who are struggling.
Chucho's messages are clear: Without our health, we have nothing. And without a commitment to protecting future generations, why are we here?