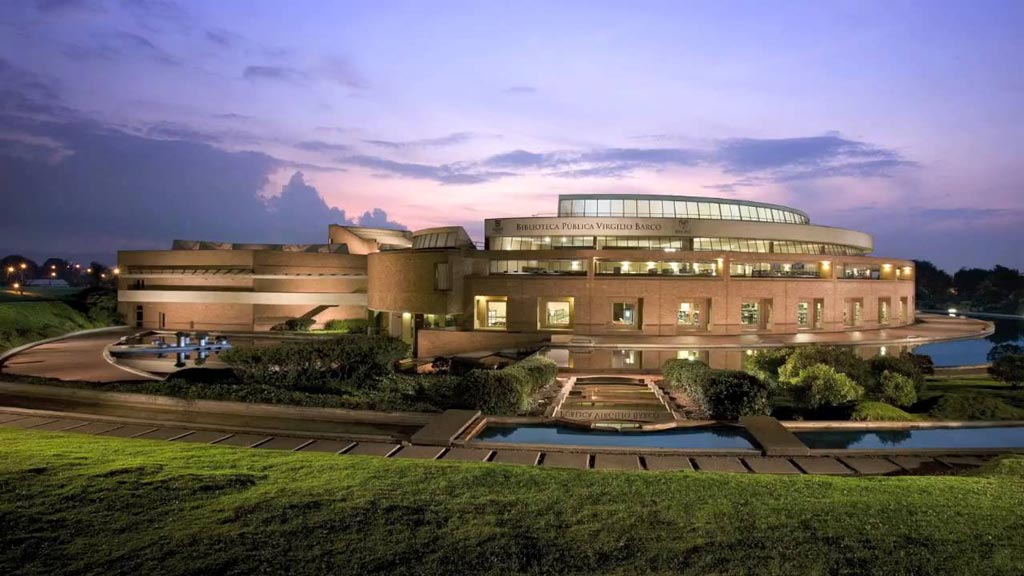 Lee Baker looks at how Colombian architect Rogelio Salmona used his architecture to build a sense of community
---
Modernist architecture is often very striking, with buildings resembling giant, free-standing monuments, causing people to look up at them in amazement. This is certainly true of Torres del Parque by Colombian architect Rogelio Salmona, which he hoped would stand as his legacy for a thousand years.
I live on the 28th floor of the tallest of the three towers in the Torres del Parque complex – one of the highest towers in the city – and I wanted to find out a bit more about who built it. 
The structures are impressive in themselves with their elegant curves and interlocking geometric brickwork. But what's more remarkable, especially at a time when public space is such a hot topic, is the way that the towers actively create space. Towers in London often gobble up or gate-off public areas, for example, Centre Point in the city centre actually removed sidewalks, and pushed people onto the road.
In contrast, the space around the Torres del Parque is open to everybody, seamlessly merging with the adjacent Parque de la Independencia. This is a development that wants to be part of the city, not to stand apart.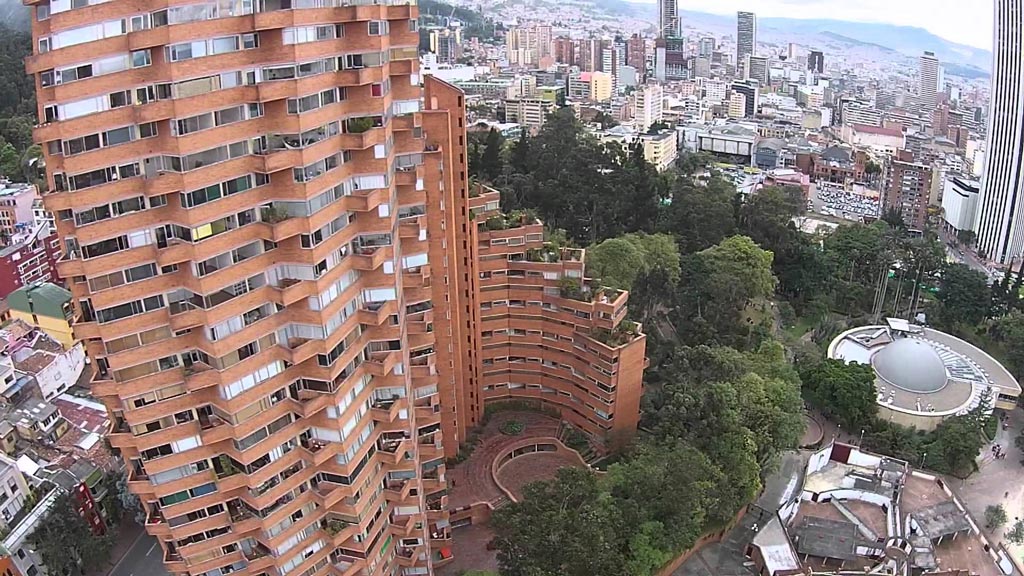 Strikingly, there are no gates to enter the grounds, so everybody is invited to mix – this, in  downtown Bogotá, which is often dismissed as 'too dangerous'. The result is that people use the space: college students sitting on steps using the bakery's wifi, or groups of people having a drink in one of the sunken courtyards.
Cristina Albornoz Rugeles, an architect at Universidad de Los Andes believes that "Rogelio Salmona dismantles the false idea that insecurity goes hand in hand with open spaces and public use". Instead, she says "it is thanks to the movement of people and to spaces where it is pleasant to stay, that the spaces do not deteriorate."
Sadly, she also tells me that this generous architectural ethos was more of a one-off: "I think that what Salmona achieved with this project is difficult to replicate, and the profusion of closed complexes in our cities proves it."
Before I set off to look at other examples of the architect's works, I spoke to Beatriz Vásquez at the Rogelio Salmona Foundation, who says that he worked "to contribute to a more democratic and participatory city".
Heading south, just beyond Calle 8, where the dense and historic Candelaria falls away to a less-cared for environment in between a traffic-snarled road and a large derelict site, I find the Rogelio Salmona Nueva Santa Fe, an urban renewal project of four residential blocks. They are four storeys high, in keeping with the surrounding urban fabric, it's modernism on a human scale.
Each building is organised around a series of internal gardens, offering a calm respite from the city and highlighting another important attribute of Salmona's architecture: his sites promote interaction between residents. In building A of the Torres del Parque, when we need to borrow something, we can see whether our neighbours are home by looking out of the window. An active group of residents organise events in a round courtyard at the foot of the building.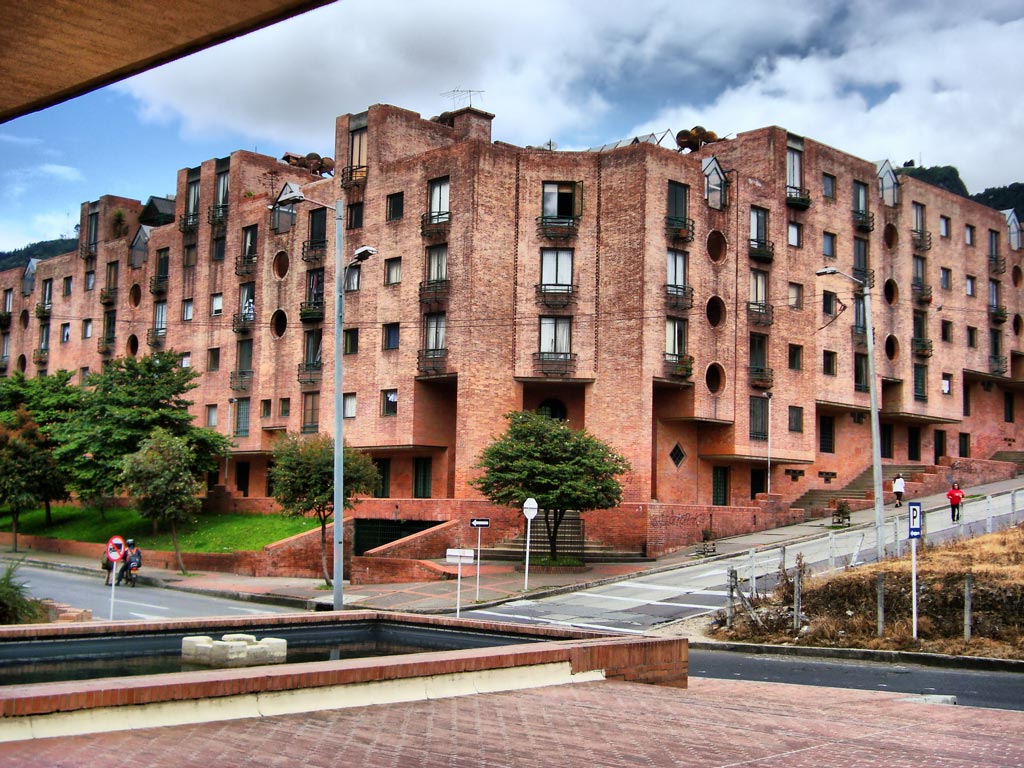 At the Nueva Santa Fe on a Sunday morning, children are running around freely in the gardens, their parents able to watch over them from the apartments.
However, these buildings south of the centre are gated off, and although there are wider sidewalks and more trees than elsewhere in the area, the vast public space that can be found at the Torres del Parque is not present here.
Unfortunately, Salmona's full vision of creating a large new diagonal space through the centre of nine proposed blocks, was never realised. Vásquez tells me that the idea "remains in the dreams" of residents.
The Edificio Alto de Los Pinos, on the other side of Bogotá, more than seventy blocks north, is another, very different example of Salmona's residential architecture in a more well-heeled neighbourhood.
Again, I see a building that respects its environment, this time by not removing mature trees on the side of the mountain it perches on, above Carrera 1. Instead, the building makes space for the trees in an internal courtyard, which simultaneously brings the people living there together.
It is interesting to see that ideas by Rogelio Salmona about using architecture to promote a sense of community live on in the city. I visited the current biennial of the Society of Colombian Architects at the Universidad de los Andes, and saw many examples of contemporary projects for collective living, with frontages where people are invited to take a drink, communal gardens and even communal kitchens. But, what is less apparent in the architects' drawings are Salmona's concepts around creating public space.
There are "very few architects who masterfully handle public space", Ruben Hernandez, of the National Council of Professional Architecture tells me. "Several factors impede this, including entrepreneurs and builders who seek higher profits and build more, instead of parks and public space, and the lack of political will of mayors and governors in relation to public space."
I asked Salmona's foundation about what drove the architect. They said that his conviction that architecture could improve city life "was so strong and vehement, that the vital core of his works was public and institutional buildings, where the open spaces contributed positively to a more democratic city".
Salmona's National Archives building, adjacent to the Nueva Santa Fe blocks, provides more public space than the residential buildings. And for the most part, Salmona's public buildings, most famously La Biblioteca Virgilio Barco, accommodate large numbers of people in a relaxed, contemplative environment, where thoughts, and the citizens themselves, are allowed to roam freely.
These public buildings characteristically have interior courtyards that are open to the outside, and also have floors that are partially or fully open air, making use of the roofs as spaces for people. When I visit the calm Rogelio Salmona National University Graduate School Building, the students are mostly silent, some sprawled around the courtyards reading, thinking or dreaming; others are sitting on the roof conversing, as the architecture invites them to do. If only we had more residential developments allowing such freedom.
While Salmona's vision for the city has not been completely realised, I hope that the mayor and developers can find inspiration in his aspiration to create a better city by providing spaces that allow people to coexist.
---
By Lee Baker