As Colombia prepares for the 2014 Roller Derby, the Bogota Post takes a look at the sport.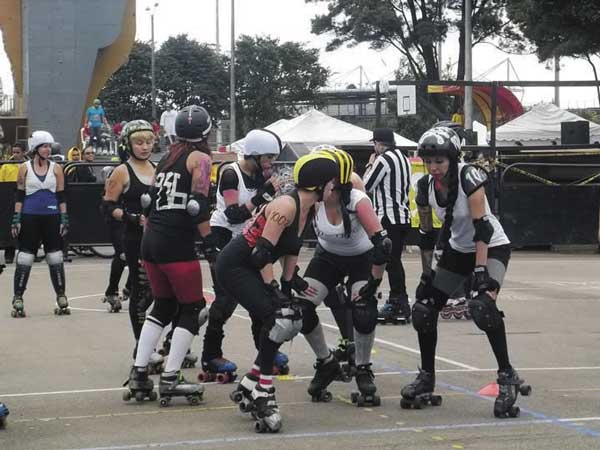 ---
Have you ever heard of Roller Derby? Known as "the sport of the bad girls", it was born in the United States at the end of the 1930s. It is a female-dominated but brutal sport practiced in more than 35 countries including Colombia.
So what's the game about? Basically two teams race around a track. One team member, 'the jammer', has to get through the pack without being knocked over by the other team to score points. The rest of the team is responsible for defending the jammer, and not being held back by any sort of body contact. Spectacle guaranteed! Not only does each team have a catchy name and flashy uniform but they also exhibit strength, speed, balance, endurance, teamwork and discipline.
The sport first arrived in Colombia in 2010 when Maria Paola Hernandez from Bogota watched a movie called "Whip it" (directed by Drew Barrymore). She was fascinated by this movie and by the aggressive skating of the young girls it depicts. She started to research the rules of roller derby and soon she founded the first team in the capital, the Rock N' Roller Queens.
Roller Derby skaters have encouraged other women to see this sport as a way of showing off their skills, projecting a strong female image and creating powerful group dynamics. The sport has gained many followers in Colombia, with the result that the third national tournament will be celebrated in Parque Recreodeportivo Salitre (Carrera 60 with Calle 63) in Bogota from August 8-10. Entrance is free so, as the Derby skaters say, "We are ready to race, we will give everything on the track, we are going to smash it! Come and join us!"
---
By Lina Cipagauta