Entrepreneur Eric Liu uncovers some Medellin experiences that you won't find in your guidebook…
---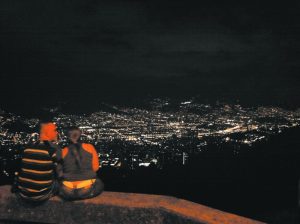 El Mirador De Las Palmas
Because Medellin is bowl-shaped, there are quite a few scenic outlooks with views of the entire city. Las Palmas is a particularly interesting one, because it's a major thoroughfare known for its underground motorcycle racing scene late at night. There are three miradors in a row – make sure you go to the furthest one, as the others have trees blocking the view. Street food vendors serve beer and local food here as locals congregate to take in the breathtaking views on one side, and watch the illegal street racing on the other.
Envigado Park on a Friday Night
Envigado Park is the social centre of the neighborhood of Envigado, where you'll find a more authentic and local experience than in the normal tourist hotspots. It's an experience similar to an Italian piazza, where families mill about, locals sit on the steps of the church and play guitar with friends, and food vendors sell homemade local eats.
La Tienda in Sabaneta
Everyone in Medellin can dance, and they're amazing at it. The music here rotates between salsa, merengue, vallenato, and reggaeton. The locals are friendly, flirty, and eager to teach outsiders how to dance. Bonus: for another local hotspot that's big on dancing, try downtown's El Eslabon Prendido.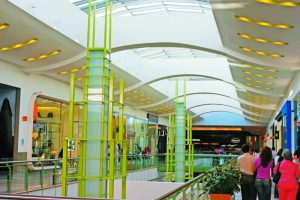 Tesoro Mall
This will sound weird to many, but shopping malls (centros comerciales) are the "place to be seen" in Medellin, and Tesoro is one of the best. Tesoro is an open air mall with a high-end food court, an amusement park for children with a train, mini roller coaster, ferris wheel and seating areas with luxurious couches sprinkled throughout the complex. Some of the malls have multiple nightclubs in them as well, with the daytime festivities spilling over into a night of dancing.
Steak Under A Freeway
You could eat affordable fancy food your entire time in Medellin, but you won't be able to say you've eaten like a local until you eat under the freeway at Calle 10 and Guayabal.  Under this overpass, two entrepreneurs have set up food stalls selling grilled steaks and pork cutlets with arepas and potatoes for just $6,000 COP per meal.
Don't be fooled though – locals (both rich and poor) frequent this makeshift hub where the cooks have literally just set up a BBQ grill and a bunch of plastic stools. You can expect to see paisas dressed to the 9's, businessmen in suits, cops, cabbies, and day labourers – all drinking beers and eating steaks with their bare hands. It's also the perfect late night drunk food after an evening of dancing at La Tienda.
Mahalo Bar
Mahalo is a little cottage half way up the mountain that was converted into an awesome bar.  Because of its higher vantage point, it features spectacular, sweeping views of the city. It's an eclectic spot with indoor and outdoor seating overlooking the skyline, a rock climbing wall, a mini-skateboard park with a quarterpipe, and of course great food and drinks.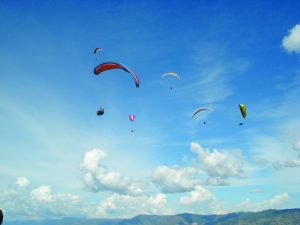 Paragliding in San Felix
Okay, this is arguably also in the guidebooks, but it isn't to be missed. About a 30 minute drive up the mountain will take you to San Felix, where people go to spend an afternoon in the sun and watch paragliders fly over the city. Locals will bring a blanket, a bottle of aguardiente, and bask in the sun for the afternoon. If you're feeling adventurous, it only costs $80,000 COP for a 30 minute flight. Flying above the city is an experience and a view you won't forget.
---
Eric Liu is from RocketLease.com, which provides online rental applications for landlords and property management companies. To escape the Chicago snow, he participates in a "startup founders retreat" every winter.  On these retreats, a group of entrepreneurs travels to a new location for 1-2 months to work remotely, collaborate with other founders, and explore a new city.