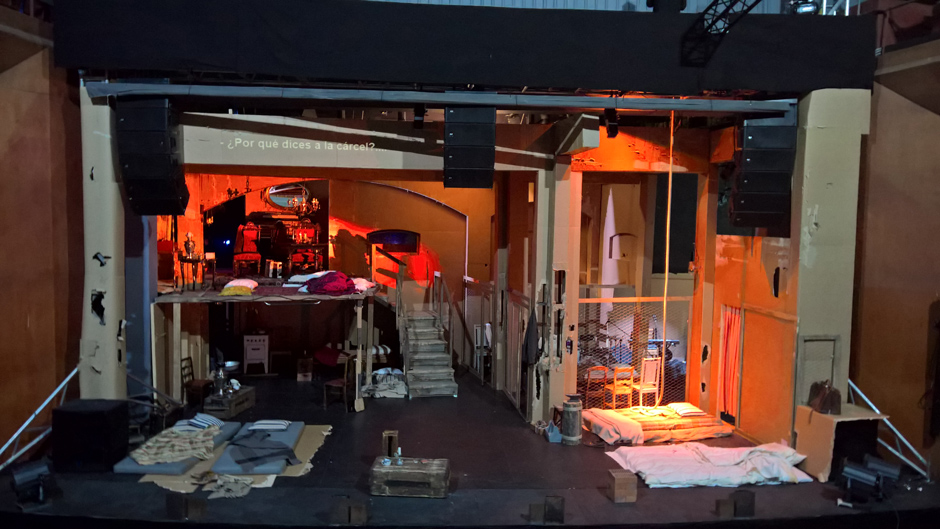 With the 15th theatre festival in full swing, the big acts are starting to arrive as we head into the final week. We sent Oliver Pritchard to catch up with Finnish sensation Janne Reinikainen who is in Bogotá with his show The Lower Depths (Bajos Fondos)
---
Sitting attentively in the luxurious surroundings of the Hotel Tequendama, Janne tells us that he's happy to be in Bogotá: "I'm really excited. Nervous, of course, but excited. It's a different place, maybe they are a different audience, but theatre is the same everywhere."
He says he hadn't heard much about the festival before they contacted him, but after a bit of research he was hooked on the idea. "I only heard about it after the invitation, but then I saw it was this big thing, huge venues sold out. That made me interested. It's unknown in Europe, or at least in Finland it doesn't exist." The Lower Depths will of course take a lot of his time, but Janne tells me he's going to see some other companies if possible, citing The Tiger Lilies Do Hamlet and Un Tríptico as highlights.
The conversation moves on to the subject of his play, and he becomes more animated, leaning forward in thought. He explains that it's a modernisation of the Gorky original, but not too far, "It's modern, but not all the way, not 2016. It's about 20% the original text, and then we have all these things around it, to get us to those deeper levels". He says he chose Gorky because "he has interesting characters, interesting situations. They have really nothing to lose and that creates an interesting situation."
It's a large ensemble piece, using 12 actors all on the stage at once and set in a brothel built on two floors. Janne explains that it's meant to be a mirror to society "The set is made from cardboard, which is a useful signal – we see it in the streets, people literally living in cardboard". I ask him about the imaginative use of two levels onstage. Janne's eyes dart about in his thick black glasses when asked a question, as though he is searching his whole brain for each answer. "It shows society, that we have two levels, that some people live above others. Of course we have many different levels in society, but we can't show all of them. This tells us about our community."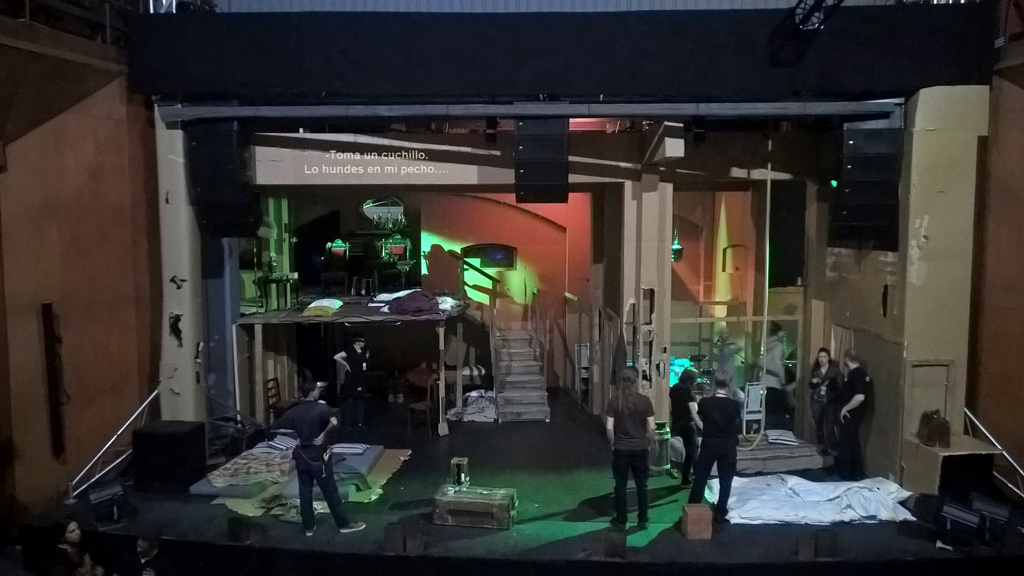 Janne and his technical director Jukka explain that it's been surprisingly easy bringing everything over, although it's been a lot of work. "We have 14 guys working there, and there's another 14 or so from the theatre festival itself. So in total about 30 people, and we're waiting for them now to return. It's been two days of full work, so we're nearly finished". They are impressed by the help they've received, and by the venue "so far it's been easy, no problems and we have been able to work together. That's important in the theatre community, that we solve problems together, that we do things together, as a group. We need to work together because we're all trying to make a suggestion about how we can all live together."
That idea of community comes up again and again in Janne's answers. "That's what the show is, it's about how we can live together in a small space. It's a very moving piece, and the music is important, but what I want people to do is to think about how we can live together. This is something very important in Europe right now. As you know, there is all this migration, and we need to learn how to live together and survive. We can solve these problems if we can learn how to live together and how to tolerate each other, to stand together. I see the show as absolutely part of this big discussion".
March 23-26 at 8.30pm (Matinee on Friday, March 25 at 3.30pm)
Teatro Libre de Chapinero
Calle 62 #9A-65
www.festivaldeteatro.com.co
---