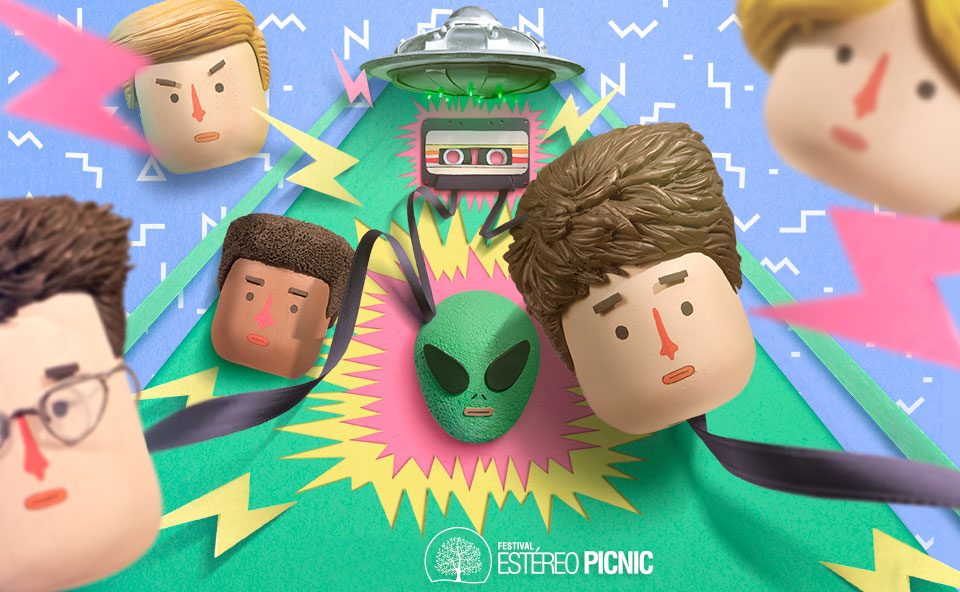 Festival Estéreo Picnic 2017 promises to bring everything to the table. Oli Pritchard and Linda Gómez caught up with some of the Colombian bands preparing to turn up the volume for their appearance at the eighth edition.
---
There are some things in life that please the soul, and music is undoubtedly one of those. That's why loyal followers of the biggest festivals are always at the front of the queue for one of the capital's biggest events, Festival Estéreo Picnic. This year, The Strokes head the line-up, with stellar support from plenty of renowned names.
More than 50 artists, in fact, who cross a diverse range of styles yet still share a stage without seeming to jar. This year, the festival promises to be better than ever before. Among the organisers' most important principles is to have alternative sounds promoting the eclectic outlook they've had since the start.
"This experience has been consolidated, it's our eighth edition and in each one we've learnt a lot. This year's line-up has us very happy, but also we're thinking of improving the experience with food, shops and common areas," explains Gabriel García, boss of festival promoters Páramo.
Another key theme this year will be the improvements in transport for such a hard to reach destination. "We know how complex it is to arrive. For this reason, we'll have four or five journeys a day on the Tren de la Sabana as well as providing more parking space. With this we hope it'll be easier to enter and to leave." The VIP area will feature special restaurants, lockers and an exclusive area to enjoy the concerts in more style.
You'll need good transport too – the music will rock around the clock, or at least well into the early morning. The Stroke-citos will finish up at nearly 2am on the final night, and Caribou won't down tools for another hour after that. At least there won't be any trancones on the long comedown as you make your way back home.
The line-up for Festival Estéreo Picnic features a plethora of the nation's talent (see below), as well as a lot of foreign artists, some of whom have never before set foot on Colombian soil. This will be the first time The Strokes have made it here, a mere decade after they were last cool.
That's also the case with The Weeknd, the Canadian singer-songwriter who visits for the first time to headline on the 23rd. That same day Justice return and you can also catch sets by The XX, Rancid, G-Eazy, Bob Moses and Damian Lazarus, among others.
For lovers of turn-of-the-century rock, there's a dream come true on the Friday, with the arrival on the main stage of New York legends The Strokes promoting Future Present Past, their new EP and first release since 2013. They'll be joined by Aussie DJ Flume, as well as Caribou, Two Door Cinema Club and Silversun Pickups.
Saturday, the final day of the event, closes with a touch of gold when comically-helmeted DJ Deadmau5 illuminates the stage with a multi-sensory show, accompanied by Martin Garrix, Wiz Khalifa, Sublime With Rome and Richie Hawtin, who closes the festival at 3am on Sunday morning. Hopefully you will be able to sleep all the way through Sunday before 'Suicide Monday' kicks in after three days of top-quality partying.
Local lads and ladies
Festival Estéreo Picnic features plenty of international talent, but, if you feel that the likes of The Strokes are over hyped, over sexed and over here, then you might consider checking out the local talent. After all, there are plenty of Colombians swelling the line-up, even if it's sad to see most local bands marooned in the early slots. Weeks before the event, we caught up with some of the bands due to perform at the show. We've got some words from the bands and some track suggestions to whet your appetite.
Thursday gets the party started early with Seis Peatones, Nanook el Último Esquimal and Popstitute providing an early schedule clash. AJ Dávila keeps the local bandwagon rolling, although it's probably rising stars Ságan who are the day's highlight. They're warming up at SXSW before Estéreo Picnic and seem destined for great things.
Friday sees the fun of Los Hotpants opening the party for those still hungover, and if they can't get the party restarted, Los Makenzy will be sure to blast it into action. Cocó Nonó and Árbol de Ojos play earlier too, although the Colombian pick of the day is undoubtedly hip hop veterans Zalama Crew playing just after sundown on the third stage. Honestly. Ädi is Friday's highest placed local, and she's cementing a red-hot reputation after playing everywhere that's anywhere in Bogotá and further afield too.
Totó la Momposina plays at the disgracefully early hour of 5.30pm on the 25th with a band of more than ten musicians. Across on the second stage Nawal play straight after. Buendía and his gentle folk opens that stage at 3pm. On the same day you can find Bazurto All Stars from Cartagena, with their distinctive champetero swing, Canalón de Timbiquí with all the flavour of the Afro-Colombian Pacific coast and from the beautiful archipelago of San Andrés, Elkin Robinson. The latter brings 'Old Providence New Roots' from the neighbouring island. Julio Victoria is the highest placed Colombian of the day, behind only Richie Hawtin.
To whet your appetite we've put together a playlist of Colombian artists who will be making an appearance at Festival Estéreo Picnic 2017. Enjoy!
Totó La Momposina,
Caribbean folk legend

"Here what we want to do is highlight the sense of belonging across the sounds of our region; this is something we are going to promote. The idea is that the young people take inspiration from their ancestors, especially in music." So said the Godmother of Colombian Caribbean folk. She explained her presence at a largely hipster fest: "We're here because we were invited and that's surely for the music that we play, for some it'll be a surprise, for others a lesson, for others a rebirth and for others a new idea that shows that music is everywhere. It's with native instruments and melodies from the region, but mixes new sounds to reach new generations." There are few Colombians who won't know her music, but it is worth taking this opportunity to see a living legend. 'La Candela Viva' is probably her most iconic song.
Julio Victoria,
Bogotá DJ extraordinaire

Victoria is a legend in Colombian DJ circles, having promoted and worked with some of the biggest events and nights for years. He takes to the stage late, but he seems confident about it. "We've been working on something very special for six months," he says, "just for this festival. We'll have some brand-new work for the public, and they can enjoy a light and video show that we've been working on with the group Árbol Naranja. It'll be party music, some deep, but that'll have a lively progression." His house and techno sets always get the crowd going, so be ready to dance your nuts off. Listening to his track 'Impermanent' gives a sense of his style.
Los Makenzy,
rock/blues

Los Makenzy came together in 2009, but their heart is truly in the 70s, in the same way their name sounds gringo but they couldn't be more rolo – we can hear this in their sound. As Nicolás, the guitarist explains, "Of course we do [have Colombian influences] on our latest album, and some traditional musicians are among our invitees. Salsa, fusion, that sort of thing. We even have a song called Death Merengue. Sounds ugly, but it's interesting. We have to explore everything." The brothers joke, laugh and muck around with their drummer as we talk. They're certain that musically this mix does not generate problems. "No, not at all. You have the freedom of interpretation, so you can easily put the rhythms together," replies drummer Christian. "We grew up with these sounds", says bassist Andrés, "so we can never be too far from them." Spin 'Death Merengue' for some mash-up sounds.
Álvaro Buendía, Buendía,
tropi-folk

Perhaps the strangest of the lot is Buendía, a traditional Brit-style singer-songwriter who combines folk with his beloved salsa and champeta. Having arrived by bicycle, he's laid-back, yet with fiercely piercing blue eyes that betray an incisive curiosity. "Why tropi-folk? I went to Scotland and that's where the project started. But I still love tropical sounds like salsa and champeta, cumbia, so I looked at how to combine them. It feels really natural." It's a sharp change of direction from a man who used to be part of post-rock dilettantes Sismo. Single art-folk guy with an acoustic guitar? Might be a tough call on a big stage. Check the song 'Dust' to find out how it works in practice.
Atahualpa Zabala, Nawal,
dub reggae

Reggae is represented this year by six-piece Nawal, who have been around for the whole of this century. True to this year's theme, their sound is diverse: "We have tried to experiment with other genres, for many years with trip-hop, also close to rock, rocksteady. Last year we released a new album with a wider sound." Eschewing Marley-esque cliché, expect to see a more authentically Jamaican sound: "We take inspiration from Sly and Robbie, from Lee Perry. We've studied a lot to create our own sound." That point is important – as Colombian influences are also significant. "Our singer is from Chocó, and he sings a lot about Colombian themes – for examples the problems of the 80s and 90s come up in our hit 'Maltrato'". Check out 2005's 'El Fuego y La Palabra' to see what they're all about.
Andrés Cardona, Seis Peatones, old school blues

Dressed in leathers and looking ultra-cool, Seis Peatones bring old school rock to the party. Their influences stem from really old stuff, back to the likes of Muddy Waters. They're playing a lot from new album Polvo but also old classics. "It's an eclectic year for Festival Esteréo Picnic, with the diversity and electronic music, and we're one of the few bands that maintains the rock and roll attitude. We've played big festivals in Mexico, in Argentina and five or six times at Rock al Parque, it's a new audience, we want to let them know what we're all about." They have not only dual lead guitars, but also, intriguingly, dual lead vocals. Cardona maintains that it's not an issue, insisting that, "It's very equally divided, it's parallel all the time. If you've heard Alice In Chains, stuff like that, you'll see it." Listen to 'El Diablo' to see what they mean.
Zalama Crew,
Hip-hop

Hailing from Cali, Zalama Crew are looking to warm up the cold andino crowd of Estéreo Picnic. "We bring Pacific sounds in everything, the lyrics, the rhythm, the tone, and we're here to enjoy ourselves," they tell me. "Our music is a result of the union between us onstage, and how we can transmit that feeling to the audience." As they explain, they straddle time itself with their music: "We make music of our generation, inspired by the last, which will be an influence for the next." Forget Christians invading the TransMilenio, this is the real deal, powerful and muscular rap. Coming back to the theme of diversity, they emphasise that Cali encourages diversity: "It's such a small city that everyone goes everywhere. It's not strange to see someone in a guayabera at a punk concert, or metalheads in a salsateca. That's where Zalama Crew comes from, that mixture." Check out the reggae tinges on 'Afrika' for a taster of the Zalama sound.
Daniel Mecklar, Popstitute,
pop

This Medellín-based pop band combine different influences to produce modern pop music. They sometimes touch on political themes but generally keep things simple, as according to Mecklar, "Music is about transmitting a message, but we don't want to be too heavy." The paisas look to combine house with pop, allowing a deeper sound as they flit betwixt indie and the mainstream. They're looking forward to what will be their biggest show yet. "It's so exciting to be going up on stage, the people will go crazy. We're going to have outfit changes, an audiovisual stage show. It's been three months in the planning. Listen to 'King of the Night' for some pop-fun.
FESTIVAL ESTÉREO PICNIC ARTISTS

SET TIMES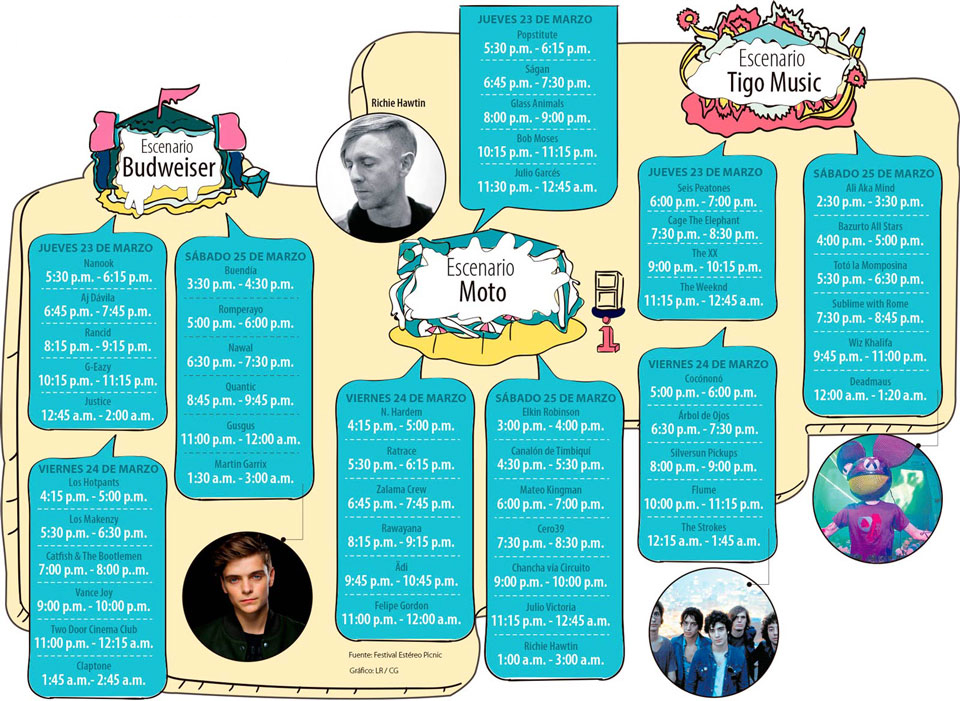 ---
By Oli Pritchard & Linda Gómez