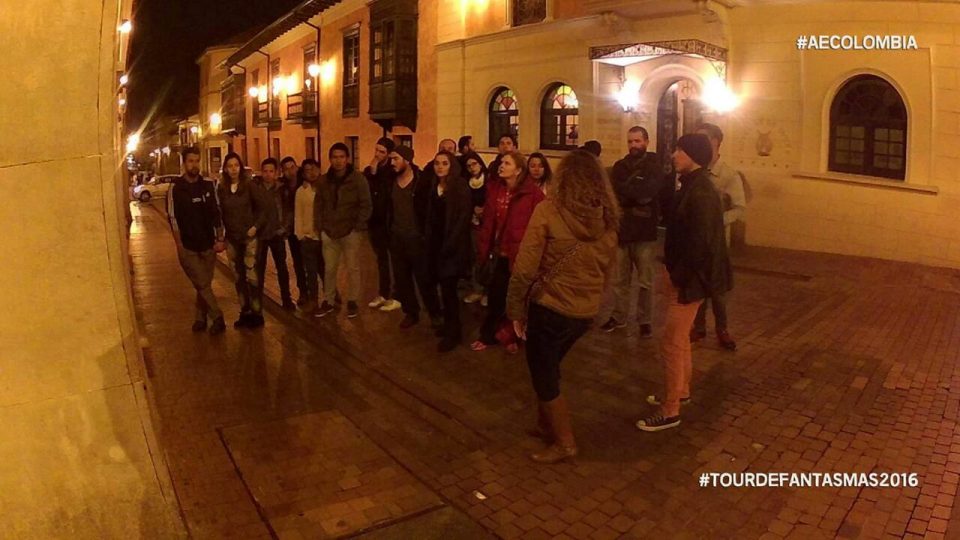 The hair-raising Tour de Fantasmas in La Candelaria brings the history books to life with gripping stories and real ghosts.
---
La Candelaria has seen its fair share of gruesome tales, making its streets the ideal location for the Tour de Fantasmas – a spooky ghost tour that winds its way through the historic streets of the centre. Delving into the world of evil and troubled spirits was certainly a different and very enjoyable way to spend a Friday night. 
Fear not, you will not be alone in the dark. You'll be accompanied by a professional guide, a guard and a coordinator as you discover an area that may otherwise be unsafe to visit at night on your own. The guide not only gives an account of the ghost stories of the area, but also throws in some very interesting facts about life in the capital at various points of its history. It's a journey from the times of Spanish conquest to the modern day including the Bogotazo and the siege of the Palace of Justice.
There are about 20 of us on the tour, a mix of tourists and locals. We are led through the stories of bogotanos wrongly accused of crimes, of hanged men and women, and businesses whose ghostly inhabitants have stopped them prospering. There are the ever-present love stories along with tales of nuns, priests, thieves and politicians (yes, I know what you're thinking – they haunt us every day), all made real by actors along the way. It would be unfair to spoil the fun by revealing more – you can discover it all for yourself when you take the tour.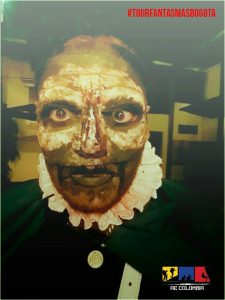 Afterwards, I caught up with the puppet masters behind the Tour de Fantasmas, Sebastián Ariza and Vladimir Malambo, and started by asking where the idea came from. Sebastián tells me they had the idea to create a history tour of downtown Bogotá with professional actors; they wanted the tour to cover key historical events in a fun, scary and family friendly way. They also realised there was a segment of the population who did not have many entertainment options during the weekends. "Colombia and Latin America in general are famous for their rumba," he says. "But there are people who are not really into dancing, and let's say, they do not have much left to do at the weekend, and so we come to satisfy that entertainment need, with different themes to captivate people."
Some of the stories are so gruesome, I wonder whether they are true. Vladimir explains that most of the stories are, but says some stories are just regular stories of heartbreak which could happen anywhere. The colonial commanders and other characters in the tour are real and can be found in the book Historia de los Fantasmas de la Candelaria, if you'd like to look more deeply into the topic.
They want to emphasise that this tour is not just for tourists, but also for locals like myself. Sebastián believes that by learning about our heritage – for example, the meaning of Chorro de Quevedo or the importance of the nearby water bodies – we learn about ourselves and understand why our city is the way it is. They have woven their love of scares and horror movies into history to create an experience "you are never going to forget."
Although they research the stories in depth, Vladimir tells me the guides are not historians but professional guides certified by SENA. "That is why having [them] throughout the tour is so worthwhile because you can ask them about the stories of the houses, about the sculptures, about other facts not necessarily related to the tour, but to history. The actors in our team, from the Escuela de Actuación y Artes Escénicas, are also extremely important members of our walk."
I ask if they offer tours in English, or in other languages and Sebastián tells me they do, as they want their visitors to have the best quality in terms of the tour. "We have bilingual guides and can provide that service. It would have to be booked in advance, though; we also have a guide who speaks French."
Before we say goodbye, Vladimir clarifies that this is a tour for people of all ages. "We are visited by kids, young people, and senior citizens. We are careful too, and we tell people the tour entails actors giving them a scare at various points during the walk." A fair warning if you suffer from a heart condition.
The Tour de Fantasmas is run by AE Colombia Travel and takes place on Fridays and Saturdays. After booking the tour, you will be sent the start location by WhatsApp and email.
(+57) 304 6584011, Carrera 3 #12C-94, www.aecolombiatravel.com
---
By Ángela Forero-Aponte