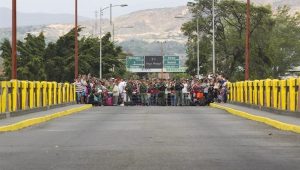 On Sunday, July 10, 35,000 people crossed the Simón Bolívar bridge from Venezuela to Colombia and returned laden with essential foodstuffs and medicine
---
President Maduro agreed to open the border between San Antonio del Táchira and Cúcuta for 12 hours after about 500 women, frustrated by food shortages in their own country, forced their way into Colombia last week.
El Tiempo reports that queuing began at 3am, before people were allowed to start crossing at 5am. The crowd could be heard chanting "holy land", a clear reference to Colombia and the goods in store for them there. The Venezuelans who made the voyage into Cúcuta were grateful for the warm welcome they received from Colombian shop owners, and overwhelmed to see shelves stacked with food, a contrast to the empty shelves found in stores in Venezuela.
Maduro closed the border between the two countries last August, citing security concerns that gangs had infiltrated the area and smugglers were taking advantage of selling Venezuelan subsidised goods at a profit in their neighbouring country. However nowadays reports suggest the opposite, with over 100 trucks a day said to cross the border from Colombia to Venezuela smuggling goods such as cornmeal, oil and flour. However there is now optimism that the frontier could be re-opened.
Colombia's Foreign Minister, María Ángela Holguín will lead a working group that aims to restore the crossing without jeopardising the progress made in fighting smuggling. She will meet the Venezuelan Foreign Minister on August 4. "We will not let our Venezuelan brothers suffer hunger and the necessities of lacking medicine," Holguín comments following the crossing last Sunday.
"It takes two to dance and it takes two to open the border. And we have agreed that we will talk with President Maduro, with the Venezuelan authorities. They have also expressed their desire to open the border," said President Santos.
---
By Laura Sutcliffe