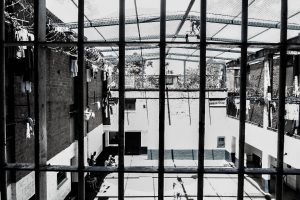 Within communities in Medellin crippled by recurring cycles of crime, a prison in Bello continues its programs of restorative justice by bringing together victims and perpetrators. The Bogotá Post went behind the bars of Carcel Bellavista to speak to the reforming and the reformed.
Jaiver's favourite passage in the Bible appears in the Gospel of Luke. It's the part where Zacchaeus, a sinner who is 'short in stature', climbs a sycamore tree to get a passing view of Jesus. 'He did it because he wanted to know Jesus.' Jaiver said, as a way of explaining his own kinship with Zacchaeus. 'This curiosity to know Jesus made me a better person. God took me from the mud and he presented me as a diamond.'
Jaiver is a pastor and his voice fits his vocation. It is baritone and burly, enough so that it earned him the nickname 'Guauguau' ('Woof', in English). He introduces himself to strangers with a wide bear-like embrace and his expressions modulate dramatically when he speaks of Zacchaeus and the sycamore tree.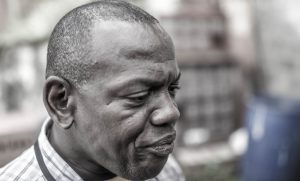 'My best experience in life was receiving God. I used to be a drug addict and I weighed 40 kilograms.' Jaiver said, referring to his past in prison, 'I went back to prison in the 90s but He was always there for me.' Jaiver spent 22 years in jail, turning up on multiple occasions in his life. He has now been drug-free for 7 years and hopes his story can instruct others currently on the inside. 'The biggest impact that I can have is to give my testimony to others.' he said.
This testimony has been delivered by Jaiver as part of a project called 'The Sycamore Tree' which is run by APAC (Attencion y Proteccion al Condenada), a religious organisation devoted to improving and transforming the conditions of prisoners, their families and their victims.
The program was initiated at the Bellavista prison in 2004 based on a similar model from the US. There are 8 sessions run on a weekly basis where participants are invited to reflect on their actions and hear directly from the victims of their loss. The participants are also asked to narrate their childhood and upbringing in an attempt to come to terms with the motivations for their actions. The program ends with the direct asking of forgiveness from the victim.
***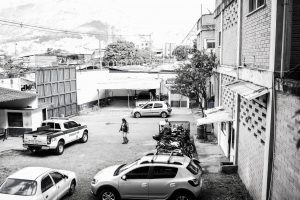 Jeniffer and Valeria were fixing their hair in the reflection of a one way mirror when the guards called them in through the metal detector to have their fingerprints taken and be subject to a patdown . It's a routine that project administrator and psychologist Jeniffer, and volunteer Valeria are used to. The only creature allowed beyond the third door at Carcel Bellavista without providing a fingerprint or getting frisked is a cat with a broken tail named 'Gato'.
'He usually runs the night-shift here.' the guard deadpans.
Beyond the third door, Jeniffer and Valeria led the way further inwards, past the cell used for solitary confinement and into the sunlit compound where someone yelled their best impression of Yandel's hit Como Antes:
'Mirala bien, asi es que es, bien pegado, a la pared!'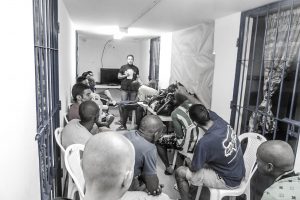 In every corner there was industry; a makeshift room where inhabitants baked sweet pastries, and a larger woodshop where they made clocks. The final door into the living quarters of Patio 16 were opened and closed by the dwellers themselves. They were seated waiting in 2 files along a narrow corridor leading to each shared bedroom. Their attention was divided between one of the administrators of APAC, Samuel, and the flat-screen TV revealing live which countries Colombia would be playing in the World Cup.
***
'I came to look for those who are lost.' Cristobal Paz said, outlining his reasons for why he joined as a volunteer at Prison Fellowship Colombia 4 months ago. 'Prison Fellowship is a way to learn about God. The project lets you realise you have affected someone. It's a chance also for people to reduce their time here in prison. And when they leave prison, it makes them try to make contact with the victim – to make peace. God's word says we have to be in peace with everyone.'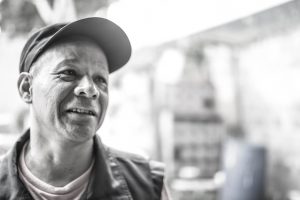 This included an example Cristobal Paz recounted of a murder of a young man by the man's best friend. The perpetrator was subsequently incarcerated for a separate offence and it was only after the restorative justice program run by APAC that the perpetrator could come to terms with his actions and was able to confess the crime to the mother of the victim.
'I was in prison for 6 years.' Cristobal Paz said, of his own experience. 'It's a mark on my life. I couldn't change my habits until after prison. And today, I'm 48 and I count the days that are coming; not the days that have passed.'
***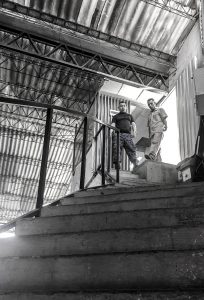 Inside, the neatly made bunk beds, the clean communal showers and men in civvies rather than uniform gave the feel of a male-only hostel rather than a prison. They're all instantly curious about their new visitors and sharing their experiences with the sycamore tree project. Some ask about India and about Hindu theology. One of them had studied to be a Hare Krishna when he was 15 but rejected the doctrine for its strict vegetarianism and because he liked the taste of meat too much.
Luis was the most eager to tell his story of what he had learned from the program. He was very animated and open in his testimony, leaning in and tapping on his listener's knees when making a point. When asked about whether his paisa roots meant that he supported Medellin over Nacional he nearly jumped out of his seat while clenching his fist and beating his chest, proclaiming 'Verde, verde!'.
The first time Luis heard of the restorative justice program was in the prison chapel. He had arrived in prison the day before at 5 in the afternoon. 'I was very rebellious and didn't believe in God before I went to prison,' he said, 'but then I learned that there were different types of justice. There's the legal penalty but there is also divine justice.'
He spoke of how the participants were trained by the Prison Fellowship members, psychologists, social workers and pastors in topics like restorative justice, leadership and forgiveness. 'The first act in the program,' Luis explained, 'was to pray.'
'The only man who can change us is Jesus Christ. With his teachings we can remember that Jesus is the best route to get better.'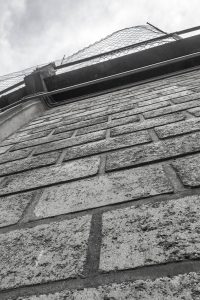 'The sycamore tree program is a preparation for contact with the victims of the crime.' Luis went on to explain. 'It's a place where we can apply the theory we learn in restorative justice. Here we have the opportunity to share our stories and experiences with the victim and ask for public forgiveness. The sycamore tree is the only way we can be in contact with the victim.'
Luis is unable to be in direct contact with his victim for very obvious reasons. He was incarcerated for a total of 9 years after soliciting the services of a 14-year-old sex-worker. His work in the restorative justice program still allows him to earn certificates which can be used to reduce his sentence. He still holds out hope that the family of the victim would reach out to him but as yet they have chosen to stay away from the process.
***
Robert was able, after undergoing the various APAC programs, to meet his victim's brother, whom he now considers a close friend. It was a serendipitous encounter in prison that allowed the 2 men to confront what had occurred between them. 'I went to prison for homicide. I was able to meet with my victim's brother, who was also in prison. I was able to tell him that I was acting in self-defence and he accepted what I had to say.'
Like Jaiver and Cristobal Paz, Robert too had his sentence reduced by being part of the program and he continues to help others on the inside to do the same. 'In Colombia, the justice they speak of is retributive justice.' Robert said, explaining how newer ideas around perpetrators and victims need to draw more from the New Testament than it does the Old Testament. 'Hay victimas y victimarios,' he said, 'and both need to heal.'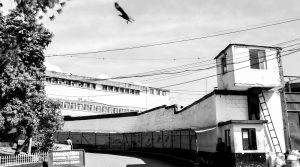 There are more than 1,500 prisoners inside Carcel Bellavista for a variety of reasons ranging from homicide and rape to armed robbery and drug offences. There is a separate wing referred to as Patio 8 for those who had fought among the guerrillas and paramilitary soldiers. A recent fight within the wing closed down the entire prison for those wishing to enter, including those part of the restorative justice programs. The testimonies of the men above were taken on two separate occasions. Anyone looking to read further of the programs run by Prison Fellowship Colombia can do so on their website.