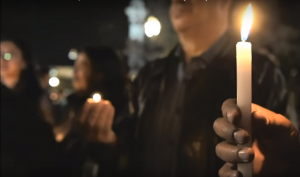 "Our lives are in your hands Mr President."
Javier Ortega made this plea alongside his colleague and photographer Paul Rivas, as well as Efrain Segarra, the man who had been driving the two journalists when all three men were abducted by a Colombian guerrilla group on the border with Ecuador.
Ortega has been at Ecuadorian daily El Comercio for 8 years as a reporter covering stories on crime and justice. Along with his photographer Rivas and driver Segarra, the three men were abducted when they were in Mataje, a town that borders with Colombia in the Northern province of Esmereldas, Ecuador. They were then transported to Colombia where demands have been sought for their release.
In a video released on Tuesday, the three men appeared with chains around their necks and were huddled together in a scrum as Ortega read out the demands of Frente Oliver Sinasterra, a splinter group that formed after the FARC agreed to a historic peace deal with the Colombian government. "They are asking for three prisoners in exchange for our three lives." Ortega said, as Rivas stood next to him, holding back tears as Ortega spoke of their families. 
The guerrilla group responsible for the abductions, Frente Oliver Sinasterra, are notorious in the region for having continued illegal narcotrafficking activities following the peace accord of 2016, including ramping up hostilities against government and security forces. The Minister of Defence of Colombia is now reporting that four members of the group have been apprehended but they are still on the hunt for the group's ringleader Walter Artizala, who goes by the alias 'Guacho'. A reward is being offered for information that aids his capture or killing.
'Guacho' was previously considered a high-level target for being behind the killings of 5 indigenous villagers in El Tamandil, near Tumaco on the Pacific coast. In addition to this, in February, the United Nations Office for the Coordination of Human Affairs found that 570 indigenous people from the Pasto region had restricted mobility as a result of increased violence and infighting between Frente Oliver Sinasterra and ELN fighters.
The abductions have caused widespread shock among journalists around the world, highlighting the danger that remains for reporters from violent groups in the region. Just last year, two Dutch journalists were similarly abducted, though on this occasion, on the border with Venezuela. The two journalists were since released unharmed and it remains the hope of many in the journalistic community that the same conclusion plays out in this story. Meanwhile, the families of the abducted men have also made an open plea to President Juan Manuel Santos to increase efforts to ensure their safe return.