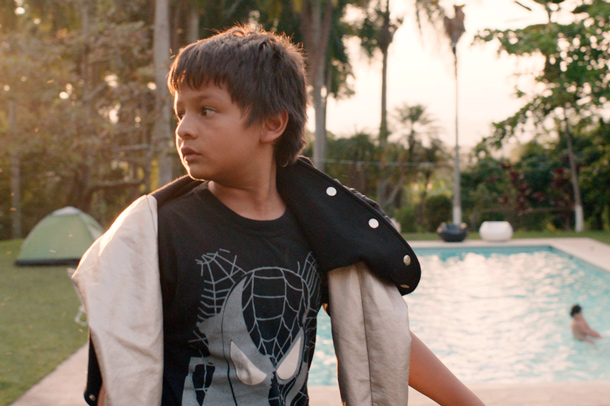 Gente de bien
4 stars
Jazid Contreras
---
This is a good year for Colombian cinema. New titles are hitting theatres almost weekly and people are finally taking notice of a rapidly growing industry that's trying to shake off its narco-niche reputation by delivering sophisticated productions and, most importantly, stories that are worthy of mainstream attention.
That's the case with Gente de bien, the first feature film by Bogotano director Franco Lolli, who has garnered recognition since this movie debuted last year in the Critics' Week section of the Cannes Film Festival.
From a very personal point of view, Lolli taps into a reality that is as obvious as it is uncomfortable in Colombian society: classism.
Eric, the protagonist, is a 10-year-old boy from an impoverished neighbourhood in southern Bogota. His mother leaves in search of better opportunities out of the city, so he winds up with his previously absent father, who works as a handyman in the house of a bourgeois family.
María Isabel, the well-intentioned matriarch, meets Eric and immediately wants to help him. She welcomes him into her home and tries to make him fit in with the children of her family, even though he comes from a very different background.
Eric is driven and smart, but also extremely moody. He is invited to spend the holidays with María Isabel's family in their country house while his father works odd jobs around the house. At first, things run smoothly, but soon the social gap starts to weigh on them.
It's a soapy premise, yes, but the director gives the story a realistic treatment, far from melodramatic clichés. There's no cheesy dialogue. Lolli encouraged the actors not to memorise lines and was able to draw believable performances out of them.
Alejandra Borrero, who plays María Isabel, said to the press that making Gente de bien was painful and challenging because the director pushed her and also constrained her. By not overdoing it they created emotionally charged scenes out of everyday human situations.
Borrero is the only recognised star in the cast. She's one of the most celebrated Colombian actresses, with a long career in television, movies and theatre. Yet her most remarkable achievement in this movie is not overshadowing the rest of the performers, who were mostly non-actors.
Bryan Santamaría, who plays Eric, was cast almost by chance. The director saw him selling books in the street and fell in love with his authentic demeanour. After a long and unsuccessful search for a child actor that could embody the nuanced innocence of the character, Lolli took a gamble and gave the part to an untrained but talented kid, and he delivered.
Gente de bien premiered in late May and did well in the box office (for a Colombian film), but it was abruptly removed from most commercial theatres after only two weeks. However, the producers managed to secure its run for the rest of June in independent venues like Cine Tonala.
Despite dealing with inequality, a rather common and overhashed subject in cinema, this French-Colombian co-production is welcomed for its naturalistic take on social stratification and interesting examination of what being "good people" means.
The Homesman
4/5 stars
---
Think Westerns. Think bleak plains, hard men, grizzly, steel-eyed sharp shooters. The Homesman boasts all these elements, but the unusual factor here is that a woman, Hilary Swank, takes the lead. Plus one to feminism? Well… kind of.
The premise of the movie is that there are three women who have been driven mad by their husbands, or hard living, or mental illness. They are being sent to live in a nice home in the city where they can enjoy their utter lunacy in peace. Mary Bee Cuddy (Swank) decides that, as a single unbetrothed lady, she has the time and energy to take them all to the city.
It does feel a bit like the message is that men can handle the Wild West, whereas women tend to go nuts and need to be put in homes. And incredibly, considering the storyline, the film doesn't pass the simple Bechdel test of gender inequality in films, which measures the active presence of female characters and their roles in a movie.
Institutionalised sexism aside, Tommy Lee Jones seamlessly plays a dodgy alcoholic curmudgeon who, underneath it all, has a heart of gold – cliché alert – and agrees to help Cuddy. The two bond and face the perils of a lawless, thankless trek together. As you might expect, on their way they encounter many other Western type clichés – Indians, wily prospectors and the like.
Having said all that, The Homesman does manage to give a sense of how hard pioneer days were; the central leads have a beguiling relationship that really propels the film. Swank wrestles with abandonment issues, and what a life of singledom means in her time. Her companion is grizzled by life and his gnarled features seem to betray a sad weariness that fills the quieter moments of the film. Tommy Lee Jones really was the only choice for this part.
The Homesman is extremely watchable, and although the plot is dubious, there are some gripping moments and thoughtful ruminations. A superior Western that earns its place by tackling more complex issues than just who can shoot fastest.
---