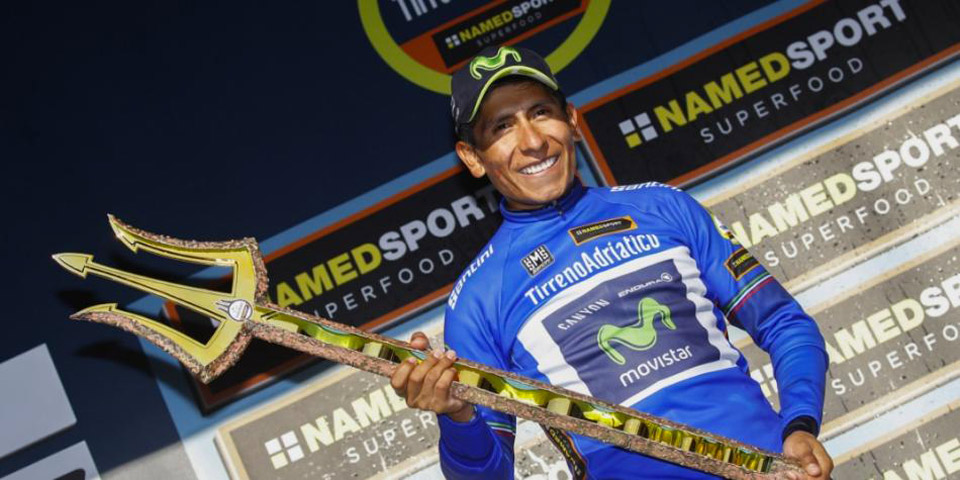 Colombian cyclists, the escarabajos, take short break after a great start to the season.
---
While the elite cyclists from Northern Europe are getting all their body molecules shaken and stirred on the cobbles in Belgium, France and Holland, our Colombian heroes, the escarabajos, are taking a rest after a splendid start of the season.
Nairo continued to win wherever he showed up. A very convincing defence of last year's title in the Tirreno–Adriatico must sound like an assurance that he's on the right track for the first Grand Tour of the season: the Giro d'Italia in May. Maybe even more so to win the elusive yellow jersey in Paris.
There was a moment of panic among Colombian cycling fans recently when a fake news message of him sustaining a serious injury spread like wildfire through the cycling world, only later to be dismissed by the team and the man himself. If you'd like to see Nairo now, head over to Boyacá; he should be training out on the roads close to his hometown of Cómbita.
Elsewhere, Sergio Henao won his maiden World Tour stage race, Paris-Nice. Alberto Contador's pressure in the final stages didn't make him lose his cool this time, after plenty of second places. His composure, combined with his strong Team Sky, helped him to save the final victory by a mere 2 seconds. On top of that, Henao won the National Championship road race and could be a dark horse for a win one of the races in the Ardennes tryptic.
It isn't all roses in Colombian cycling though, Esteban Chaves continues to suffer from a knee injury. He said he is almost fit again, but has only raced in Australia this year and he probably won't be back to competitive racing until the middle of May or early June. That's a huge setback for our bogotano, as he will have had very little build-up before his maiden Tour de France later this year, if indeed he is fit enough to race there.
Keep a watch on The Bogotá Post as in the next edition we're going to focus on the 100th edition of many people's favourite grand tour, the Giro, with a squad of escarabajos led by the general Nairo Quintana.
---
By Arek Payet