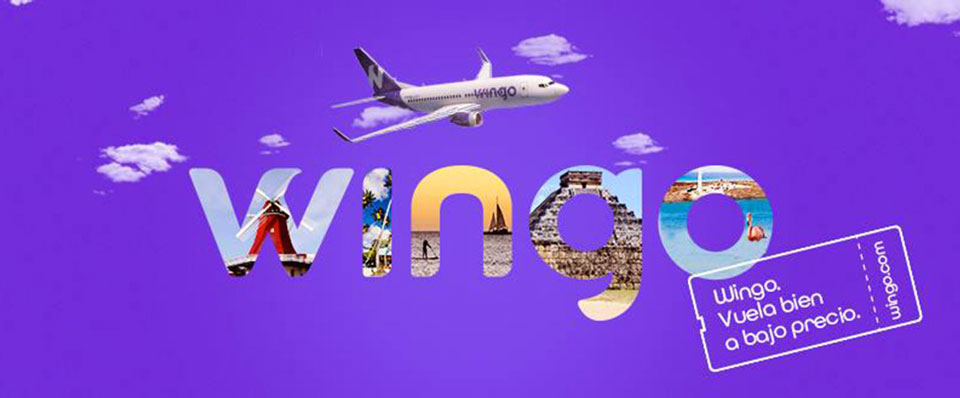 For serial travellers of Colombia, Christmas came early this year. On October 20, Wingo swooped in to rival other low-cost airlines operating in the country.
---
Wingo – part of the Copa Holdings corporation that runs Panama's Copa Airlines – will aim to differentiate itself by offering what they claim will be lower prices, the option of cash payments and higher weight allowances for carry-on luggage.
When their services begin on December 1, Wingo will offer flights to 16 destinations throughout Colombia, South America and the Caribbean. In addition to connecting the country's major cities, Wingo's network will allow bogotanos to book direct flights to Aruba, Cuba, Dominican Republic, Ecuador, Guatemala, Mexico, Panama and Venezuela.
Prices vary depending on destination and dates, and customers will also have the option of paying either online, at check-out or in cash at least four hours in advance of the booked flight. These cash payments can be carried out at any Efecty money-transfer store, or at Exito, Carulla or Surtimax. Wingo's director Catalina Bretón has earmarked cash payments as an enabler for families without credit cards or bank accounts.
Wingo also distinguishes itself through its in-flight services. Each passenger will be allowed one carry-on item of up to 10 kilos free of charge – a luxury for which other low-cost airlines charge.
It is yet to be seen how their operations will be reviewed, but Paula Cortés, president of the Colombian Agency for Flights and Tourism looks forward to having a new competitor in the field, as it will provide "more opportunities for travellers to reach all their destinations (…) and strengthens the sector".
---
By Rocio Labrador