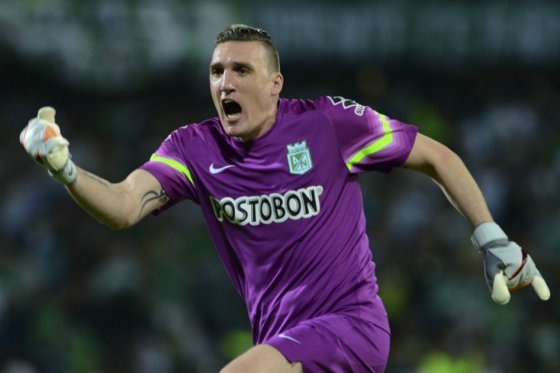 The cruel flipside to injuries is that, though they may spoil chances for one player, they open the door for another.
Argentina's starting goalkeeper Sergio Romero has been ruled out of Russia after suffering a right knee injury in routine training Tuesday, according to a statement from the Argentine Football Federation. With Romero going down, it is likely that the player taking his place in net will be Franco Armani, the beloved keeper who played eight seasons with Atlético Nacional before returning to Argentina.
Armani was one of two backup keepers called up alongside Wilfredo Caballero in the 23-man roster that coach Jorge Sampaoli announced this week.
The 31-year-old Armani will likely be the starter come June 16 against Iceland in Argentina's World Cup opener, though Sampaoli has a pair of friendlies to try out both Armani and Caballero. Now playing for the famed club River Plate in his home country, Armani most notably shined with Colombia's Atlético Nacional, where he enjoyed a storied career with the Medellín powerhouse. There was hope from fans of his adopted country earlier this year that Armani would be available for Los Cafeteros in June's World Cup, since the Argentine is married to a Colombian and was rumored to be in the naturalization process.
It looks now like he made the right choice to stay with Argentina as La Albiceste, led by superstar Lionel Messi, tries to get its hands on the ever-elusive third World Cup trophy that Argentina has been seeking since its 1986 first place finish.
There have been two times a River Plate goalkeeper was the starting goalkeeper for Argentina in the World Cup: Fillol in 1978 and Pumpido in 1986. Both of them became world champions. Will Franco Armani become the third man?

— Roberto Rojas (@RobertoRojas97) May 22, 2018
The 31-year-old Romero, who plays for Manchester United in the English Premier League, started in net for Argentina in the 2014 World Cup when it finished runner-up to Germany. Nahuel Guzmán will be called up in Romero's steed from his Mexican club.
Even before Romero's injury, a solid portion of Argentinean fans and press suggested Armani should start over Romero because the now-injured goalkeeper does not start or get regular playing time with his English club.