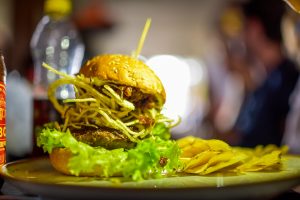 On the premise of cheap burgers, The Bogotá Post wasn't going to miss out on the opportunity to line up for the third installment of Burger Master. This year, the contest was nationwide and more than 200 restaurants got to participate from all over Colombia.
The Burger Master was conceived by food blogger TulioRecomienda with the intention of showcasing the best restaurants in Colombia's major cities. Tulio also had a hand in creating Pizza Master, which takes place at the end of the year and for which we've already begun to line up.
The contest was from April 30 till May 6 and The Bogotá Post team decided to try out the Juicy Lucy's burger entry, the seductively named Sweet Bacon Juicy.
To make the burger-munching a whole lot easier, hungry patrons could download the Burger Map app where you could pick your city and check out all the restaurants that can add to your cholesterol levels.
You could also rate the burgers by uploading a photo on Instagram and adding the hashtag #BurgerMasterco.
The Burger Master prices all burgers at $10,000 COP for each of the restaurant's signature burgers. If you want a drink or some crisps with it, the prices range from  $12,000 COP to $17,000COP.
The crazy prices led to even crazier lines where customers can expect to wait an hour to try the signature burger.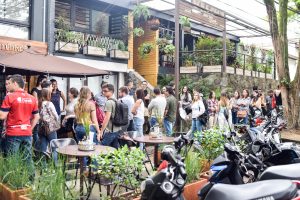 Which is why The Bogotá Post chose not to take their chances and started lining up at 11:40am to try The Grill Station in Poblado. It was such a good idea that everyone in the neighbourhood decided to come along too. Deciding against the hour long wait, we chose to swing by Juicy Lucy instead, which had no queue at all. As soon as we got there, a table for 12 materialised. Minutes later the restaurant was full. As the Colombians would say: "Tenemos buena espalda" Which literally translates to "You got luck on your back", a useful phrase for when a restaurant packs out after you get there.
The burger itself was made with quality beef, slotted in with mozzarella, lettuce, caramelised crunchy bacon, peanuts and cheese dip. It got a 7.5 out of 10, because for a Juicy Lucy it definitely wasn't that juicy; the patty we had appearing dry instead.
At first bite, the mix of flavors went down well; the sweet, the salty, the crunchy and, if you added a little mustard, it was all the better.
So, if you missed out, don't fret, in 12 months it will start all over again. Meanwhile, why not try out Tulio's own recommendations for the best burgers in Bogotá. It won't be $10,000COP but at least you won't have to wait in line.
By Alejandra Marín