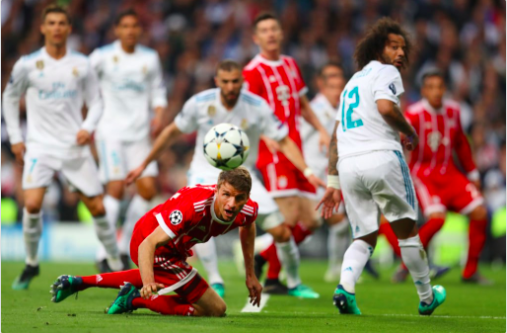 Bayern Munich suffered from a nightmarish déjà vu in Tuesday's second leg of its Champions League semifinal against Real Madrid.
Just like last week's 2-1 loss in Munich, the defining match again resulted in a ridiculous number of chances that went unconverted for the German side. Despite a goal from Colombian James Rodríguez in the 63rd minute of the 2-2 second leg, Bayern couldn't overcome a flurry of head-scratching mistakes. These unconverted opportunities and errors culminated when keeper Sven Ulreich slipped at the beginning of the second half on a pass back and let Madrid's Karim Benzema capitalize on an easy tap-in.
Cruelly, the goal would end up being the difference maker that keeps Bayern from advancing to the Champions League final.
Things began well enough for the German side. Joshua Kimmich, who scored Bayern's only goal in the first leg, scored again in the third minute in Tuesday's second leg.
Benzema hit back with a header in the 11th minute to give Los Madrilenos the 3-2 aggregate lead. The Frenchman was set up on a beautiful assist from left-back Marcelo, who dropped it right in front of goal.
Bayern found consistent space on the left side of the field, nearly forcing Madrid head man Zinedine Zidane to make a very early defensive sub.
https://twitter.com/FCBayernEN/status/991408781727797249
In the 33rd minute, Bayern had another golden chance to score go wasted following a first leg where they left various goal-scoring opportunities off the board. James stuck out his foot to nearly convert right in front of goal after Robert Lewandowski's effort was blocked by Madrid goalie Keylor Navas, who was again brilliant.
Controversy came right before the half when it appeared that Marcelo got his hand on a ball in the box. Bayern players were rightly infuriated that there was no penalty awarded.
Despite the disastrous error by Ulrich, Bayern was able to respond to make things interesting. James was finally able to score against his former team and the club that still owns him in the 63rd minute when his first try was deflected but he successfully crossed back the rebound past Navas. In a classy move, the Colombian refused to celebrate in front of his parent club, which treated him with a proper ovation.
James nearly got his second goal about ten minutes later as he wound up at the top of the goal, but defender Raphael Varane made an important stop by throwing his body in front of James' attempt.
In a tense last 30 minutes in which a goal would have sent Bayern through to the finals, Real Madrid again rose to the occasion to ensure a third straight trip to the Champions League's final game.
Though their Champions League dreams are dashed, James and Bayern Munich have already sealed another Bundesliga crown. They will return to action Saturday to take on 1. FC Koln.
Real Madrid will await the winner of the Roma – Liverpool series that the English side currently leads 5-2 heading into Wednesday's second leg.